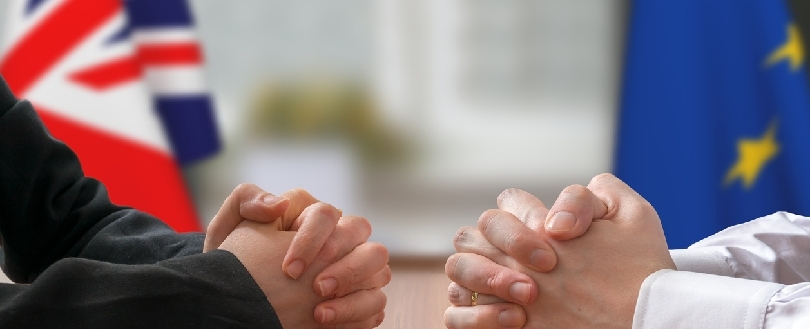 Latest Brexit and the Fire Industry update
Read the latest Brexit news, headlines and analysis from the ongoing withdrawal negotiations between the UK and EU that may impact the Fire Industry
2021
Wednesday 15th December
Keep Your Goods Moving In And Out Of The EU
If you move goods between Great Britain and countries in the European Union, you might be affected when full customs controls come into effect on 1st‌‌‌ January‌‌‌ ‌2022. HMRC has created a number of ways in which you can gain information and assistance.
2nd June
FIA releases Impact of Brexit on the Fire Industry Report
Read our latest report on the Impact of Brexit on the Fire Industry. This report focuses on the impacts on organisations, the preparation that was made, their thoughts on the future, government guidance and our industry's biggest concerns with Brexit and how the FIA has and will continue to help.
18th May
After months of research and analysis, the Confederation of British Industry (CBI) is launching our economic vision for the UK: Seize the Moment.
Join the meeting on the 24th of May for a unique keynote speech by our Director-General Tony Danker on how we can build a dynamic, competitive and future-focused economy; and hear from Joanna Swash (Group CEO, Moneypenny) and Keith Anderson (Chief Executive, ScottishPower) at our live panel discussion, chaired by Lord Karan Bilimoria CBE, DL (President, CBI), to discover what the opportunities for our country are, and what business – and government – has to do to realise them.
---
13th April
FIA Survey - Impact of the Brexit on the Fire Industry
To ensure we are representing the views of you and the wider industry as best as we can it is important to ask you questions on how Brexit has impacted you and your business. We are keen to find out information on how general questions around Brexit, how helpful government guidance has been and how the UKCA mark is affecting you.
Please can you take a few minutes to complete the survey here - link below.
---
1st March
British Standards Institute and the UKCA Mark.
We have recently met with the relevant approval bodies to ask key questions on the UKCA to attempt to provide more clarity on this complex and divisive issue.
BSI is hosting a webinar on Thursday 4th March Northern Ireland and the UKCA mark.
Northern Ireland has had a unique place in the discussions surrounding the United Kingdom's exit from the European Union. But what does this mean for those placing goods on to the market in Northern Ireland? And what does the introduction of UKCA marking mean for organizations located in Northern Ireland?
According to BSI what are the requirements for UKCA marking of fire equipment?
At the time of writing this document from a technical perspective, the requirements between UKCA and CE marking remain the same for the time being. This means you will need to meet the requirements of Statutory Instrument (SI) No 465 2019 the Construction Products (Amendment etc.) (EU Exit) Regulations 2019. (Which is the equivalent of the Construction Products Regulation (CPR) (EU) 305/2011 which applies to CE marking.)
Learn more about BSI's stance on the UKCA here
---
1 February
Post-Brexit Trading Rules of Origin
There have been several cases recently where our exporting members have asked us to explain how the 'Rules of Origin' apply to their export businesses.
Rules of Origin are essentially how customs authorities classify where an export has come from in international trade and can significantly affect the free movement of goods. This link usefully explains this www.instituteforgovernment.org.uk/explainers/trade-rules-origin.
While the government website goes into the detail that exporters will need to understand and implement in order to meet the requirements of the Rules of Origin www.gov.uk/government/publications/rules-of-origin-for-goods-moving-between-the-uk-and-eu
---
27th January
We, at the FIA, have been in constant communication with the government over the last year voicing the concerns of the fire safety industry on the impact of implementing the new UKCA mark. Thus far, we have sent several letters to Governmental departments and have voiced our concerns at many meetings with the Government.
After the Government's latest response, the FIA held our second Special Interest Group meeting to gauge the opinions and tap into the expertise from the fire and security industries. Through working with a variety of stakeholders we have identified areas where we can better represent our industry's concern on the implementation of the UKCA to those that need to hear it.
Rest assured this is a priority of the FIA. It is vitally important that the Government understands the impact that changing to the UKCA regime will have not only for businesses from the fire industry whose task it is to keep buildings safe; but also, for the thousands of business owners that rely on their buildings being compliant so that they can remain open.
Please click the link to see a recap of the work we have done so far:
---
18th January
Department for Business, Energy & Industrial Strategy has produced the two documents supporting businesses representing specific sectors during the Brexit transition process.
---
5th January
What are your thoughts on UK-EU deal?
Let us know your thoughts/opinions/issues with the latest deal and we can raise it with the Government (UK Defence and Security Exports)
---
4th January
On 24th November, we sent our second letter jointly with BSIA to the Department for Business, Energy and Industrial Strategy [BEIS] relaying our respective industry's concerns on the impact of the implementation of the new UKCA mark. In late December, we received a response from Paul Scully MP, Parliamentary Under-Secretary of State in the Department for Business, Energy and Industrial Strategy, which can be seen at the bottom.
In our letter (click here to read), we requested that 'should a reciprocal agreement not be acceptable, the specified 12 months' timeline be extended to a minimum of 36 months to allow sufficient time for manufacturers to prepare and apply the UKCA mark. Unfortunately, for our industry, the Government ignored this request on two separate occasions.
We believe exceptions should be made for fire and security products given that exceptions have been granted for medical devices – as all are focussed on life safety. The resulting impacts that the UKCA regime can and will have on life safety systems are worrying. For instance, lack of spare parts to maintain current fire safety systems correctly could affect thousands of hospitals, schools and care homes to name but a few.
---
1st January
The UK's post-Brexit trade agreement with the European Union has passed into law after receiving royal assent on 31 December 2020. The European Union and UK Government published the full text of the Brexit trade deal on Boxing Day, with the document running to 1,255 pages.
The Brexit transition period has ended and new rules on declaring goods you've moved in or out of the UK using Intrastat now apply.
---
2020
16th December
Find out what changes will affect you and your business. You should:
If you have any questions about preparing for the end of the transition period and you can't find answers at GOV.UK/transition, fill out the enquiry form and one of our experts will point you in the right direction.

If you do not act now you will not be able to trade with the EU and other countries from 1 January 2021.
---
10 December
UKEF can offer insurance for up to 95% of the value of an export order. It's just one of the ways UKEF can help your export with confidence.
UKEF Export Finance Managers help businesses of all sizes across the UK to win contracts, fulfil orders and get paid. Tell UKEF more about your business, so they can help you get the Exporters' Edge.
---
2 December
We encourage you to sign up to dedicated transition period webinars, designed to help UK businesses understand the new trading rules which will come into effect on 1 January 2021. All webinars are free to UK companies, with the next session taking place on Thursday 3 December 2020 (10:30am – 11.30am). If you are unable to attend this webinar on Thursday, you may also view a pre-recorded version available here.
Places are limited and will be allocated on a first come, first served basis. We also encourage you to sign-up to transition period webinars hosted by BEIS, Defra and HMRC.
---
27 November
NEW RULES FROM 1 JANUARY 2021 will apply to businesses trading internationally. Please read the following guidance published by the government
---
27 November
Rt Hon Alok Sharma MP, Secretary of State for Business, Energy & Industrial Strategy said:
"Over the last few weeks, I have written to you about the changes coming from 1 January 2021 and I want to thank those of you who have already taken steps to prepare.
If you have not started preparing yet, you need to start now. You can find out what actions you may need to take by using the checker tool at gov.uk/transition and keep up to date with regular business readiness bulletins too.
---
25 November
Let us know your issues around the Transition Period and we can raise it with the Government (UK Defence and Security Exports)
25 November
UK Defence and Security Exports (UK DSE) are here to provide specialist export advice and practical assistance to help you succeed overseas.
UK Defence and Security Exports are keen to help start the economic recovery by thinking about what happens next and how we can stay one step ahead of our competitors.
They are currently looking for companies who provide products and services to First Responders up to join the UK Security Offer and help us showcase your capabilities to overseas buyers; this is a unique opportunity to contribute to the UK's national security and prosperity. If you would like your company to be involved in the First Responder Capability Campaign - (if you work in other sub-sectors be sure to register your details as well)
16 November
Proposed Common Framework for ODS and F-gases
The following message has been published by Defra F gas ODS Team:
From 1 January 2021, the EU F-gas and ODS Regulations will no longer apply in and to Great Britain. The UK Government has laid legislation to amend a previous statutory instrument in order to implement the Protocol on Ireland / Northern Ireland for restricting the use of ozone-depleting substances (ODS) and fluorinated greenhouse gases (F gases). This legislation is required so that the UK can properly implement relevant EU law in Northern Ireland only (meaning Northern Ireland will remain in the EU F-gas and ODS systems) and makes other minor technical amendments as required.
---
16 November
A message from the Business Secretary: Intellectual Property rules are changing
Message from Rt Hon Alok Sharma MP, Secretary of State for Business, Energy & Industrial Strategy:
As I have written over the past few weeks, it is important that your business is ready for the end of the transition period on December 31 which is 49 days away. In this week's letter I want to focus on Intellectual Property rules.
In just 49 days there will be changes to how the Intellectual Property (IP) system and the Intellectual Property Office (IPO) will operate. These changes will affect:
---
9 November
Registration, Evaluation, Authorisation, and restriction of Chemicals (REACH) regulation at the end of the transition period
After the transition period ends the EU REACH Regulation will be brought into UK law under the European Union (Withdrawal) Act 2018. REACH, and related legislation will be replicated in the UK with the necessary changes to make it operable in a domestic context. The key principles of the EU REACH Regulation will be retained. The domestic regime that will operate in the UK from 1 January 2021, will be known as UK REACH. The REACH Statutory Instrument can be found on legislation.gov.uk and will make its way through the parliamentary processes, with the intention that it will come into force at the end of the transition period.
In short, if you have registered under EU REACH you will have to register under UK REACH and if you imported from an EU source registered under REACH you may now have to register under UK REACH as the importer!
The relevant information can be found on the HSE website
---
6 November
Are you ready to trade in goods with the EU after 31 December 2020?
The government urges you to prepare for the future trading relationship in two months' time. The transition period is ending on 31 December and there will be no extension. If you trade goods with the EU, the rules will change and there are actions to take now. Time is running out and getting ready can take longer than you think.
Regardless of whether we reach a trade agreement with the EU, from 1 January new rules will apply for any trade with Europe. You will need to:
make customs declarations for any goods moved between Great Britain and Europe;
pay the relevant tariffs on any goods moved between Great Britain and Europe; and,
follow new processes for moving any goods into Northern Ireland from Great Britain.
If you're a VAT registered trader, you will also receive a letter in the next few days from HMRC explaining what you need to do to prepare. You can find all recent HMRC letters to VAT-registered traders on GOV.UK.
Help is available, and as Business Secretary, I urge you to:
You can find out what other actions you may need to take by visiting gov.uk/transition and using the checker tool.
---
13 October
Are you ready for our new relationship with the EU?
There will be guaranteed changes from 1 January for businesses as we start our new relationship with the EU, and there are many actions you can take today to prepare. Find out what you need to do by visiting gov.uk/transition and using the checker tool.
I know these are challenging times, however, it is vital that your business prepares now for our new relationship with the EU, outside of the single market and customs union.
There are 80 days until the end of the transition period and there will be no extension, so you need to act now.
Regardless of whether we reach a trade agreement with the EU, from 1 January there will be guaranteed changes to:
the way businesses import and export goods;
the process for hiring people from the EU; and
the way businesses provide services in EU markets.
Help is available, and as Business Secretary, I encourage you to:
Check what actions you need to take by visiting gov.uk/transition.
Sign-up for updates.
Attend government webinars for additional support, you can sign-up to attend BEIS webinars now.
Unless you take action, there is a risk business operations will be interrupted. You should also check with your suppliers and customers that they are taking action.
Businesses will play an essential role in ensuring a smooth end to the transition period, and the government and I will be there to support you as we embark on the UK's new start
---
06 October
The way you hire from the EU is changing
From 1 January 2021, freedom of movement between the UK and EU is ending and the UK will introduce a new points-based immigration system. The new system will introduce job, salary and language requirements, treating EU and non-EU citizens equally and transforming the way in which employers recruit from outside the UK. From 1 January 2021, you will need a sponsor license to hire most eligible people from outside the UK, excluding Irish citizens, who are exempt. The process usually takes around eight weeks and fees apply. You can find our more at www.gov.uk/hiringfromtheeu.
Download the employer guide for a detailed introduction to the points-based immigration system.
Sign up to receive email updates on the points-based immigration system
Read the full sponsorship guidance for employers
---
04 September
FIA and BSIA write a joint letter to the Government on the impact of the UKCA mark
Here is the FIA's and BSIA's letter (PDF version available here) to Rt Hon James Brokenshire, Minister of State for Security, who the FIA previously worked closely with to allow fire professionals to be considered as key workers. If this pressing issue impacts you and your business, then we have created a template for you to use to send to your Local Member of Parliament.
---
26 May 2020
In order to provide value for FIA members in navigating the uncertainty that Brexit brings, we have developed a 'BREXIT – International Trade Preparation Checklist' document.
The following checklist includes a series of questions that every member should ask themselves, based on a "worst-case" scenario. Each member needs to be able to answer each question to ensure they are properly prepared for trade with the EU from January 1st 2021 onwards. Are you ready, is your company ready for the end of the transition period with EU?
---
2 March 2020
An important update that could change where you are allowed to work.
Post 31/12/2020 (unless there is an agreement to the contrary) the EU will not recognise engineer's F Gas certificates issued through a UK agency such as the FIA (Fire) and other providers.
---
2019
---
14 October 2019
With Brexit looming or not looming depend on what news report you read, what does this mean for UK fire companies with F-Gas certification.

DEFRA the UK government department is taking steps to ensure there is a smooth transition whether there is or isn't a deal.
---
2018
---
13 December 2018
In the event that the UK leaves the EU without a deal on 29 March 2019, HM Revenue & Customs have published a letter to help businesses that trade with the EU.
Two versions of the letter have been published: one for businesses in England, Scotland and Wales and a separate letter for companies based in Northern Ireland.
---
26 November 2018
The UK structure for CE marking and product certification operates within an EU-wide system, and the output from organisations that issue certificates is accepted throughout the EU, and wider.

But what will happen to these organisations when we are no longer in the EU?
---
24 September 2018
Trends within the industry point to uncertainty
BAFE, BREXIT, and Grenfell are three of the things that those in the fire industry are losing sleep over.
Respondents to the FIA's Market Conditions Survey have expressed their concerns over rising supplier costs and a component shortage, as well as uncertainty surrounding Brexit, initial analysis can reveal.
---
2017
---
'Nobody knows how Brexit will affect us,' commented Ian Moore, CEO of the FIA in his introduction to the report. This may have caused 'a degree of reticence in investing in growth and instead focusing on consolidating businesses current position. The one exception to this is UK manufacturing who are seeing strong growth based on exchange rates working to their benefit', he added.
FIA CEO Ian Moore gives his view on the situation
The publication explains the global system of standards and BSI's role in representing the interests of UK stakeholders. It reflects the feedback we have received from stakeholders, who stressed the importance of retaining the UK's role and influence within the European standardization system through continued membership of CEN and CENELEC.
---
2016
---
The Institute of Export has published the results of a comprehensive survey on Brexit which features views from 600 participants across 180 sectors and it shows that while just over half of respondents expect their business to remain the same, almost half expect growth to shrink in the medium term. 42% expect the damage to be prevalent over the longer term and these findings are broadly similar to the brief survey carried out by the FIA in the direct aftermath of the exit vote.
Within the last 6 months there have been a lot of changes in both the political and economic stratosphere: a new Prime Minister, a vote to leave the EU, and a drop in the value of the Pound Sterling. But how will this affect business?
The security and fire industries are deeply woven into the tapestry of the European construction sectors- Europe is the world's second largest security market with 23% share worth approximately $6bn (Memoori report: The Physical Security Business 2014 to 2018). Therefore, the effect of the UK's decision to stay or leave the EU will reverberate around the industries for years to come. Major areas such as harmonised standards, testing, approvals and collaboration may be fundamentally affected by the outcomes of the voting and these areas will be directly addressed at IFSEC and FIREX on the actual day of the referendum itself.
---
If you have found this article helpful or you are proud to be an FIA member then please share this article with your network.
---