BS 5839-1 Fundamentals Qualification
---
Fundamentals of Fire Detection and Alarm Systems in Non-Domestic Premises.

Here at the FIA, we are proud to bring you a new standalone qualification, our 5th to date, that will give you a comprehensive introduction to the Fire Detection and Alarm (FD&A) sector and a core understanding of BS 5839-1 which focusses on non-domestic premises.
---
Why have we created this?

The Fundamentals Qualification comes from our commitment to driving the highest levels of competency within the industry. We are here to help and empower our members, end-users and the industry in order to further improve the safety of the public.

We have and will continue to successfully do this that is by guiding our members and non-members to learn about fire safety. In doing so you able to operate in a competent manner and proving this by passing a nationally recognised examination.

The best way we can achieve that is by training technicians with a core understanding and knowledge of FD&A and BS 5839-1.
---
Why BS 5839-1?
"BS 5839-1 has been our iconic guidebook for decades and is recognised as being at the forefront of every decision made on the design, installation, commissioning and maintenance of fire detection and alarm systems"
Ian Moore, CEO of the FIA.
---
What is it?

The qualification is made up of 2 training units and an exam. Each unit is 2 days long. So that's 4 days training and 1 open book exam needed to gain an industry-recognised Qualification.
You will receive a certificate of attendance after completing Unit 1. At the end of Unit 2, you will sit an open-book exam.

---
Who should take this course?
Everyone who works in FD&A should take this course. The course covers all aspects of BS 5839-1. It is essential that all technicians carrying out any kind of work in the sector, have been trained on and has good working knowledge and understanding of BS 5839-1.
New individuals: This qualification appeals to new and aspiring technicians in the fire industry as it focuses on the core fundamentals of FD&A. We have created this qualification in line with BS 5839-1.
Technicians who have taken the 'Foundation in FD&A' : We want to allow technicians who have taken our 'Foundation in FD&A' the ability to benefit from our new standalone industry recognised Fundamentals Qualification.
As a result, you can take a Conversion Unit that will add to the information you have already gained in the Foundation in FD&A. We have made every effort to concentrate on the fundamentals to ensure that you can spend more time on the road making a real difference in your job.
Remember you can take the Conversion Unit whatever your score was when you took the Foundation course!
In short, if you have already taken Foundation it will take 2 extra days to get a Qualification.

---
Summary

If you want a nationally recognised qualification that covers the BS 5839-1 then book now before spaces go.
The below video will help you prepare for the FD&A Qualifications Exam Unit 1&2.
---
Clarification

The Fundamentals Qualification does not replace any of our other industry-leading training courses

The Fundamentals Qualification is a singular standalone qualification and does not allow individuals to take any of our Advanced courses striaght away. They would need to take Fundamentals to Advanced (Which has the Foundation Exam at the end of it) which replaces Foundation for someone having passed Fundamentals.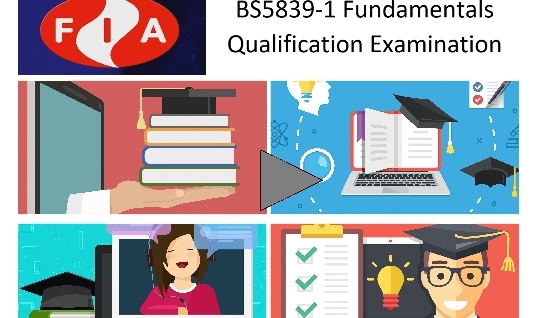 Video
BS5839-1 Fundamentals Qualification Exam
---
If you have found this video and content helpful, please share it with your network.