Cut false alarm costs
Most fire alarm and detection systems don't cause false alarms; it's the mismanagement of them that does and this is where they can really cost you money due to: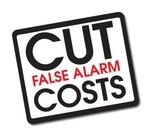 Lost production
Disruption due to staff evacuation
Unnecessary release of retained firefighters
Possible future charging for attendance by fire and rescue services
Increased insurance premiums
Modern properly maintained systems rarely suffer equipment malfunctions but it is estimated that false alarms cost the UK in excess of £1 billion a year. They must be stamped out! Even one is one too many. We are on a mission to stamp out false alarms and we need your help.
Use the links on the right to find out more about the problem and how you cna help resolve it. Plus we have produced a number of guides:

Fire alarm response strategy leaflet

Fire detectors leaflet

How a fire alarm control panel can help

How to investigate your fire alarm leaflet