Export Council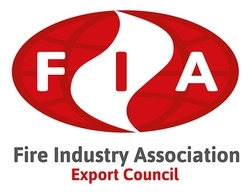 Over 60 FIA Exporters provide all types of fire safety products and services.
Many are manufacturers and distributors from the active fire protection and fire-fighting supply sectors. Others include standards and certification bodies.
UK companies sell over £300m per annum in active fire protection products and £150m in fire fighting equipment.
9 out of 10 members sell to Western Europe
80% to the Middle East
Two­-thirds to Eastern Europe, Africa and Asia
70% export a high percentage of their products


FIA Exporting Directory

FIA Exporters Case Studies MASTER pdf.pdf
A key activity of the Council is the commissioning of Market Reports on key countries such as Russia, Brazil, the UAE, Australia, Turkey, South Africa, Singapore, Argentina and Malaysia.
Sharing best practice and information, the Export Council collectively educates global markets on the benefits of using UK products, services and standards.
It secures funding for overseas trade missions and works with British Embassies and Commercial Officers to organise programmes of seminars, receptions and one­-to-­one contact with key companies and decision makers.
It also acts as a focal point for overseas visitors, enabling members to meet key personnel arriving in the UK.