Let-HD gains Third Party Certification through FIA support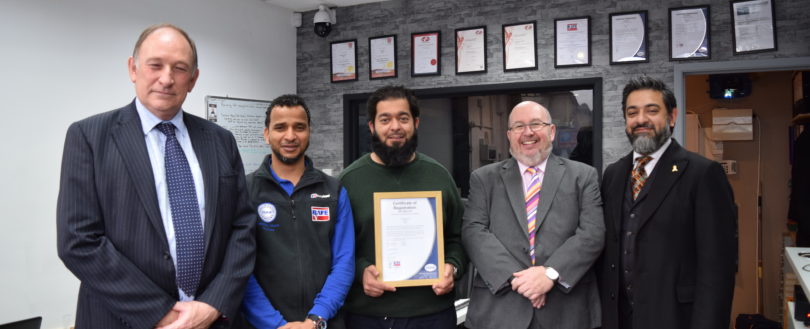 Let-HD gains Third Party Certification through FIA support
FIA's Route to Certification Package helps business expand into fire detection and alarms
Let-HD, initially a security installation business, has finally become fully third party certified for fire detection and alarm systems and a full FIA member following the support gained through the FIA's Route to Certification Package.
This is the first time that a company has gained third party certification through SSAIB (one of the many third-party certification bodies) through the FIA's Route to Certification Package. As third party certification is the main criteria for membership of the FIA, the package helps companies that may be new to the fire world expand their businesses.
The Route to Certification Package gives companies the support of the FIA's Compliance Manager, Kevin Stearns, who provides a consultancy service to the company to get them fully certified, plus one year of probationary FIA membership, which brings with it all the standard FIA membership benefits, including reduced rates for training.
The support given by the FIA is comprehensive and includes all of the documentation, face-to-face consultancy, and telephone and email support. Companies will only be put forward for audit by the third party certification body once the FIA is confident that the company will pass the audit – and this usually happens first time due to the extensive support offered.
Othman Aburahim, who runs Let-HD, was presented with a framed certificate by Alex Carmichael, the Chief Executive of SSAIB.
"We are very proud," he said. "The whole process from start to finish took 8 months of work. At the start, we questioned why the FIA said it would take so long, but then we saw how much work it took along the way, behind the scenes. It's absolutely changed the business.
"SP203-1 [the certification scheme] is really in depth. Getting certified increases the depth of knowledge required.
"It has increased the amount of work we can do now. Having a certification body behind you gives your customers confidence in your ability to get the job done. It's made a huge difference in scaling up the business long-term.
"We wanted to get certified with the help of the FIA. It's a really good thing; it's helped pull the intruder alarm part of the business together with the fire alarm side of things."
For more information about the Route to Certification package, please click here.
Related posts
06 October 2023

By Neil Budd, FIA Technical manager

02 August 2023

By Kirsty Lavell, Marketing Manager

01 August 2023

By Kirsty Lavell, Marketing Manager