Our consultancy services
In a sentence, Our Route to Certification package provides a one-stop route to certification and FIA membership.
Once signed up to the Route to Certification Package, companies receive the support of the FIA's Compliance Manager, Kevin Stearns, who provides a step-by-step consultancy service to walk companies through the certification process. The support given by the FIA is comprehensive and includes all of the documentation, face-to-face consultancy, video calls, telephone and email support to ensure that companies have a clear understanding of what the process is, which one to choose and how to succeed.
For instance, you will be given options for certification relevant to your business needs with the expert guidance of the FIA. You will gain a clearer understanding of which certification scheme to undertake, and which certification body to obtain the audit from. Following that, you will get further support to work your way through the requirements of the certification scheme you've chosen to ensure you are ready for your initial audit by the certification body. Companies will only be put forward for audit by the third-party certification body once the FIA is confident that the company will pass the audit – and this usually happens the first time due to the extensive support offered.
And the really good news - you don't have to wait until you've become fully certified to become an FIA Member. Once you've signed up for the Route to Certification Package, you can be a probationary Member, and access all of the benefits of Membership right away, including the discounted training.
---
There are two ways in which we can help: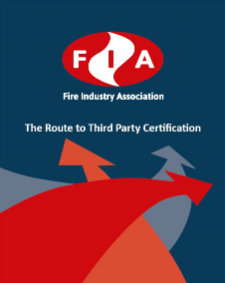 Our Route to Certification package
Auditing consultancy from our own Compliance Manager
If you are looking for Third-Party Certification such as BAFE SP203 (FD&A) or LPS1014 (FD&A), BAFE SP205 (Fire Risk Assessment) or BAFE SP101 (Portable Fire Extinguishers) we can pull all the elements together and help you through the process – all within 12 months.
The package includes:
FIA membership (free for the first year)
Consultancy services of the FIA Compliance Manager
Certification body fees
Scheme fees (e.g. BAFE)
You choose which certification body and scheme and we help you through every step of the process. Better yet you can spread your payments over the year to make it easier on your cash flow.
Alternatively, you can simply employ the services of our Compliance Manager (Find out more about Kevin) to help you get ready for your ISO 9001 audit.
If you are looking for that helping hand through the compliance landscape, contact Kevin ([email protected]), our Compliance Manager today on 020 3166 5002 and select General Enquiries.
---
Member testimonals
"The service and quality of information provided was outstanding. I have no doubt I would not have gained BAFE certification without the guidance from Kevin and as a result the information and knowledge I now have as a company is way above from before I started this process. I now have total peace of mind that work I carry out now and moving forward meets the highest standards for myself and my customers."
---
Here is what a member had to say about our Route to Certification scheme
The latest member Kevin worked with was J A Kelly Electrical Ltd, a family run business based in Leeds. Joe is the (very young) company owner, with his brother as one of the engineers and his mom is the office manager who keeps everything and everyone under control. We spoke to Joe Kelly, Director of J A Kelly Electrical Limited:
---
KS: Overall, how happy were you with both the support and advice from our Compliance Manager and the FIA, under our Route to Certification Package?
JK: I am extremely happy with the support and advice from both Kevin and the FIA. We achieved our goal of becoming third party certification! Prior to contacting Kevin, we were pretty demoralised, we had been working for around two years on and off to get to the point that we were ready for audit, but we were really struggling with implementing a management system and all the associated documentation that we needed to have in place. In hindsight, we were a million miles from being ready for audit.
I had seen the Route to Certification package on the FIA website and after speaking with Kevin we were really pleased with his proposal and we decided to commit to the process. We managed to do it in around an eight-month period from initial contact, I contacted Kevin in early January 2020, we had our first meeting and committed to the process on 17th March 2020 and completed the process achieving certification on 27th August 2020.
KS: Were there any specific areas where you think advice or support was particularly helpful and welcome, such as the internal audits and/or documentation templates?
JK: Honestly, I found the whole process very helpful, if I had to pick a few key areas would say there are three which I found particularly helpful.
Firstly, I would say the handover of the quality management system and documentation templates, were so streamlined compared to what we had already in place and once implemented they were so easy for all our staff to follow.
Secondly, I found the completion of the management review very helpful, as I personally had never done one previously neither had our office manager, so this was really helpful to give an insight into what is required of us going forward.
Finally, I would say Kevin sitting through the two-day audit with us, I was very nervous as it was our first audit and I was really keen for it to go well and he really put me at ease.
KS: Did our Compliance Manager come across as professional & friendly, but also knowledgeable with his advice and guidance?
JK: Yes absolutely, Kevin is a really good guy, he is very personable, nothing is ever too much and his knowledge and support is excellent.
We couldn't have achieved third party certification without him, genuinely, he came in and did a great job, he has a wealth of experience and drives you to succeed, he gave us every confidence that we could achieve the certification. In terms of support, I can still contact him anytime I need him now and on the occasions that he isn't immediately available, he always comes back to me later the same day. To be honest, I value Kevin as a friend now, we still have regular contact.
KS: Would you recommend our Route to Certification Package and the services of our Compliance Manager to other industry companies who may be thinking seriously about 3rd party certification?
JK: Yes absolutely, I cannot recommend the package enough, it's a proven process!
I think the offering is an absolute no brainer for businesses of all sizes aspiring to become third party certified, but especially for SME's like ourselves, there is so many benefits, from the implementation of a full quality management system if you require, to the inclusion of discounted scheme fee's, full membership of the FIA and the reduced training course rates, the costs spread out over nine months, through to Kevin actually sitting through the audit with you, the list is endless.
KS: How do you plan to progress your company in the future, or are you looking to be 3rd party certified for additional BAFE schemes, such as emergency lighting, at a later date?
JK: We've actually just committed to another Route to Certification scheme with Kevin to become third party certified to BAFE SP101 for portable extinguishers, so that's one area that we're definitely looking to develop over the coming years!
---
Final Thoughts from Kevin
J A Kelly Electrical Ltd is just one of the many companies I have worked with over the last 5 and a half years and for me, there's nothing better than hearing or reading in the report, that the certification auditor has recommended the company for certification, even if there are a few minor non-conformities to fix first!
I am usually calling or texting the company at the end of each day to see how it has gone for them if I can't attend the actual audit in person.
Joe is one of those FIA members who were open to the recommendations made as part of the RTC Package to ensure he had a BAFE compliant QMS in place and the right technical paperwork and such like for his FD&A projects. The right attitude and approach from the FIA member make my job easier!
At the FIA, we are eager to keep promoting the benefits of third-party Certification and our highly successful Route to Certification package is a fantastic way to raise the bar of the fire safety industry.
Register your interest in our Route to Certification Package