On this Day, Summerland disaster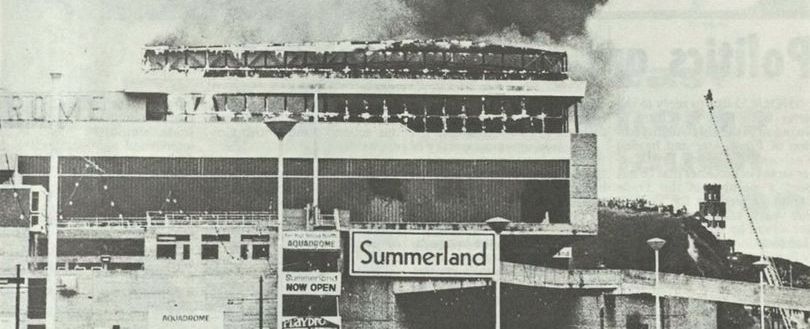 On this Day, Summerland disaster
On this date in 1973, the Summerland disaster occurred on August 2nd. Today marks 50 years since the devastating fire on the Isle of Man which took the lives of 50 people.
Summerland was a climate-controlled leisure centre in Douglas on the Isle of Man. The building opened on May 25th, 1971, and boasted an array of features, including restaurants, bars, an indoor heated swimming pool, saunas, a children's theatre, and an underground disco. Marketed as the world's most innovative indoor entertainment centre, it had the capacity to accommodate up to 10,000 tourists. However, due to the building's exterior and interior being designed by different architects, significant fire hazards were overlooked.
On the evening of 2nd of August 1973, approximately 3,000 people were present within the complex. At approximately 7:30pm a fire started from a discarded match, carelessly dropped by three boys who were smoking near an outdoor kiosk.
The kiosk collapsed against the building's exterior, setting fire to the highly flammable acrylic sheeting, known as Oroglas and later dubbed "horrorglass," which covered the venue. The fire spread to the wall's interior soundproofing material, which was highly combustible, destroying the wiring of the fire alarm system, and fire quickly spread across the acrylic sheeting on the leisure centre walls, roof and through vents which were not adequately fireproofed. The acrylic material melted, which allowed more oxygen to enter the building, and the burning molten material dropped into the building which started further fires and injured those trying to escape. Inadequate ventilation and locked fire doors contributed to the high number of casualties, as many individuals were forced to rush towards the main entrance, resulting in a stampede.
Surprisingly, it took more than 20 minutes for the fire service to be notified. The initial reports were not made by those inside the complex, but rather by a passing taxi driver and even a ship's captain who spotted the billowing smoke two miles out at sea.
Following a public inquiry, the use of combustible materials during the construction of the building and the delayed evacuation were heavily criticized. The inquiry's report described the fire as a "holocaust" that engulfed the roof within 10 minutes.
The tragic fire took the lives of 50 people, many under the age of 20, and injured around 80 others.
One of the key lessons learnt from the Summerland disaster is the critical importance of prevention, preparation, and education in lowering the risks linked with fire. The FIA (Fire Industry Association) is actively promoting these principles, emphasising the importance of thorough fire risk assessments, routine maintenance of fire protection equipment, and the distribution of fire safety training.
As we reflect on the Summerland disaster, we remember the lives lost and the strength of those who survived.
Related posts
01 August 2023

By Kirsty Lavell, Marketing Exec

21 July 2023

By Kirsty Lavell, Marketing Exec

03 July 2023

By Kirsty Lavell, Marketing Exec