Fireside Chat with Simon Routh-Jones - Scottish Fire and Rescue Service
Fireside Chat with Simon Routh-Jones - Scottish Fire and Rescue Service
Here is a write up of a quickfire interview with Simon Routh-Jones, HM Chief Inspector of the Scottish Fire and Rescue Service. This interview touches on the future of fire rescue services, the Can-Do attitude of the fire industry and great advice for succeeding in the fire industry.
Fireside Chat with Simon Routh-Jones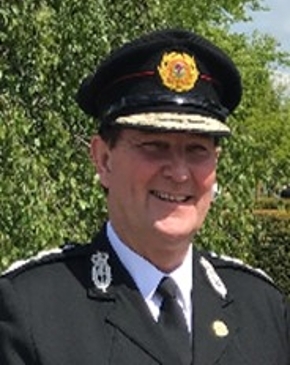 Intro: Simon Routh-Jones served as a Fire Officer for over 37 years and retired from the post of Chief Fire Officer and Chief Executive at Wiltshire Fire and Rescue Service in April 2016. He joined HM Fire Service Inspectorate for Scotland in September 2016 as an Assistant Inspector. In June 2018, Simon Routh-Jones was appointed HM Chief Inspector for the Scottish Fire & Rescue Service and leads the Inspectorate in a period of great change and challenge. Simon is the Advisor to the Northern Ireland Department of Health Administration responsible for Public Safety (Fire) and to the Board of Northern Ireland Fire and Rescue Service. He is also s a Trustee of The Fire Fighters Charity alongside being a Fellow of the Institution of Fire Engineers and a Fellow of the Institute of Leadership and Management. In 2016 he was awarded for Queen's Fire Service Medal for services to the Fire and Rescue Service
How have you been affected by COVID-19?
It has been a worrying time recently. Personally I am concerned about the health and wellbeing of my family and friends and the long term future.
In respect to work, obviously, within HM Fire Service Inspectorate for Scotland (HMFSI), we have completely changed the way in which we work, and since Lockdown (which has different guidelines in Scotland than it does in England), my staff have been working safely from their home and this, at the moment, is our new way of working.
The work programme has been revised so that the desk data analysis work is being concentrated on for all 2020/21 Reviews, in order that we can 'star-bust' into the fieldwork for all the Inspections when the occasion arises. On a plus side, this period of time has enables us to get administrative things done, which always take a back seat during the previous normal busy schedule.
I ensure that all staff are comfortable with the changes which have been imposed upon them and ensure that I speak to them all regularly via individual conference calls. I also hold weekly video conferencing meetings with all staff together and we speak about any welfare issues, or additional support they may need. Face to face contact is essential during these challenging times – albeit from a distance.
I must admit that video conferencing is good, but I miss the physical face-to-face contact as a lot of our work revolves around regular interaction with each other.
Apart from going out to do actual Inspections, we have all been very productive and whilst it is a change from pre-COVID, we have ensured that at HMFSI it is business as usual.
Personal Questions
No not at the moment. I have had pets but my lifestyle at the moment doesn't allow me to have them because I'm in-between two completely different locations. I am an animal lover and in my childhood travels with my father's work, I have had some unusual pets, for example, I have had a monkey, meerkats and also a racoon – fond memories.
What's your favourite movie of all time?
Top Gun, I enjoyed the film throughout, as not only is it a great film but also depicts an individual with the challenges and opportunity to shine again, and to turn a difficult time in their life to a positive time. Can't wait to see the sequel which was due out this year.
Describe yourself as a teenager in 3 words?
Adventurous, considerate and competitive
What is your biggest pet peeve/hate?
Lies, impoliteness, bad manners and poor customer service
If you could be from any other decade (or era), which would it be and why?
The steam era, in my opinion as it shaped the future in discovery and the start of the industrial revolution
If you weren't in the fire industry – what would you be doing and why?
I really enjoy doing DIY so probably be renovating properties. Most of my houses in my adult life have been purchased when in need of repair, and I looked at them as a blank canvas to rebuild a home.
What's on your Spotify or iTunes?
Country and Western and one of my favourites is Lady Antebellum. A concert I attended was one where they were playing to a packed stadium in Glasgow. It was absolutely superb, amazing atmosphere and a memory to make me smile when I hear their songs playing.
Nashville is on my 'bucket-list' to visit.
If you could have any three people (dead or alive) over for dinner – who would they be?
My father, as he had a distinguished Military career and an amazing life, however he died far too young to share his stories with me. Princess Anne, I have met her a number of times and always found her captivating and really interesting to talk to, and Charles Darwin, it would be fascinating to hear him speak about his contributions to the science evolution.
What two things would you take to a Desert Island?
My wife Lesley (of course), a Swiss army knife to ensure we had a piece of useful equipment to help us survive and a series of John Grisham books (I know that's 3, but how could I leave Lesley behind!!)
Name a book, movie or tv show you that has positively shaped you and why?
Rather than a novel, TV show or film, I would say the AA Road Atlas has certainly taken me to a number of places (pre Sat Nav) where I very much relied on their maps to get me to where I needed to go. Getting to places on time, enabled me to attend meetings, which have, in a number of occasions shaped my life and gave me opportunities for the career path I remain on in the Fire Sector.
If you had a spirit animal, what would it be and why?
Some sort of Tiger, I like that they are independent, formidable and protective
What is the best gift you've ever received?
Love
What's your favourite thing in your closet right now?
My childhood memory box, as these items that have been with me through my life and as I no longer have either of my parents, they remind me of my amazing childhood.
If you could have one superpower, what would it be?
A Magical Power, which would enable me to cure illness and help prevent suffering from pain
---
Professional Questions
What's the best piece of advice you've received?
Be honest to yourself, I have used this throughout my career but especially when going for promotion. To me, it is incredibly important to know you are able to do the job well and competently and not just going for the job because of money or the title.
What time did you get to work this morning?
I was up at 6 am, I had to get a train at 9:30 am and my first meeting today is with you now at 1 pm. However, when I am in Scotland I normally get to work about 8 a.m.
What does your usual day look like?
My work is split between Scotland, London and Northern Ireland. The roles and tasks that I do in each place vary considerably. For instance, when I am in London, I base myself in Scotland House and try to fill my days there with as many meetings with different people and organisations as possible, to get the most benefit from being there. When I'm working from Scotland, it tends to revolve around managing the Inspectorate, fulfilling our internal workload and delivering HMFSI's Business Plan.
A significant part of our external-facing work, whilst undertaking our Inspection programme, is face to-face interviews across a wide range of Scottish Fire & Rescue Service departments, Senior Managers and specialist staff, visiting Fire Stations to carry out Inspections, conducting interviews with external Partners and Suppliers and working closely with the Chief Fire Officer. My work takes me to all, near and far-flung parts of Scotland's mainland and Island – Scotland is a beautiful place to be amongst. When in the office, I can be found writing reports, doing research and having internal meetings with Scottish Government officials.
As I am also Advisor to Northern Ireland Fire and Rescue Service, I am at times in Belfast, working with the Administration.
What makes you excited about the future of this industry?
The Fire Service has a fantastic reputation and respect amongst the Communities it serves. I believe the Fire Sector always provides the security and assurance that people need in crisis, together with a place to go to for advice on their fire safety.
For a number of years, Fire Services have undertaken new roles and responsibilities. Additional requirements have been placed on firefighters which has continued to enhance their capabilities and skill set. With this continual change in role, the Fire & Rescue Services have been positioned to offer a much-valued community safety service.
I am excited to see the hard work which has gone on for a number of years to recruit a diverse workforce is coming to fruition. I am always pleased to see new recruits joining from all backgrounds.
I think the fire service has a tremendous future with the opportunity of working closely with other Emergency Services and Partners by moving into other areas that are not traditionally dealt with previously.
What do you like about the fire industry?
It's a very positive Can-Do Industry. The FIA has a depth of knowledge and expertise, which can only be of benefit to the Fire & Rescue Service and the wider Fire Sector.
How does your work and family life come together?
I am a bit of a workaholic, therefore I tend to work for more hours than I probably should do. However, since leaving the Fire Service, not having a pager and being on call during the evening and at the weekend, it is easier to strike the balance between work and family life. At times, as part of my job, I am away overnight and sometimes for days at a time, and I am fortunate that my wife works in the Fire Sector and fully understands and supports my work.
What matters most to you?
Firstly, my family, I want to keep them happy and ensure that I can provide for them in the best way that I can and we do enjoy the nice things in life together. Having a good social circle of friends is also important, and I do value the friendships I have. And of course my health.
What would you tell yourself at the age of 21?
Don't rush things, and to do the best you can – no one can ask for more than your best
Being able to make a positive difference in any way that I can
Where do you want to be in 5 years?
Retired, however still doing some work in the Fire Sector and working with Charities. I want to enjoy life to the full with my family and friends.
Why is the FIA important to you and the industry?
What I believe is lacking in the Fire Sector at the moment is the drive to work on the understanding of what the future will look like for the Fire & Rescue Service, how to deal with the changing environment and how the FIA can work together with the Services to deliver safer solutions from within Industry to the community.
From visiting exhibitions, such as the Emergency Services Show, there appears little long term focus innovation but dealing with the 'here and now'. I believe that the Fire Industry and the FIA needs to be working hand and hand with Fire Services to work towards a 10, 15 and 20-year future.
For instance, it is unlikely that the equipment now, will be totally suitable and fit for purpose in 10, 15, 20 years with changing requirement being placed on it.
To conclude the FIA represents a strong organisation and a great place for having collaborative conversations and discussions about innovation and shared goals with Fire & Rescue Services and Inspectorates for the future.
What do you want to say to the readers?
Always be honest with yourself and others. Actions speak louder than words, however, think of the implications that you actions could have on others.
Look after your family and do the best you can to support them and provide them love and encouragement.
Have a good support network of friends and be a good friend to others.
Make a difference in the best way that you can.
---
In the next edition of Fireside Chat will be with Johan Ivarsson, Managing Director at Cold Cut Systems Svenska AB.
If you would like to get involved with Fireside Chats please contact [email protected].
*All answers given are not reflective of the FIA views and thoughts and are that of the individual who was interviewed.

Related posts
02 February 2023

By Kirsty Lavell, Marketing Manager

23 January 2023

By Kirsty Lavell, Marketing Manager

27 September 2021

By Adam Richardson, General Manager