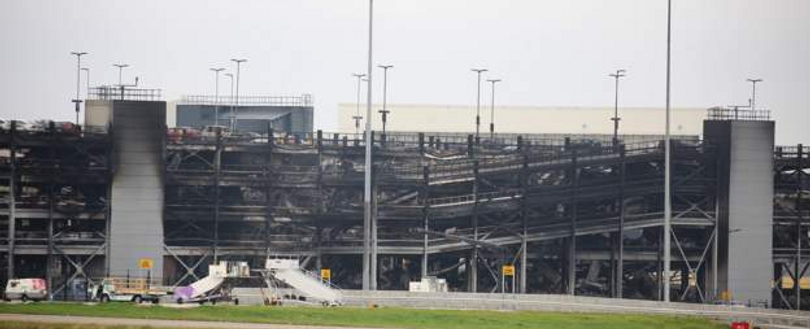 According to officials, it is "unlikely that any vehicles will be salvageable" after a significant fire broke out at a multi-story parking garage at London Luton Airport (LLA)
The evening of October 10, 2023, saw a fire at Terminal Car Park 2 that, according to an earlier report by the FPA, led to "significant structural collapse."
One hundred firefighters participated in the extensive response operation to put out the fire, as stated previously in our article. Bedfordshire Fire and Rescue Service (BFRS) later stated: "This was a major incident with many challenges, but the incredible partnership working and multi-agency response demonstrated helped to ensure that everyone was quickly and safely evacuated from the scene and that the damage caused by the fire was kept to a minimum.
The vehicle that initially caught fire was a diesel car, according to BFRS, but the cause of the fire is still under investigation. To understand what happened on Tuesday night and why, Bedfordshire Fire and Rescue Service's fire investigation team will collaborate closely with Bedfordshire Police.
We don't think it was an electric vehicle, Chief Fire Officer for BFRS Andrew Hopkinson told ITV News. At this point, all claims about its diesel-powered propulsion are pending verification. Then the fire spread quickly.
Hopkinson noted that the recently constructed parking lot lacked a sprinkler system, saying, "We are already talking to the airport about ensuring that any future and existing parking lots have sprinklers installed because this building is not sprinkler protected. Sprinklers might have helped prevent this incident.
It is believed that almost 1,500 cars had been parked there at the time of the fire. The airport has since confirmed that, alongside APCOA parking, it has responded to almost 16,500 customer queries. In an update on X, formerly Twitter, LLA tweeted: "Following investigations by the emergency services, Terminal Car Park 2 has now been handed back to the airport. Work to make the site safe is ongoing, but it remains too dangerous to enter.
"Regrettably, it is unlikely that any vehicles will be salvageable, but this is still in the process of being assessed. We are working with the Association of British Insurers on behalf of the many insurance companies about whether it is possible to retrieve any personal possessions, when it is safe to do so, and how this may work.
"We have provided the Motor Insurers' Bureau (MIB) with the registration details of 1,405 vehicles, who have confirmed the vast majority have now been passed to individual insurers. You are advised to notify your own insurance company, so they can progress your claim as soon as possible."
A spokesperson for the airport added: "We recognise this has been an extremely distressing time for all concerned and we would like to thank our customers for their ongoing patience and understanding while we work through the many complexities following this incident."
View the SOURCE here.
Our eNews provides regular insight into industry trends, news headlines, and product and service information. For news articles parallel to those mentioned above, sign up for our eNews. Click here to sign up: Subscribe to our enews (fia.uk.com)