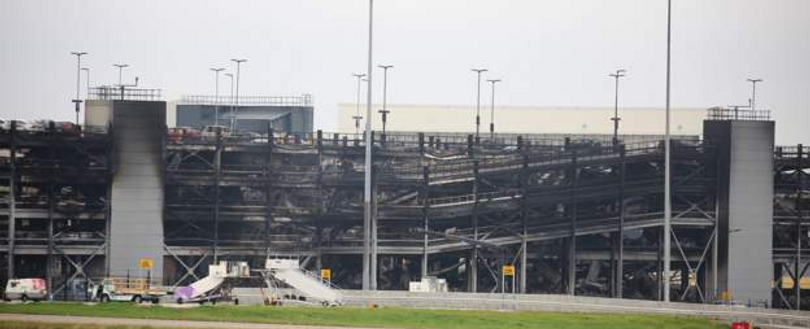 Learning from the Luton Airport fire: structural collapse at Luton airport car park following significant fire incident
According to Bedfordshire Fire & Rescue Service (BFRS), the Luton Airport Fire, which ignited on the 10th of October around 20:47, was a terrifying and destructive incident that sent shockwaves through the population and raised critical questions about fire safety.
By 8:45 on the 11th of October, the fire had been successfully extinguished, but not before it had caused destruction in the multi-story parking facility, necessitating a massive response from emergency services.
The focal point of the fire appears to have been a vehicle on the third level of the parking lot, leading to widespread damage. Early estimates suggest that up to 1,200 vehicles may have been affected by the fire's rapid spread.
Fortunately, Chief Fire Officer Andy Hopkinson reported that there were no injuries among the public. However, five individuals, four firefighters, and an airline official required hospital treatment for smoke inhalation, underscoring the risks faced by those on the front lines of such incidents.
Eyewitnesses reported loud explosions during the incident, a testament to the fire's intensity and quick spread. One glaring issue that emerged from this incident was the absence of sprinklers in the parking facility. This has prompted recommendations for their inclusion in any future renovations, as they could significantly bolster fire safety measures.
AA technical expert Greg Carter shed light on the possible cause of the fire, stating, "The most common cause of car fires is an electrical fault with the 12-volt battery system." This information highlights a critical factor that may have contributed to the incident. Moreover, he added that diesel is "much less flammable" than petrol, and in a car, it takes "intense pressure or sustained flame" to ignite diesel, suggesting that the type of fuel in the affected vehicles could have played a role.
The investigation into the specifics of this incident is ongoing, but there is no suggestion that the blaze happened intentionally.
This incident serves as a stark reminder of the importance of robust fire safety measures, especially in densely populated and high-traffic areas. It underscores the need for continuous vigilance and improvements in fire safety infrastructure to mitigate the risks and impacts of fire incidents.
The Fire Industry Association strongly reiterates the critical role that such measures play in safeguarding lives and property.
View the SOURCE here.
Our eNews provides regular insight into industry trends, news headlines, and product and service information. For news articles parallel to those mentioned above, sign up for our eNews. Click here to sign up: Subscribe to our enews (fia.uk.com)