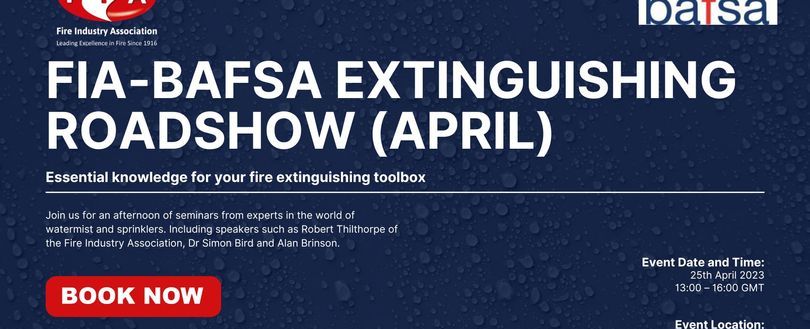 The FIA – BAFSA Fire Protection Roadshow comes to Birmingham.
The third in a series of Fire Protection Roadshows comes to West Midlands Fire Service HQ on 25th April from 13:00-16:00.
On Tuesday 25th April the FIA and BAFSA will be hosting the third in our series of Fire Protection Roadshows. Join us for an afternoon of seminars from industry experts on gaseous extinguishing, Watermist, sprinklers, environmental challenges and the risks posed by Li-Ion batteries. The agenda for the afternoon will follow our previous two events so be sure to sign up and join us for an excellent afternoon.
In addition to expanding your knowledge, earn valuable CPD hours for free and take the opportunity to network with some of the best in the industry.
Here's the afternoons agenda: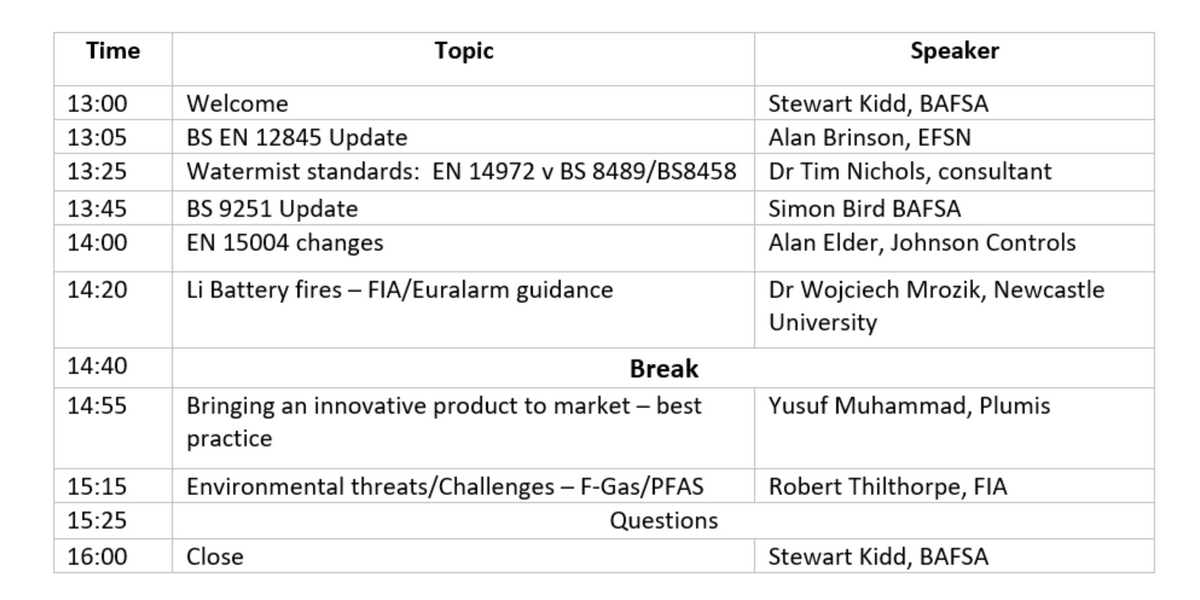 Here's a little more about the presenters:
Stewart Kidd, BAFSA - Stewart Kidd is a security and fire protection specialist who celebrates 48 years in the profession in April 2023. He is a Vice President of both the Security Institute and the Institute of Fire Safety Managers and a Chartered Security Professional. He was Director of the FPA from 1989 - 1997 and Secretary General of British Automatic Fire Sprinkler Association from 2001 - 2015. He sits on several British Standards committees and chairs the BAFSA Watermist WG.
Dr Simon Bird, Consultant – Simon began his career designing and manufacturing bespoke optoelectronics test and measure equipment for use by the telecommunications and pharmaceutical industries. He then became Head of Fire Suppression at the BRE Global / Loss Prevention Certification Board. Simon then joined the FPA (Fire Protection Association) with responsibilities including lead-author of the LPC Rules for Automatic Sprinkler Installations and delivery of various testing and research projects. In 2018 Simon founded an Engineering Consultancy firm; Fixed Firefighting Systems Bureau, proving independent specialist advice to a variety of users in the subject area. Simon serves on several British and European Standards committees. Simon is chair of the IFE (Institution of Fire Engineers) Special Interest Group for Fixed Firefighting Systems
Alan Brinson, EFSN – Alan is the Executive Director of the European Fire Sprinkler Network. He is a Chartered Engineer with a degree from Cambridge in chemical engineering and first worked as a research process engineer for Shell and Proctor & Gamble before joining Tyco in 1992. For the past 20 years he has led and participated in successful sprinkler campaigns in many European countries, working with EFSN members, fire chiefs and officials to ensure that new buildings are fitted with sprinklers. Alan is an active member of fire safety standards and regulatory committees for BSI, CEN and NFPA.
Dr Tim Nichols, Consultant – Tim has a degree and PhD in Physics and joined the fire industry in January 1991. He has expertise in gas extinguishing; sprinklers; kitchen protection; water mist; specialised detection systems; and fire engineering including radiation heat transfer, EWS1 audits, and integrating suppression systems into fire strategies to solve fire engineering challenges. Tim is a member of the British and European standard committees for gas extinguishing and water mist systems; a member of the Fire Industry Association (FIA) Fire Engineering Council and Working Group Water Mist. Tim has written several papers and a book on fire extinguishing systems. He is a Fellow of the Institution of Fire Engineers and a Chartered Physicist, and presently runs his own specialist fire consultancy business.
Alan Elder, JCI – Chairman of the ISO/TC21/SC8, International Standard Committee, the British Standards gaseous extinguishing and water mist systems technical committees (FSH18/6 & FSH18/5), and the UK Fire Industry Associations Working Group Gases. Chairman of the European Trade Association EURALARM Extinguishing Systems Section. Member of various European (CEN) Technical Committees including TC191/WG6. Also, an NFPA Member, and a member of the FIA Extinguishing Systems and Export Councils as well as LPCB's Industry Technical Liaison group.
Dr Wojciech Mrozik, Newcastle University – Wojciech Mrozik is a Faraday Institution Senior Research Fellow at Newcastle University. He is and expert in the risk assessment and identification of hazards from lithium-ion batteries failures – by working within the Faraday Institution-funded ReLiB and Safebatt projects. He has given number of presentations to various FRS (UK and abroad), stakeholders, at international conferences and seminars. He is a committee member of BSI FSH/2. Wojciech is a skilled environmental and analytical chemist with over 35 publications in international journals and an H-Index of 22.
Yusef Muhammed, Plumis - Yusuf is the Chief Design Officer at Plumis and a co-inventor of Automist. He has an Honours Masters's degree in Engineering and a double Masters's in Innovation Design Engineering. He has won numerous design awards for various innovations across several industries, including the James Dyson Award, the Toyota IQ Design Challenge & Transport Design of the Year by the Design Museum, to name a few. He also starred in the BBC 2 Show 'The Big Life Fix'.
Robert Thilthorpe, FIA – Technical Manager at the FIA as well as Secretary for the FIA Extinguishing and Services Councils. Robert also holds several positions within Euralarm, he has been a member of Services Section since its inception and the Services Task group before that. He has also Chaired TC Horizontal compliance since 2013 and has been a Euralarm Board member for a similar period.