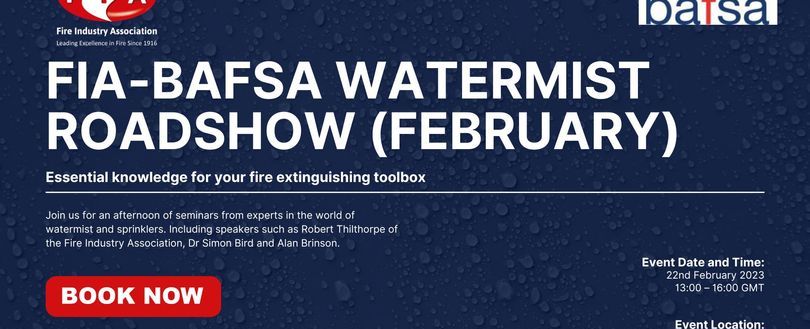 The FIA and BAFSA bring you the second of their 2023 Watermist Roadshows
The second in a series of Watermist and Extinguishing Roadshows titled 'Essential Knowledge For your Fire Extinguishing Toolbox' comes to West Service Delivery HQ, Hamilton on 22nd February.
On Wednesday 22nd February the FIA and BAFSA will be hosting the second in a series of Watermist and Extinguishing Roadshows. Join us for an afternoon of seminars from industry experts on watermist and sprinklers. Learn more about the updates to BS 9251 and BS EN 12845. In addition to this learn more about watermist standards and anticipated changes to EN 15004, which is expected to be published in 2023. As well as standards this event also offers an insight into the environmental challenges to fixed extinguishing posed by changes to the F-Gas regulations and best practice on bringing an innovative product to market.
Furthermore, this event offers fantastic guidance on Lithium-Ion battery fires, delivered by experts in the field. Learn more about this ever growing subject directly from the industry's best.
In addition to expanding your knowledge, earn valuable CPD hours for free and take the opportunity to network with some of the best in the industry.
Here's the afternoons agenda: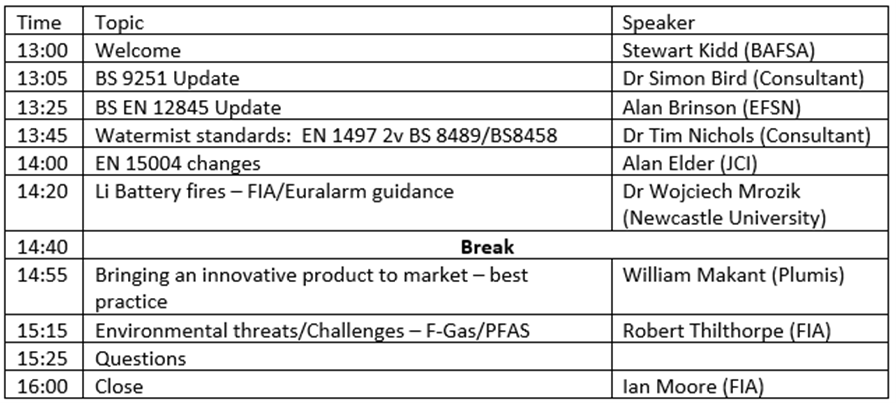 Get your tickets Here.