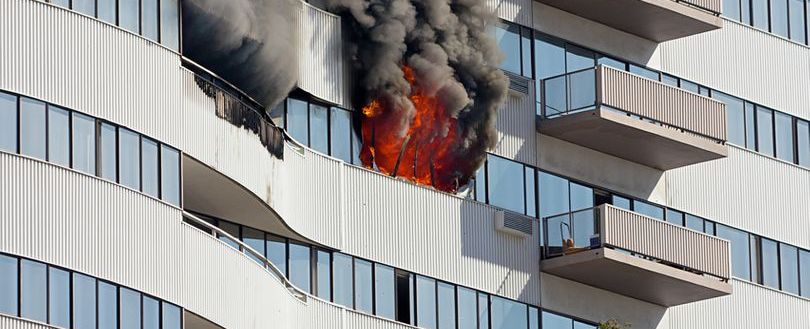 Council says Northampton apartments need to take action on fire safety
According to the council, the cladding on several apartment buildings in Northampton does not follow the most recent fire safety regulations. 
The blocks' owners, West Northamptonshire Council (WNC), stated that recent fire risk assessments revealed some needed corrections.
It is working with Northampton Partnership Homes (NPH), which manages the flats, to take "swift action". The council said it would keep tenants "engaged and updated" on the issues. It has not yet been revealed how many blocks and tenants are affected or where they are.
Council-owned high-rise apartments, according to WNC, were inspected in 2018 and confirmed to be in compliance. New fire risk assessments were required as a result of the government issuing new instructions regarding safety standards for external wall materials of all structures above 11m tall or seven stories in January of this year due to changes in fire safety regulations.
A recent Cladding Safety Scheme government pilot saw specialists carry out a fire risk assessment of external walls. This identified that some blocks have a type of cladding, which is commonly used across the UK, that will require "remedial actions to ensure they remain compliant with the latest fire safety legislation", the council said. "NPH and WNC are now taking swift action, including the completion of fire risk assessments to confirm the properties affected," a statement said.
The council added that meetings would be held with all affected tenants in the coming weeks to discuss their needs and that NPH was working with Northamptonshire Fire and Rescue Service to "review their approach to future fire incidents at the buildings and make future arrangements for the cladding". NPH chief executive Steve Feast said: "Following the fire risk assessment, we are now working to understand the implications so we can act to address them quickly and effectively, and we have set up a dedicated project team to manage these issues."
WNC deputy leader Adam Brown, who is also responsible for housing, said: "We are prioritising our response to these recent changes in legislation to ensure our residents are safe and supported, working with our partners at NPH so that tenants are kept engaged and updated on these issues as they progress."
Our eNews provides regular insight into industry trends, news headlines, and product and service information. For news articles parallel to those mentioned above, sign up for our eNews. Click here to sign up: Subscribe to our enews (fia.uk.com)