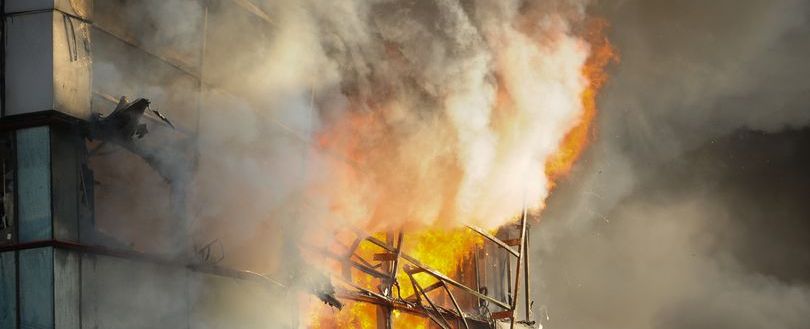 Elephant and Castle fire: residents forced to flee tower block blaze in South London
Three floors of a tower block were evacuated when a fire broke out on the 18th floor. Around 60 crew and eight fire engines raced to the building in Elephant and Castle, South London, where flames were seen consuming a balcony as thick black smoke billowed out.
No one was reported to have been injured, but the London Fire Brigade said roads were closed and asked people to avoid the area around Deacon Street. The cause of the fire is not yet known, fire chiefs say.
Station commander Dave Hill, who was at the scene, said: "Crews evacuated residents on three floors of the building who were affected by smoke. There are currently no reports of any injuries. The brigade's drone team assisted by providing an aerial view of the incident.
The fire brigade was called at 10.58am, and crews from south and central London, including Lambeth, Dockhead, Dowgate, Brixton and surrounding fire stations, were called to join the effort. After an hour-and-a-half, the fire brigade said the blaze was under control but that firefighters would remain at the scene during the afternoon.
Since the 2017 Grenfell Tower disaster in West London that killed 72 people, there have been heightened fears over tower block safety.
London Ambulance Service said one person was assessed at the scene for treatment not related to the fire, and was not taken to hospital.
---
You're reminded that the FIA has developed a unique Portal that since November 2020 provides a central readily-accessible location for EWS-1 forms and for the first time, the ability for suitably qualified experts to complete the forms on-line. The site may be accessed here
Signatories to EWS-1 forms must first register to submit or complete forms online, and must provide evidence of applicable professional memberships and qualifications prior to the application being approved.
Back in July, UK Finance announced that seven mortgage lenders [Barclays, HSBC, Lloyds, Nationwide, NatWest, Santander and TSB] kindly agreed to cover the cost of making EWS-1 forms publicly available through Portal and we're pleased to announce that the free period for both assessor registrations and form submissions has been extended to 31st December 2021.
We urge all EWS Assessors to take full advantage of this free registration and form submission period.