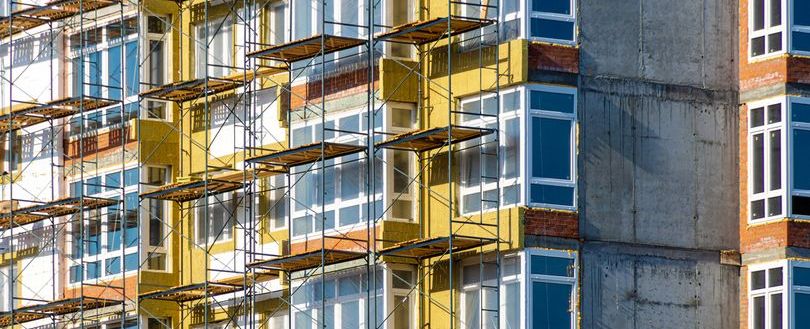 Cladding: Tenants' misery over Salford tower block delays
Residents living in tower blocks where the cladding has been removed but not yet replaced say they are "depressed and embarrassed" by the situation.
Tenants in the flats in Pendleton, Salford, said they were relieved when the cladding was removed five years ago after the 2017 Grenfell Tower fire.
But they claim their energy bills have rocketed and some homes have developed mould without the cladding.
Pendleton Together said it was doing the work "as quickly as we can".
Kevin Monks, 72, who has lived in Malus Court for 40 years, said his electric bills had gone up from £40 a week to £100 after the cladding was removed.
"I just can't afford it and I can't keep going on like this," he told BBC North West Tonight."The draft is coming through. The walls are all damp.
"I've never been so down in my life living in these flats."
Farah McLaren, 51, who lives in Plane Court, said it was like living on a permanent building site. "It's noisy, it's depressing, there's litter everywhere," she said. "We're not aware of when work is being completed. I'm quite embarrassed living here."
"I've got significant mental health problems with the whole thing."
Further work to install a new sprinkler system is also underway as well as work to remove asbestos on some floors.
Alison Aitken, 59, who has lived in Beech block for 20 years, said many people felt unsafe because of the exposed cables and she had been left feeling "miserable".
"It's the drilling that's the most insistent," she said.
"It starts early in the morning and carries on all the working day.
"We presume it's something to do with putting the cladding on but they've been doing it for months and there's still no cladding."
In February, tenants marched to their housing association asking for a meeting after claiming their concerns were not being addressed.
In a statement, Pendleton Together said the cladding work had been delayed due to Covid-19 and funding issues with additional remediation works identified when the cladding was removed.
To finish reading the full article, visit the SOURCE here.
Our eNews provides regular insight into industry trends, news headlines, and product and service information. For news articles parallel to those mentioned above, sign up for our eNews. Click here to sign up: Subscribe to our enews (fia.uk.com)