Stay Beautiful: The Excellence in Fire and Emergency Awards 2019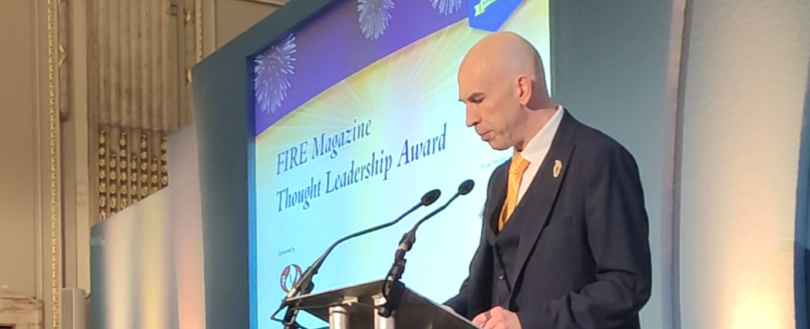 Stay Beautiful: The Excellence in Fire and Emergency Awards 2019
The FIA was again out in force for the Excellence in Fire and Emergency Awards.
The FIA was again out in force for what was the sixth Excellence in Fire and Emergency Awards and which remains a celebration of outstanding achievement in the field of Fire and Emergency. The Association was represented on the day not only by our CEO, Ian Moore, but by members of its FIRESA Council and a host of member companies including WL Gore, Angus Fire, AW Hainsworth, PBI Performance Products, Emergency One, Clan Tools and Vimpex that acted as partners, supporters or award sponsors.
An essential date in the Fire and Emergency calendar, it proved a convivial and informative afternoon as we met those nominated in the various categories and honoured the winners of this year's series of awards.
As well as our traditional award sponsorship, the FIA CEO was pleased to present a special award last week, that of the Editor's Choice Award for Thought Leadership. In recognition of Dubai Civil Defence's unwavering and genuinely outstanding commitment to Excellence and Innovation, this prestigious award was presented to His Excellency Major General Expert Rashid Thani Al Matrooshi, Director General of Dubai Civil Defence.
The Major General has demonstrated a long-standing and highly influential commitment to raising the awareness of Fire and Emergency-related issues. This he has achieved not just within the Gulf Region but collaboratively across the international arena. His strategic vision in enhancing the role and operational response of the Fire Services and his exemplary management of all types of emergency incidents stands as a benchmark for us all within the fire industry to aspire to.
We thank Fire magazine for organising such a superb event and, of course, all those that acted as sponsors. Most of all, we thank all those that were nominated and those that triumphed on the day, all of whom accomplished genuinely outstanding achievements in their respective roles and, in doing so, play a vital part in safeguarding people and property from fire and other emergency situations.
Related posts
02 February 2023

By Kirsty Lavell, Marketing Manager

23 January 2023

By Kirsty Lavell, Marketing Manager

27 September 2021

By Adam Richardson, General Manager