Fireside Chat with James Wheeler - Fireco
Fireside Chat with James Wheeler - Fireco
Here is our Fireside Chat with James Wheeler, Chief Commercial Officer at Fireco. This interview touches on how life changed and adaptations were made during the pandemic and how it led to a huge surge in sales, introducing more IT to the fire safety industry and how one book altered the course of life for the better.
Fireside Chat with James Wheeler - Fireco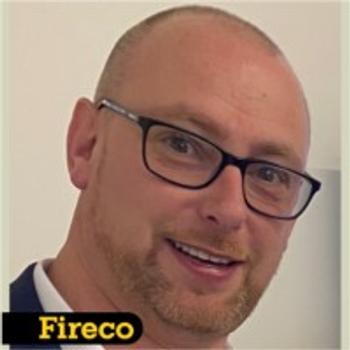 Intro: When I left school my very first job was installing CCTV cameras for Woolworths. It's funny because we've just had someone start who is 21 and they don't even know what that is - throwback or what! Little did I know that would be the start of a 15-year career in the Fire and Security industry.
After Woolworths, I changed my job role and started working as a service engineer at another security company, followed by another change when I went on to work at a manufacturer who specialized in access control. I spent 10 years with the security company, Lenel, where I got into sales and business development and ended up running the business unit for the UK and Ireland. Before Fireco contacted me, I was working at Assa Abloy where I was doing a lot of travelling as part of my role supporting their digital access solutions. I'd never worked specifically with fire safety before but I have young children and travelling a lot wasn't ideal, so when Fireco contacted me about a position, I was interested, and here I am!
Fireco is most well-known for their original product Dorgard, a fire door retaining device. It was designed to prevent people from wedging open doors, which is actually more dangerous than people think as if a fire breaks out, the fire will spread through the building. Dorgard holds the door open which improves access, ventilation, etc but when the fire alarm sounds, it releases the door to close.
That product was invented 25-years ago by our Chairman Neil and I don't know if you've ever seen the dancing flowers that sing, he saw that and thought "If that can respond to sound, then what else could". We usually sell around 5000 a month but during covid times we were selling 20,00 because people wanted them so that they wouldn't have to touch door handles. It's still busy now because people want to hold the door open to encourage fresh air. So, because we took on the marketing brand around covid, we genuinely can help lots of people improve hygiene, we've had a really busy couple of years.
Dorgard is great for preventing the use of door wedges but it's not suitable for high-risk/Cat A areas such as stairwells or escape routes. for this reason, we adapted it and released Dorgard Pro. It works the same but instead of being activated acoustically, it is communicated to by radio via our ProHub transmitter which is hardwired into the fire system.
We've also got a product called Freedor, which is an overhead closer. When you pull it past 70 degrees it disengages and becomes a lightweight free-swing door, so people with disabilities don't have to struggle to open a heavy door. All our door devices help with convenience and compliance but what we've recently done is connected all this up into the cloud, so we can monitor what our Pro Range products are doing. You can get information like which doors are closed if a battery is low or the level's signal strength.
How have you been affected by COVID-19?
Personally, as mentioned in my Fireco blog, I caught covid on the sofa at Christmas. I got the 'You are positive' message on Christmas day at 6 am and it was bought home by the kids. So, as safe as we were in the office (we're really covid secure), we've made sure we've got the safety policies including fresh air, doors held open, we limit numbers in certain rooms, everything is ticked. What with being so safe at work, the last place I thought that I'd catch covid is just being sat at home.
On a business level, at the beginning it was just crazy, we employed so many more temps, we had to get two other manufacturing companies set up and engaged to build the product from us, we just couldn't keep up with demand, which was great, but at the same time, stressful. 2020 was exhausting but really, really profitable. However, as the pandemic went on and on and lockdowns just kept coming, people had enough and we found the sales dipped a lot. Now things are starting to look up, hopefully for real this time, our sales are at a good level again. People are still buying our products to help with ventilation but we are also seeing fire safety come back into the spotlight.
Speaking of things becoming more normal, it was so lovely to go to London a couple of weeks ago and meet some customers for dinner. I hadn't sat with a customer for 2-years, I hadn't been to London for 18 months and I just thought "Oh thank God".
The other thing that's come out of all this is 'hybrid working'. Fireco's chairman is 72 now, and he won't mind me saying he's quite old-school, he's very much, you come into work and sit at your desk. But, through covid it's taught everybody a lot about trust and people have got on with their jobs, they've worked at home and some people have even over-performed as they haven't got the temptation to go and have a chat or mooch about. The Fireco team has really come together and after all that we've been through, it feels like we're all personally invested in Fireco and in each other which is what has got us through this whole thing with the business still standing.
Personal Questions
Yes, Luna, a white Bichon Frise was chosen by my daughters, a gecko, and two guinea pigs. I live by a gym and I get lumbered with walking the dog and I walk around with my little white fluffy dog and you've got big beef-heads from the gym walking around and I just feel so inadequate so I just have to own it really.
What's your favourite movie of all time?
Fury.
Describe yourself as a teenager in 3 words?
Naive, ambitious, drunk.
What is your biggest pet peeve/hate?
Lateness.
If you could be from any other decade (or era), which would it be and why?
I wouldn't actually want to change from this one. I love technology so I couldn't imagine being in a time without it.
What is your favourite quote and why?
I always say around the office "Don't ask for permission, ask for forgiveness." I try to encourage confidence and self-belief in everyone as I think it's so important to be bold and creative.
If you weren't in the fire industry – what would you be doing and why?
I would probably still be in the Security/ I.T industry!
What's on your Spotify or iTunes?
Drake, Rihanna, Ariana Grande (It's shared with the kids, ah-hem)
If you could have any three people (dead or alive) over for dinner – who would they be?
My Gran, Steve Jobs, and my best friend Nick.
What two things would you take to a Desert Island?
My Swiss army knife and a fishing rod!
Name a book, movie or tv show that has positively shaped you and why?
As soon as I saw this question, I knew my answer straight away! The Big Book of Alcoholics Anonymous. The only book I've ever really read and taken everything in, it changed my life and I haven't had a drink for 12 years. I choose not to be anonymous because I want to help others. I used to drink too much and up to a point, my life got pretty horrible. I stopped drinking during my ten-year career at Lenel. It helped me with my family life, my career, everything. I haven't touched the tipple for 12 years. It's been a brilliant experience. If you ever read the 12 steps, which is listed in the book, one of them is to admit to another human being, every resentment you've ever had, you know when you beat yourself up because you're embarrassed or you question what people think of you, all these things we keep in our heads all our life. When you put it out and someone else has heard it and hasn't judged, bearing in mind you mask things up by drinking, because you don't even want to think about it yourself, it sounds ridiculous to you. But once the words are free and you've let everything out and there's nothing that you're holding to yourself, you feel so free. We learn on this programme that actually someone with a problem, the drink is the medicine. What you have to realize is "I am the problem, not the drink, and I need to do something about myself and get new medicine".
Workwise, it's helping massively, it's helped my confidence, I don't get nervous, I've stopped caring about what people think and the minute you stop caring about what people think, the confidence oozes and you realize that you're quite good at it and you realize that the only thing that held you back for so long was yourself! So, that helps from a business sense and also, they say 'If you spot it, you've got it.' I think I see a lot of traits in staff that I used to have. So, I'm able to help on a personal and business level as well. It's the best thing to have ever happened to me.
If you were an animal, what would it be and why?
A cat because I like eating and sleeping. But I'd probably be a pig if I didn't have a choice.
What is the best gift you've ever received?
Opportunity, people that have believed and trusted in me.
What's your favourite thing in your closet right now?
Secret wise, knowing I can eat a McDonald's hamburger in three bites, but seeing as that's out the closet, I'd say my favourite dress item has to be my Gucci trainers.
If you could have one superpower, what would it be?
Have you seen the film "What women want"?
---
Professional Questions
What's the best piece of advice you've received?
"What people think of you isn't any of your business." Once you truly master this, nothing stops you from achieving and performing at your best, the only thing that's ever stopped you is yourself!
What time did you get to work this morning?
7.30 am every day without fail.
What does your usual day look like?
Early start, lots of coffee, time to concentrate on strategy, team engagement promoting trust and ownership, business enablement and marketing, synchronizing departments, dinner, time with the family, an evening on LinkedIn keeping in touch, early night.
What makes you excited about the future of this industry?
The industry is behind in terms of the technology available to it. What excites me is the opportunity to mix new technology with the traditional and proven, ensuring compliance but also integration and interoperability. It's interesting learning about fire safety regulations in different countries. Northern Europe is great for us, Central Europe have fairly tough fire regulations that we need to meet, Southern Europe such as Italy and Spain etc the regulations are so lacking, we could sell them our product, but they don't care about fire safety or they don't seem to.
What does the fire industry need?
Young enthusiastic passionate upcoming talent. But when people are picking jobs these days, there's a lot more choice. There's a lot more technology out there. That's why I'm saying the fire industry needs to embrace that technology. I think we've got another problem on our hands too with people wanting the trust and freedom to work remotely, the fire industry tends to be quite old school but I think we need to introduce more modern practices. I read a survey including about 200,000 people, 90% of them said they would prefer to work at home than have a 10% increase on their salary. 10% is a big amount of money!
There's a lot of different roles in the industry from marketing to IT, not just engineers. If we want to attract young talent and graduates, we need to be able to provide a competitive offering. Keeping up to date with technology is a good start. This should be product integration opportunities with IoT all the way down to the office with Google Workspace, Microsoft, the equipment. We can adopt more modern ways of working like hybrid or remote working, good company benefits, and a nice office environment.
You've got the likes of when Google bought Nest. Nest was the thermostat and smoke detector at home and they paid £2 billion for Nest, but they didn't buy it because they wanted to get into home smoke alarms, they bought it because they wanted the data from it such as how many times the smoke alarm goes off in a high-rise block of flats because they can sell that information to an insurance company.
It's about collating data. Yes, our product shuts the door, but from a fire inspection point of view, if we can stop someone from walking around the building twenty times a day to make sure the doors are shut, with a piece of software that pings you if one is just a tiny fraction open, that's good. That's information, that's big data and that's chargeable and people are paying for that and that's so much more exciting than a bell going off when someone burns their bacon. We know that if we don't move now on the Internet of Things, other industries that are more progressive, open, and forward-thinking will do. There won't be much of the fire industry left when all these industries converge into life safety.
What do you like about the fire industry?
The dedication to making the world a safer place, knowing we are helping to keep families and premises safe, and genuinely caring about this. Regarding employing apprentices, this is something that we've been talking about very recently and it's something our Managing Director Michelle Bussy, is desperate to do, she loves the idea of it, but the other thing is we install, we install our own products and we sell it to installers to install. But we've got a number of opportunities. We've just taken on a college leaver who is going to help us with some coding with our app that we're making. We've had a couple of school leavers before that came between school and university and Michelle's desperate to get an apprentice, but at the moment we're thinking "Do we want someone that can go out on the road and learn the install side of things", or do we want "Let's see where we're going on the software route" because it might be that we get someone that's willing to be put where we really need them.
How does your work and family life come together?
Typically, my son working out who he can leverage for his personal hobbies, marketing, and engineering! Between both departments, he feels can build his toy demand. All the kids spot our products out and about at weekends, and most recently the family joined in with the lockdown Zoom bingo and quizzes. Recent hybrid working means more time at home and conversation about what I do has become a real interest.
What matters most to you?
Helping others achieve success through my leadership and promotion of self-development. Train people well enough so they can leave, treat them well enough so they stay.
What would you tell yourself at the age of 21?
Stop worrying about what people may think, be confident, make things happen, do what you do, be who you are, and relax.
Helping others - be it directly as a manager or indirectly watching my managers help their team. Helping others is a huge part of the sales process, and I take huge pleasure in helping customers choose a system that will future-proof them and retain investment.
Where do you want to be in 5 years?
On a beach chilling out. But the truth of it is unless I win the lottery, I'm not going to be on a beach chilling out. I suppose it depends on which way you look at it. Maybe this comes from the stopping drinking thing, but I actually like work, it gives me something to focus on, I've worked out my strengths. I'm 43 now, I know what I'm good at and what I'm bad at. The things I'm bad at, I give to other people to do, rather than struggling and trying to do it myself, that was an obvious thing for me to do and it made life a lot easier. Ideally, I'd still like to be at Fireco, just as it is today. I think we can grow it massively. If I wasn't working, I'd be bored stiff. So, the obvious answer is winning money and laying on the beach, but it's not going to happen and I'm just fortunate that I love my job and I've come to think that actually if I'm doing this in five-years-time, then I'd be quite happy.
Why is the FIA important to you and the industry?
To me personally, the FIA represents the collective knowledge and expertise of the entire fire safety industry, setting a minimum standard for safety and conduct, based on years of boots-on-the-ground experience. I'm sure many people in the industry like me, would confess that it wasn't an area they expected to work in, and we often come into the industry with little to no background in fire safety, so I can't express how invaluable it is to have an association on hand that can help develop my personal knowledge of the subject.
For us as a manufacturer, the FIA is crucial for us to be able to understand how what we do impacts other areas of fire safety. The simple fact is, not all of our employees can be experts in every facet of fire safety. Even in the areas that we do have expertise in, such as fire door compliance, things can change very quickly and, as with most things in life, there's always something new to learn. The FIA provides support in this regard, giving us a trusted ear to listen and guide us when we're uncertain, helping us to stay compliant, and offer safe, trusted products.
The FIA also represents the voice of the industry to the government and media, ensuring that the collective experience and expertise are listened to when it comes to things like drafting legislation or commenting on situations that may arise such as the Grenfell tragedy. We're proud to be members of the FIA.
What do you want to say to the readers?
Our team at Fireco loves networking, discussing technology, opportunities, and keeping up with industry standards, now restrictions have been lifted it would be great to meet up in person. We have also just opened a new customer experience centre in Brighton so would welcome you for product demonstrations and CPD accreditation. Drop us a line at: [email protected]
---
If you would like to get involved with Fireside Chats please contact Adam Richardson on [email protected]. The next Fireside Chat will be with Damian Linley , Managing Director, QDOS
*All answers given are not reflective of the FIA views and thoughts and are that of the individual who was interviewed.

Related posts
12 October 2023

By Kirsty Lavell, Marketing Manager

06 October 2023

By Neil Budd, FIA Technical manager

02 August 2023

By Kirsty Lavell, Marketing Manager