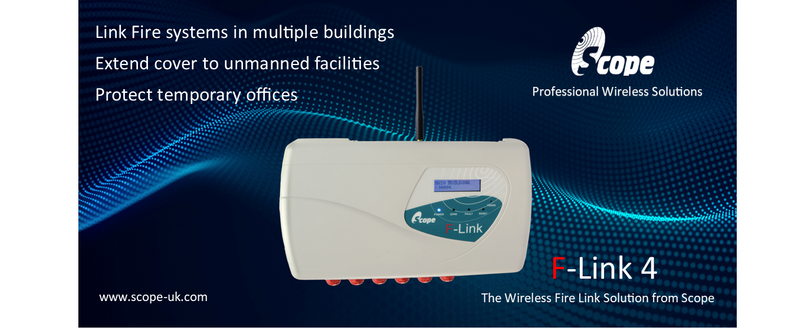 Wireless Mesh Network Goes Where Cables Cannot Reach
Sponsored News
Historic buildings and old properties present challenges to installers of FD&A and any systems involving cables, especially where two or more buildings need to be linked. Digging up the flagstones once walked upon by knights and sovereigns of the realm just to lay your data cables is not going to be met by anything other than a polite direction to the nearest exit!
Similar problems exist with schools, many of which have buildings linked by covered walkways and external temporary classrooms. Commercial factory sites intersected by roads, leisure parks and golf courses with remote storage buildings, all of these and more are faced with similar difficulties. Risk assessments will require fire and security cover in all areas, whilst digging trenches for cables will normally be either too costly or forbidden.
Scope has a range of wireless solutions for all these issues. The F-Link 4 was developed specifically with feedback from our fire system customers to provide a robust wireless link between fire and security systems in multiple buildings on a site.
A system consists of a Master and up to 15 Node F-Link units, connected to each building's fire system, with each unit operating as transmitter and receiver in a mesh network. A Fire or Fault alert in the source building will be transmitted to all the other buildings in the network, identifying the building which has gone into alarm and the nature of the alert. Pre-configured inputs for Lockdown and Class Change are also provided for use in schools.
The system is designed for Plug & Play operation, is fully monitored with self-healing diagnostics and an auto-configuration mode, making it the installer's dream. Scalability is provided by an F-Link XP expansion unit and a powerful Connexions paging transmitter for fire marshal notification of all alerts.
Scope Communications have been providing wireless switching and paging notification systems to the UK Fire industry for over 30 years and have provided input for wireless aspects of National and European standards.
To learn more, visit our website HERE