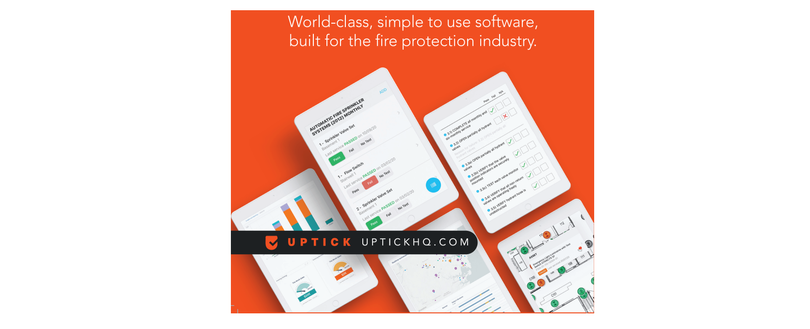 Uptick ignites the Fire Protection Maintenance software space with a UK launch
Sponsored News
Uptick, the most popular solution for Fire Protection maintenance providers in Australia and New Zealand, has officially launched in the UK.
Uptick has revealed a quickly growing UK centre of operations, with a growing base of local customers already living with the platform.
"We've been lucky to partner with a bunch of innovative UK companies who have helped us tailor our platform for the UK market, and the feedback we're getting is excellent," says Aidan Lister, CEO of Uptick. "Our team over there is growing quickly – we've made several key industry hires to ensure local expertise, and have a number of exciting partnerships we're looking to announce next year."
In Australia and New Zealand, service providers using Uptick now service a staggering 30+% of all commercial and multi-storey residential buildings. Their product offering found a sweet spot in the heavily regulated industry because it was built around the needs of fire protection maintenance companies. "We were the only fully cloud solution that could handle the requirements of the standards, and we made it easy for our customers by providing an extensive library of built-in certification documents," says Lister.
Uptick has continued to invest heavily in its product development, launching first of its kind features like geospatial floorplans, photo and video-based defect quoting, and lifecycle budgeting. They've also kept pace with IoT improvements announcing a partnership with Honeywell and their CLSS platform, allowing companies to remotely monitor fire panels directly through their service management system and customer portals.
Uptick is expecting the UK team to exceed 25 employees by the end of 2022, bringing the total number of employees up close to 100.
Fire protection companies can see for themselves how Uptick can help grow their business by booking a FREE no-obligation product demo online at uptickhq.com
About Uptick:
Uptick is the leading software provider in the building compliance industry. Over 250,000 buildings and millions of assets are maintained using Uptick's software every year. Uptick's primary product, Workforce, helps field fire servicing companies manage their mobile workforce to perform routine asset maintenance activities keeping buildings safe and compliant. Uptick's other products are tailored for building owners and facility managers allowing them to manage their compliance and risk, and clients include some of the largest facility owners in Australia. Visit uptickhq.com to learn more.