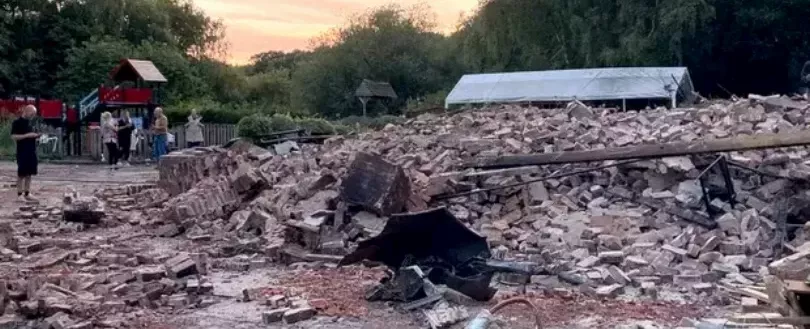 The West Midlands mayor demands that the pub, Crooked House, be rebuilt "brick by brick."
Andy Street issues a plea following the destruction of Britain's "wonkiest pub" by fire. After it was destroyed by a large fire over the weekend, Andy Street demanded that the Crooked House pub be "rebuilt brick by brick." 
Just two weeks after it was sold to a private buyer, the building, dubbed Britain's "wonkiest pub" and built in 1765, was completely destroyed by fire on Saturday night.
After Staffordshire police announced they were gathering evidence as part of an investigation into the cause of the fire, the building's remnants in Himley, near Dudley in the Black Country, were destroyed on Monday.
Who destroyed the pub remains a mystery. The mayor of the West Midlands, Street, reported that he had written to Roger Lees, the head of South Staffordshire Council, requesting that he make sure the building was rebuilt and that any requests to change its use were denied.
Even though this pub is technically in Staffordshire, your county, it is undeniably of real cultural and historical importance to the West Midlands. We were therefore extremely saddened to see the famous location destroyed in this manner," the letter said.
"We therefore ask you to consider ensuring the property is rebuilt brick by brick (using as much original material as possible) before any further discussion about the future of the site takes place."
He added: "We would strongly ask you to consider not allowing any alternative use and instead keeping this iconic location as a pub. It is in all our interests that we do not allow the Crooked House pub to be consigned to history."
According to Staffordshire police, they are "reviewing all of the available evidence with fire investigators to determine the cause of the incident," as they stated on Monday.
Large mounds of dirt were blocking the road leading up to the building when it caught fire on Saturday, according to the firefighters who struggled to get there.
According to Staffordshire Fire Service station commander Liam Hilton, they had to use a "high volume pump" to get water because they were "a good 800 metres to approximately 1,000 metres away" from the building.
Street wrote another letter to the chief constable of the Staffordshire police and the chief fire officer in which he stated that "there are major questions to be answered given how swiftly this fire happened following the sale of the pub to an unknown private developer."
He continued, "We are also intrigued by the fact that your officers encountered restricted access while attempting to reach the scene. We have contacted the Staffordshire Fire and Rescue Service and Staffordshire Police for comment.
Our eNews provides regular insight into industry trends, news headlines, and product and service information. For news articles parallel to those mentioned above, sign up for our eNews. Click here to sign up: Subscribe to our enews (fia.uk.com)