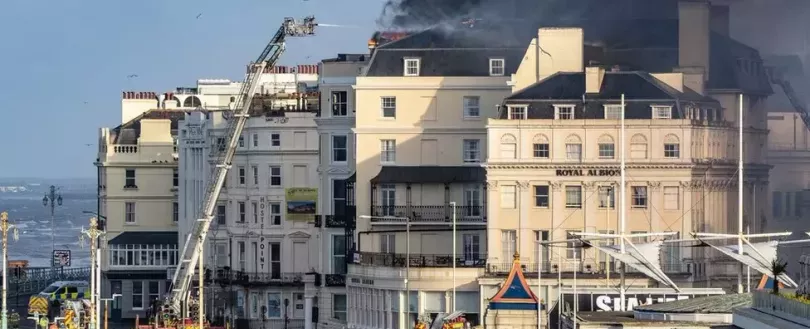 The Royal Albion Hotel fire: lessons from a discarded cigarette
In addition to serving as a sombre reminder of the value of fire safety, the Royal Albion Hotel fire in Brighton also emphasises the significance of preserving our architectural heritage.
An important truth has been revealed by official investigations carried out in the wake of this tragic incident.
In our earlier article concerning the impending demolition, the Royal Albion Hotel, a regency architectural masterpiece overlooking Brighton Pier, was transformed into a blazing inferno during the fateful day of the 15th July. The investigation that took place led to a disconcerting revelation: it was a discarded cigarette that likely ignited the destructive fire.
The East Sussex Fire and Rescue Service, tasked with unravelling the mystery behind the blaze that left the 200-year-old hotel in Brighton dangerously unstable, officially declared that a dropped cigarette was probably the fire's origin. Their conclusion emphasised the critical need for proper fire safety measures, not just in public spaces but also in our everyday lives.
A spokesman said: "A fire investigation has concluded that it was likely started by a discarded cigarette which had not been completely put out."
The consequences of a brief breach in fire safety were severe. The distressing repercussions of the incident were marked by the evacuation of about 100 people as the fire raged. Following this tragedy, the choice to partially destroy the Grade II-listed facade that had been badly damaged by the fire became a crucial part of aiding in the public's safety.
The Royal Albion Hotel fire serves as an unequivocal reminder of the fundamental importance of adhering to fire safety measures. It was the carelessness of a dropped cigarette that ignited this calamity, emphasising the critical need for unwavering adherence to fire safety protocols. This incident reinforces the responsibility that individuals bear in preventing such occurrences and safeguarding lives and property.
The Fire Industry Association continues to emphasise the paramount importance of adhering to fire safety measures and protocols.
Past fire incidents at the Royal Albion Hotel, including a significant one in 1998, should not be dismissed as mere historical footnotes. Instead, they offer valuable lessons on how to prevent similar tragedies in the future.
View the SOURCE here.
Our eNews provides regular insight into industry trends, news headlines, and product and service information. For news articles parallel to those mentioned above, sign up for our eNews. Click here to sign up: Subscribe to our enews (fia.uk.com)