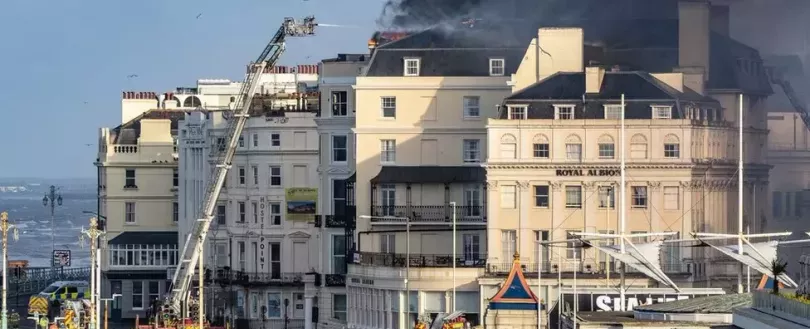 After a fire destroys the Brighton Royal Albion hotel, the structure will be partially torn down
After a devastating fire tore through the 200-year-old listed building, a portion of a historic hotel in Brighton is scheduled to be demolished out of fear that it might collapse.
At 5 pm. on Saturday, a fire broke out at the Royal Albion Hotel, a famous landmark next to Brighton Pier built in 1826. Firefighters were still putting out fires on Sunday afternoon, but they were having trouble because of the wind and the buildings themselves.
Firefighters said they were drawing up plans with Brighton and Hove City Council to knock down the Grade II listed building's facade, which it says is on the brink of collapse, so crews can safely access the site to extinguish the remaining fires.
According to George O'Reilly, group commander at East Sussex Fire and Rescue Service, "When a fire takes hold, it is nearly impossible to put out due to the nature and structure of the building."
"The building is partially collapsed, so it is unsafe to send crews in to put out the fire. We are working with the local authority and plan to demolish the front as soon as possible. One of the dangers is that you don't know which way it will collapse."
However, incident commander Chris Baker told the Press Association that demolition was "Plan B" and not expected to take place on Sunday,
Mr O'Reilly also issued a warning for people to avoid the area and to keep their windows and doors closed because the hotel was spewing smoke.
It is understood they have either found another place to stay or are being supported by the council to find a temporary alternative. The council has also opened a rest centre for evacuees.
The fire came on the weekend of Brighton's Trans Pride festival, with several events, including a planned beach party, being cancelled due to the incident.
Bella Sankey, leader of the Brighton and Hove Council, said: "These are very sad scenes in our city. On behalf of the city council, I want to give my thanks to the emergency services for attending the fire at the historic Royal Albion Hotel in the heart of our city.
Bella Sankey, the council's chair, said: "These are extremely depressing events for our city.
I have nothing but the highest praise for our emergency services, who have been working so hard for the past two nights in the most trying conditions.
According to Brighton Kemptown MP Lloyd Russell-Moyle, "People found it difficult to breathe, forcing restaurants to close their patios.
It must be rebuilt in keeping with its traditional design in order to preserve its heritage.
To assist, firefighters from West Sussex fire departments as well as those from Preston Circus, Newhaven, Hove, Lewes, Eastbourne, and Pevensey were dispatched.
The Regency-style hotel with views of Brighton Pier is run by Britannia Hotels, which has bought a number of historic inns across the country. An area of the building caught fire in November 1998.
Our eNews provides regular insight into industry trends, news headlines, and product and service information. For news articles parallel to those mentioned above, sign up for our eNews. Click here to sign up: Subscribe to our enews (fia.uk.com)