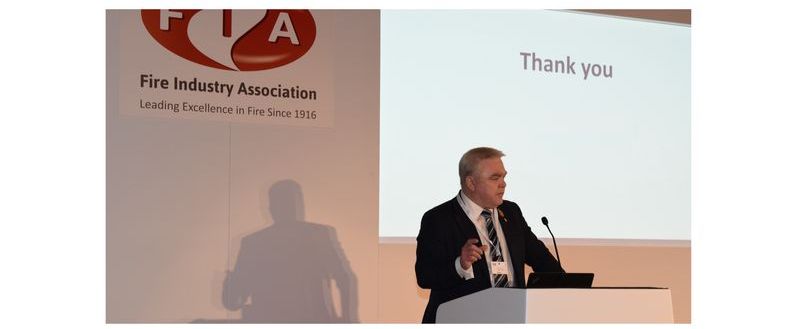 The latest appointments to the FIA Board and Councils
The FIA AGM 2021 was once again where the results of the FIA Board and Council elections were revealed. The FIA is delighted to announce Martin Watson as the new Chairman of the Association.
The FIA is delighted to announce its new Chairman - Martin Watson.
Until recently, Martin provided an excellent service to FIA as Finance Secretary and as an active and valued member of the FIA Board. Martin currently holds the role of Operations Director at Mitie Fire & Security Systems and he brings with him a wealth of Fire and Security Industry experience and knowledge. During his career, Martin held numerous high-profile executive positions at Siemens Building Technologies, Contract Fire Security Group, GPT and British Telecom.
Martin takes the baton from the previous Chairman, Derek Gotts, who served in this position for 4 years. We are glad to say that Derek will continue to be involved with the FIA at the Council level.
The FIA CEO Ian Moore said "I would like to extend a warm welcome to our newly-elected Chairman, Martin Watson, who will be continuing his first-class work in his new role. I would also like to express my gratitude to Derek Gotts for his contributions to the FIA. Under Derek's chairmanship and guidance, we have seen the FIA grow significantly in terms of the number of members, influence and credibility."
The FIA staff would also like to thank Derek for his outstanding service to the FIA and they all look forward to working with the new Chairman.
In addition to Martin's appointment as Chairman, this year the Board has seen the addition of two new members, Andy Speake of Aico and Andy Spence of Dupre Minerals Ltd, with James Jones being re-elected onto the remaining vacant position. The FIA would like to congratulate our new Board members and offer them a very warm welcome and, again, we look forward to working together.
As well as new additions to the Board, we thank those Council Chairs that are entering their second year or who have been re-elected to that position. Within the seven Councils this year, there is just one that is newly elected to the position, this being Michelle Agius of Eurotech Fire Systems Ltd on the Export Council.
We would like to congratulate all the new and re-elected Chairs of our Councils as well as all of our elected Council members. We look forward to working with you all in continuing to further develop, expand and strengthen the fire industry.