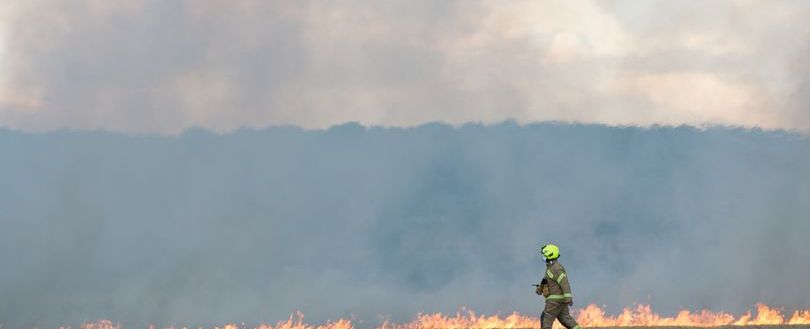 The Fire Brigades Union has warned that the UK is "completely unprepared" for the fire risk posed by the latest soaring temperatures.
During last month's record-breaking heatwave, scores of homes were destroyed as dozens of blazes broke out.
As the hot weather continues and official droughts are set to be declared across swathes of the country, fire services are coming under extreme pressure.
Riccardo la Torre, national officer for the Fire Brigades Union, has warned that cuts to services across the UK have left the fire service unable to deal with a repeat of those scenes. Speaking to Sky News, he said: "These are brutal, brutal fires to fight. The temperature that they burn at, the speed at which they spread at. The reality is we've been left completely unprepared to do that as a fire and rescue service".
"We've had over a fifth of the workforce cut since 2010, that's over 11,500 firefighters cut. Yet we're asking them to deal with these extreme weather events in increasing regularity and increasing severity."
La Torre warned the lack of preparation threatened the lives of fire officers. "The professionals on the ground have been warning that these conditions are coming and we very much saw the reality of that in these last few weeks".
"Firefighters have been injured, firefighters have ended up in hospital, we've seen families lose their homes, we've seen businesses lost, infrastructure burn to the ground, because we simply can't get to these fires quick enough. When we do, we simply don't have the resources to deal with them adequately."
Mark Hardingham, the chair of the National Fire Chiefs Council, said the fire service was "well prepared" to respond to a high volume of calls. But in an interview for the Daily Telegraph, he warned that the prolonged dry and hot spell created an "unprecedented" risk of fires.
He said: "I can't remember a summer like this and I've been in the fire service 32 years."