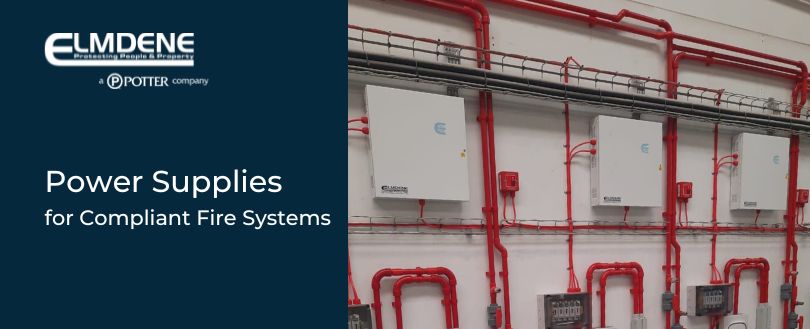 Power Supplies for Compliant Fire Systems
*Sponsored News*
Entire fire systems with all the advanced features that come with them rely on the power supply! So it goes without saying that insisting on a high-quality PSU built for reliability and longevity is the obvious choice.
EN54 is a mandatory fire detection and alarm system standard and refers to compliant power supply equipment for fire detection and fire alarm systems.
To comply with EN54-4 (the power supply component), Elmdene products are evaluated and tested by an independent, 3rd party notified body. This testing includes battery charge/discharge profile assessments, a wide range of functional tests, extensive environmental testing, and extremely thorough EMC testing.
EN standards are highly credible. EN refers to technical European standards, ratified by one of the three European standards organisations. UL refers to US standards. Underwriters' Laboratories (UL) test and evaluate components and products that allow a certification mark to be placed by the manufacturer. Compliance with these standards ensure products operate reliably and illustrate a manufacturer's dedication to safety and quality.
These certifications are very important as they assure you that an objective, regulated third party has vetted and rigorously tested products according to the same standards (the same level playing field). So overall, it's essential for the power supply product to be certified by third-party testers.
Be conscious of manufacturers who claim EN or UL but do not comply with these standards. Compliance with these standards ensure products operate reliably and illustrate a manufacturer's dedication to safety and quality. Product costs often reflect the highest quality testing, offering peace of mind when installing critical systems.
Elmdene offers a wide range of EN54-4 power supplies certified by notified bodies. With the best practices for Fire system power supply selection in mind, use this PSU Selector tool to easily find the perfect solution to your system specification.
PSU Selector Tool https://www.elmdene.co.uk/psu-selector
Elmdene offers a Lifetime Warranty on core products adding confidence in the performance and reliability of their Power Supplies. Designed in the UK and manufactured with the highest quality components, Elmdene PSUs guarantee assurance and peace of mind for critical systems.
Install Elmdene products with confidence. "Our aim is simple: to provide customers with high quality and innovative products backed by first-class and ongoing support whenever our customers need it."
With high-quality power solutions used in 45 countries, Elmdene is one of the most trusted brands in the world, specialising in power supply units for fire systems.
To discover more about Elmdene, or any of our product ranges, get in touch with our team of experts, who will be happy to discuss finding an ideal solution for your unique needs.
Contact Elmdene
https://www.elmdene.co.uk/support