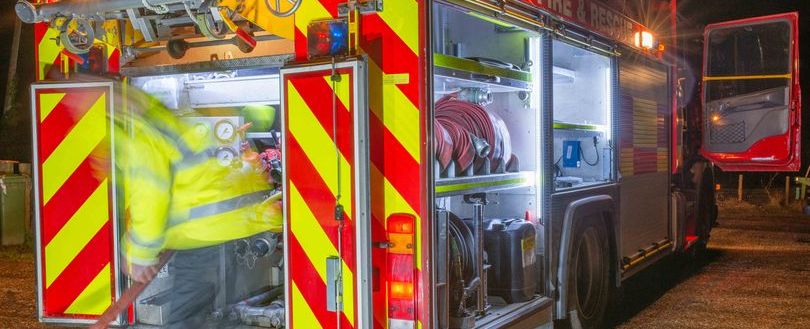 'Number of defects' led to fatal fire at Cameron House hotel
A number of defects in the systems of working at a luxury hotel contributed to a fire which claimed the lives of two guests, an inquiry has found.
Simon Midgley, 32, and his partner Richard Dyson, 38, died in the blaze at Cameron House on the banks of Loch Lomond in December 2017.
A fatal accident inquiry was held last year to establish if lessons could be learned from the tragedy.
Sheriff Thomas McCartney has made a series of recommendations.
The fire broke out after night porter Christopher O'Malley left a plastic bag of ash in a concierge's cupboard at the reception area which contained newspapers and kindling.
In his 122-page findings, Sheriff McCartney said there were precautions which could realistically have avoided the fire breaking out at the five-star hotel near Balloch, West Dunbartonshire.
These were a "clear system of work" for the safe cleaning and removal of ash from the open fires at the hotel, and the installation of a sprinkler system.
Sheriff McCartney also said there were "a number of defects in systems of working which contributed to the accident resulting in the deaths".
These included:
the "careless" disposal of ash in "unsuitable receptacles and areas"
the lack of a coherent system to empty ash bins in the service area when they became full
the "presence of combustibles" within the concierge cupboard.
The sheriff made six recommendations in his report, which included the need for hotels to have up-to-date procedures in place to ensure that ash from open fires is removed and disposed of safely.
He said the Scottish government should consider introducing a requirement for sprinkler systems to be installed when historic buildings are converted to hotels.
And he said there should be "robust arrangements" to ensure that everyone is accounted for in the event of evacuation, and that all staff have experience of evacuation drills.
The Scottish government said it would consider the report's recommendations and respond "in due course".
he sheriff's findings highlighted the delay in obtaining a guest list to obtain an accurate roll call.
The resort's night manager Darren Robinson told the inquiry he had activated the hotel's full alarm at about 06:40 after smoke was detected on a fire control panel at reception.
Moments later, night porter O'Malley opened the concierge cupboard, just off of the reception area, and was confronted with flames and smoke.
Mr Robinson, who was also fire warden at the time, said he left the building without the list of guests in the hotel - which he only realised when he was about to start the roll call.
In the "chaotic" scenes that followed, more than 200 people were evacuated from the hotel to its nearby Boat House restaurant.
Hotel guests had to be physically stopped from going back into the burning building to help a couple and their baby.
The family were rescued when firefighters arrived and taken to hospital for treatment.
Meanwhile, a roll call of the 214 guests was carried out in the Boat House.
But it was not until 08:09 that Mr Midgley and Mr Dyson, who were staying in a suite above reception, were recorded as missing.
Sheriff McCartney said: "The fact that it took about one-and-a-half hours from the activation of the full fire alarm until identification that there were two hotel guests unaccounted for is of serious concern."
He said this was due to the initial unavailability of a guest list, which he put down to human error.
As the flames took hold, Mr Midgely and Mr Dyson tried to use a picture frame to break a laminated double-glazed window.
Both men were found with cuts on their arms, which the court heard was consistent with their failed bid to smash the window.
Mr Dyson, a TV producer, was found on a landing at the top of a staircase. Mr Midgley, a freelance journalist, was discovered lying in a fire escape passageway.
The couple died from inhalation of smoke and fire gases.
Sheriff McCartney said: "They were clearly talented young men with a great deal to contribute. They were committed to each other and to their families.
"It is not surprising that their passing has had a devastating impact on family and friends."
Scotland's Crown Office had initially said an FAI was not needed because the circumstances of the fatalities had been established.
But a review overtuned the decision after Mr Midgley's mother Jane, from Leeds, called for wider lessons to be learned.
The inquiry finally got under way at Paisley Sheriff Court last August.
Fire investigator Gary Love said more than 75% of the main building of the 128-room hotel was "severely damaged" in the incident.
He concluded that the fire was accidental and was most probably caused by a careless act.
Mr Love said it was "not rare" for people to believe ashes were dead, while they still contained hot or smouldering embers.
The court was also show CCTV footage of the moment the fire was discovered by O'Malley.
During his evidence, O'Malley said it did not occur to him that putting a bag of ash in a cupboard could have started a fire.
He said the ash bins outside had been full, and he had reported this to the night manager both on the morning of 18 December 2017 and the previous morning.
He also said that he had received "no training whatsoever" on disposing of ashes.
The court also heard bosses at the hotel - which reopened in September 2021 - were told before the fire about the danger of storing combustible materials in certain cupboards.
The FAI heard that in August 2017 James Clark, a fire inspector, had highlighted some concerns about the resort in a routine inspection.
Cameron House Resort (Loch Lomond) Ltd was previously ordered to pay £500,000 after admitting to breaches of fire safety rules.
O'Malley, 35, who admitted breaching the Health and Safety at Work Act, was given a community payback order.
Cameron House resort director Andy Roger said the report was an "an important milestone for everyone involved", especially the families of Mr Midgley and Mr Dyson.
He added: "In all our dealings with them over the past five years, they have borne their grief with great bravery and dignity."
He said the hotel had been rebuilt to "the most exacting fire safety standards possible" and that there had been "intensive" staff training.
The FIA recommends that fire risk assessments are always carried out by a competent, third-party certified organisation. Such organisations can be found on the FIA website.