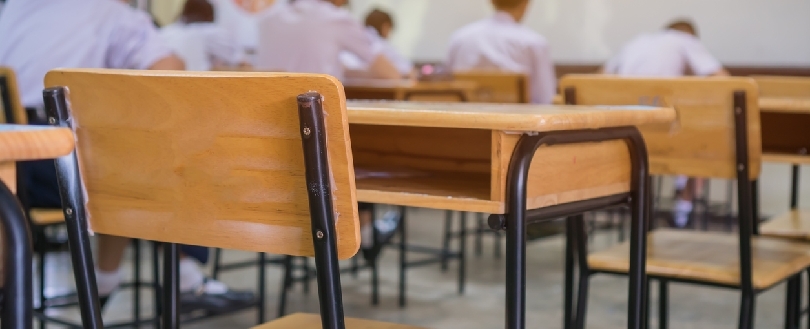 More than 7 Million kids are taught in high fire risk buildings finds leading insurer
"It costs far more to repair fire-ravaged schools than it does to install sprinklers. Even so, cash strapped schools cannot be expected to pick up the bill.
'Firefighters have been called to nearly 2,000 school blazes in the last three years. Malfunctioning appliances or equipment, faulty electrics, arson and kitchen blazes are among the leading causes of school fires. Larger fires in schools' cost on average £2.8 million to repair and in some cases over £20 million – showing that this is not only a potentially life-threatening issue but one that is very costly.'
The findings have led Zurich to launch a parliamentary petition to urge MPs to change the law on sprinklers in schools. Whilst sprinklers are compulsory in all new or major refurbished school buildings in Scotland and Wales this is not the case in England. In fact, they are fitted in fewer than one in six new schools.
With Tilden Watson, Zurich Municipal's Head of Education, saying: "An alarming number of school buildings pose a high fire risk – yet many are poorly protected against a potential blaze. Unless Ministers bring England into line with other parts of the UK, where sprinklers are mandatory, large fires will continue to blight schools. This is harming children's education and putting lives at risk.
"Burnt out schools and classrooms cause major disruption to children's education, with repairs leading to months or even years of upheaval. They also result in the loss of spaces which local communities rely on out of school hours. As well as protecting pupils, sprinklers drastically reduce the extent of damage when there is a blaze, often confining the fire to a single room. This gets children back into schools and classrooms quicker as well as saving taxpayers' money.
"Countless young people have already had their schooling upended by the coronavirus pandemic. We cannot allow school fires to further disrupt young people's education, and jeopardise their futures."
Zurich Municipals study found that the five biggest fire risks include: lack of fixed fire protection including sprinklers, building combustibility and modern construction methods, fire detection, arson, as well as housekeeping and smoking controls.
'Zurich's analysis of 1,000 site surveys across UK shows that there is a huge discrepancy between fire risk management in schools across England and Scotland, with the southern region the least safe for pupils.' Zurich said 67% of English schools inspected were rated as having "poor" with only 5% being awarded an "excellent" rating. In contrast, 29% of Scottish schools were ranked as excellent, posing serious questions over the safety of, specifically, English schools.
The areas with the highest risk of a major fire incident include West Midlands, Wales, South East, Greater London and South West. These areas are more susceptible to fires that can disrupt not only their education but also any community and sports activities that school premises may be used for after hours.
Watson concludes: "It costs far more to repair fire-ravaged schools than it does to install sprinklers. Even so, cash strapped schools cannot be expected to pick up the bill. The government's COVID-19 investment is a critical opportunity to ensure schools are more resilient to fire. Unless minsters change the law on sprinklers, much of this funding will be wasted on repairing the fire damage that sprinklers could have easily prevented. The government should also gather and disclose more data on school fires to help fully understand the risks they pose and their wider financial and social impacts."
Although in June, Boris Johnson pledged £1bn to fund a decade long school rebuilding and repair programme and a further £560m in early August. Based on large fires alone, Zurich estimates that the repair for school fires could hit £320 million over 10 years – a significant portion of the government's slated investment. Zurich wants the government to ring-fence some of its promised investment to improve the resilience of schools at high risk of fire. Insurers work closely with schools to help them manage their fire risks but the installation of sprinklers minimise the dangers from the outset.