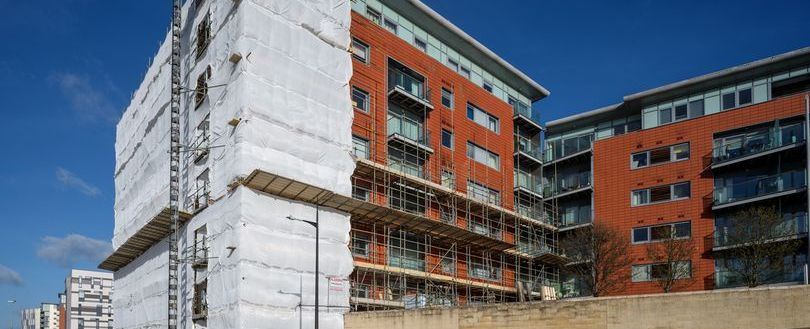 Ipswich MP Tom Hunt takes cladding code of practice Bill to Commons
An MP has developed proposals for a legally binding code of conduct that developers must follow when carrying out cladding remediation works.
Tom Hunt said residents of St Francis Tower in his Ipswich constituency had been left without natural light for two years due to cladding work.
Mr Hunt urged the Commons to back his Cladding Remediation Works (Code of Practice) Bill in a speech on Tuesday.
The Tory MP said those going against the code should be "held accountable".
Mr Hunt urged MPs to support his law reforms aimed at creating a legally binding code of practice that developers must follow when carrying out cladding remediation works.
He developed the proposals after hearing complaints from people living in St Francis Tower.
Plastic wrapping was placed on the exterior of the flats as part of remediation works in May 2021.
Mr Hunt suggested the proposed code could include rules about the materials used to cover buildings while work was carried out, as well as rules ensuring clear communication with residents.
"It is absolutely vital that this code of practice has teeth," he said.
"It cannot be dismissed as a flimsy document and that is why I do believe it needs to be legally binding.
"I do believe that if we do have cases of building agents, freeholders, contractors, disregarding this code of practice, then they should be held accountable. There should be penalties."
Mr Hunt claimed St Francis Tower was "one of the first beneficiaries of the building safety fund" in the country, and warned MPs similar situations could occur in "constituencies across the country".
He was aware the government had its own plans for a code of practice, and urged ministers to ensure it was as strong as possible.
"I welcome the fact that a code of practice is being discussed, but please let's make sure - and that is why this Bill is necessary - to make sure that it is not a flimsy document," he said.
A Department for Levelling Up, Housing and Communities spokesperson said: "Residents must be the number one priority during any remediation.
"That's why we are committed to bringing forward a code of practice that will set out how residents should be considered when works need to take place.
"We are working with industry and residents to develop and publish it this summer, and we expect all those responsible for delivering remediation to comply with the code."
Mr Hunt's bill is due to be considered again in the Commons on 24 November.
To finish reading the full article, visit the SOURCE here.
Our eNews provides regular insight into industry trends, news headlines, and product and service information. For news articles parallel to those mentioned above, sign up for our eNews. Click here to sign up: Subscribe to our enews (fia.uk.com)