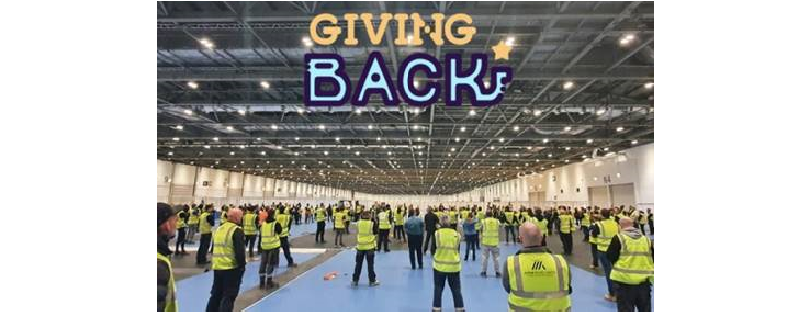 Nightingale Hospital London Opens
Under extraordinary conditions and relentless pressure to deliver on time, one of our member companies helps to deliver a key project to help the nation deal with Covid-19.
FIA CEO Ian Moore would like to share some of the work that our industry is doing in the fight against coronavirus.
"Heroes is not a word I use often as they are not just people doing the job they volunteer for and carry it out for a salary, it is about people that go above and beyond what is expected for the good of others. Heroes come in many guises and we have plenty of them highlighted (and rightly so) right now in the NHS and emergency services, but I want to tell you about a group that is making our industry proud in the work they are doing at the Nightingale hospital at London Excel.
Under extraordinary conditions and relentless pressure to deliver on time, one of our member companies, PLP Fire Protection, is right there in the hero stakes in my mind for the effort and clear strain they are under. They have received support from numerous directions and this is my small way of telling them that we are proud of them.
Rob's message to me this morning says it all and I do not want to change it (apart from a couple of minor spelling mistakes – sorry Rob!); this is what he said.
' Hi Ian,
This has really made my day. Thank you so much for messaging and checking in.
This week, quite honestly has been hell. We were literally brought back to site on Monday morning and had the most unrealistic time to get the initial 500 beds section installed and signed off. The effort from my guys and the subby's I have got in has been incredible. I am so proud of them all. We have even had tears from some of our guys, but proud tears. Working conditions have been very tough both physically and mentally.
We were told, by a representative from the WHO that once patients start arriving, although they will be sectioned off by a wall, we would still be working in adjacent halls. They said we would be completely safe. I was no way going to force any of my guys if they didn't feel comfortable, but when I asked for a show of hands who wanted to continue, 80% raised their hands. They are all in this until the end and feel they can't just leave site until its completed. Even our suppliers have been personally delivering our equipment etc that we need to site. We are so grateful. The help being offered from so many people has been breath-taking.
I have been getting home at midnight most days this week, I get home and just feel like breaking down. It's been an emotional rollercoaster for sure.
Thank you again for your message. Really does mean a lot and I will show it to the guys today as it will give them some much needed positive energy.
Thank you
Rob '