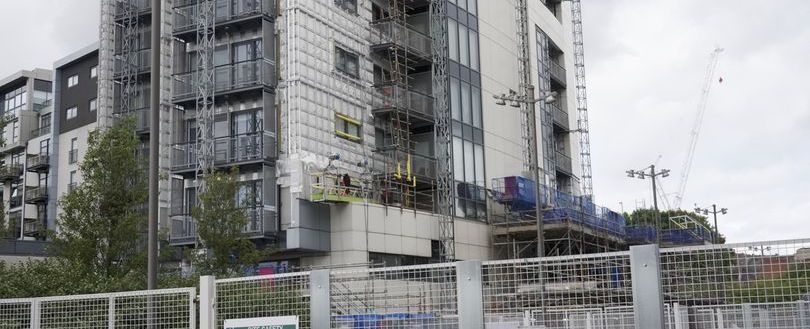 Government: East London leaseholder cladding work "not reasonable or proportionate"
After determining that the reports calling for cladding work were neither "reasonable nor proportionate," the government stated that they should be revised.
East London leaseholders caught in the cladding crisis have hailed a sense of "progress" after a government intervention, though concerns remain about any future costs coming their way.
The Department for Levelling Up, Housing, and Communities (DLUHC) stepped in back in March to review reports recommending remedial works on six blocks in the Kings Park estate in Harold Wood, Havering. It has now asked for the reports to be done again, saying the review "found that none of these proposed works was considered reasonable or proportionate".
In four of the six buildings, leaseholders had been issued consultation notices detailing potential fees of thousands of pounds to replace the flammable cladding on their homes. Residents in the other two blocks had not received any cost estimates, but were concerned by the reports stating work was likely to be necessary.
Following the Grenfell Tower tragedy, in which 72 people died after a fire spread via the exterior of the building, a government fund was drawn up to pay for the removal of defective cladding from homes across England.
Having gone through several iterations, the support scheme covers only buildings above 11 metres tall, with the rationale that those below this height are unlikely to require expensive remedial works.
The blocks in question in the Kings Park estate are all under 11 metres, so despite having flammable cladding identified on their exteriors, they are unable to access the government fund.
Residents in the affected blocks this week received an email from their MP, Julia Lopez, reporting the DLUHC's findings, saying: "In addition, the independent auditors found that none of the FRAEW (Fire Risk Appraisal of External Walls) reports met the necessary standards or followed the updated guidance for assessing this type of risk."
Ms Lopez said the DLUHC recommended the reports be reviewed and revised by their authors, and that if we were still deemed necessary, the department would take another look.
'Progress', or back to square one?
Lisa Petty, who lives in one of the four blocks in which leaseholders were provided cost estimates, told LondonWorld that while the news represents some progress, it does not fill her with confidence.
She said: "DLUHC has implied that the original authors were incompetent, so I don't really understand the rationale of getting them to review and revise these reports, and I can't say I have any confidence in their assessments.
"DLUHC has said that if works are still recommended after the reports have been reviewed, then they will review them again. It feels like they just want them to say 'no work required' - even though we have ACM (aluminium composite material) cladding. It just feels a bit contrived and makes me feel uncomfortable."
Ms Petty said she has questioned who will pay for the new reviews and the timescales involved, with the original reports for her block costing £12,000 and taking six months to produce.
"So overall, I think it's progress," she said, "but I don't feel that it's positive yet. I still cannot remortgage or sell my property, and until a B1 EWS1 [confirming no remedial work is required] is issued, I won't be able to."
Another resident, Steve Bulkan, said Ms Lopez has "worked tirelessly to get the desired result as no way is this anyone's fault who has bought a flat and are expected to pay for inadequate cladding at the end of the day".
"It's down to the developers or the manufacturers, not us," he said.
Non-Qualifying Leaseholders
Suzy Spilling, the spokesperson for the Non-Qualifying Leaseholders campaign group, said concerns remain about the government still not holding developers to account for remediation or mitigation costs in buildings of all heights, and that the owners of buildings under 11 metres "have been excluded from the duty to pursue alternative routes before automatically passing remediation costs to leaseholders".
She said this is leaving leaseholders "trapped for years facing impossible remediation bills, unable to sell or remortgage their homes, and still paying soaring insurance costs, even in homes that the government insists are safe".
"The implication of this case is that the new PAS9980 guidance for surveying external wall safety is still too subjective and it appears that any adverse decision for any under 11-metre building now needs to be reviewed in detail by DLUHC officials on a case-by-case basis," she said.
"On March 14, Michael Gove said in parliament that buildings under 11 metres would 'sometimes' have 'life critical' defects, but we are still waiting for crystal clear guidance on what cases the department believes would meet that standard and what solution they have for making those homes safe quickly.
"We also need assurances that the government's approach to under-11-meter buildings will be accepted by insurers and mortgage lenders, so that all innocent leaseholders can move on with their lives with no extra costs incurred because of a lack of remediation and confidence is restored in the market for low-rise flats."
Department for housing
A DLUHC spokesperson said residents "must be the number one priority during any remediation", and that the department expects freeholders to try and recover costs from those responsible for building the homes, not from the leaseholders.
They added the review "found that none of these proposed works was considered reasonable or proportionate".
"The FRAEW reports didn't meet the necessary standards, and so we recommended that they be revised."
The managing agents
In Ms Lopez's letter to residents, she said both of the managing agents involved, Prime Property Management and Wildheart Residential Management, had accepted the review recommendations.
Stephen Wiles, managing director at Prime, which manages the two blocks in which leaseholders were not issued with cost estimates, said the company had commissioned surveys by "qualified, experienced professionals", and had applied to the government for funding in an attempt to avoid any costs to the leaseholders.
He added Prime is "currently facilitating discussions between the surveyors so that an agreement can be reached and any work required can start. Residents are rightly concerned about the safety of their building and it is our intention to ensure the construction is either confirmed as safe, or remediated to make it safe."
A spokesperson for Wildheart, on behalf of the freeholders of the four properties concerned, RMB 102 Limited and SF Ground Rents No 18 Limited, said: "It is our utmost priority to ensure the safety of residents. We are grateful to the department for their feedback and audit paper which we have passed to the original authors of the FRAEWs and are awaiting their comments pending further review.
"The freeholder is focussed on finding a solution at the minimum cost to leaseholders, consistent always with the overriding importance of safety."
Visit the SOURCE here.
Our eNews provides regular insight into industry trends, news headlines, and product and service information. For news articles parallel to those mentioned above, sign up for our eNews. Click here to sign up: Subscribe to our enews (fia.uk.com)