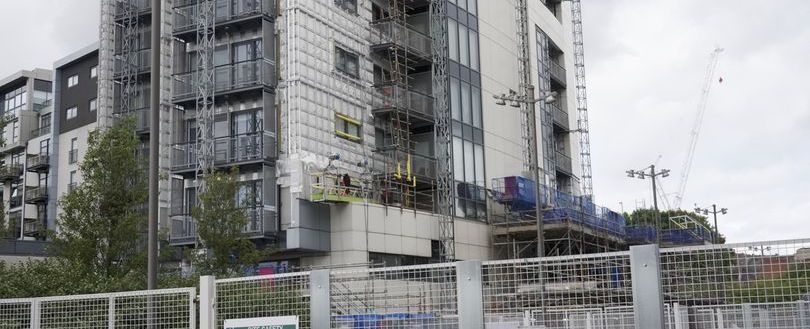 Following a "mismanaged" cladding project by the council, residents will spend a second winter in a freezing tower block
Residents claim that things are getting worse in their tower block.
Residents of a South Bristol council tower block for people over 60 have expressed their concern for their own health as many face a second winter without the building's exterior cladding. Gilton House residents in Brislington have already left for extended stays with family or friends, and more are planning to follow suit rather than put up with the deteriorating conditions in their apartments, which no longer have insulation and old windows that let in wind and rain.
On Wednesday of last week, at a meeting in the tower block's community room, the irate residents confronted representatives from Bristol City Council and its contractors, The Bell Group, after being informed that the work that has been ongoing at the building for the past year would take another year to complete. And that means, for most of the residents, the prospect of another winter without the insulating cladding around the building, which many said made the winter and cold spring they have just experienced unbearable.
Residents claimed to have concerns about the tower block renovation project, which was initially anticipated to be finished by now—in July 2023—and have questions for Bristol City Council and the contractor company.
The residents contend that the council's string of errors, missed deadlines, and poor management will result in another year of unrest, subpar conditions, and frozen homes. The initial project, which was intended to last a year, started in late July 2022.
The building's roof was originally intended to be updated, along with the windows and the cladding on the building's side. But issues started to arise very quickly. Without the council first obtaining a telecoms company that had several phone masts on the roof to remove them or agreeing to remove them as soon as the scaffolding covered the building, work began and a massive shroud of scaffolding was erected.
After an eight-month legal process in which the council had to file a lawsuit against On Tower UK, the telecom masts were finally taken down in May of this year, after a delay of about ten months. That meant that the planned roof construction couldn't proceed.
Then, a string of fires in other Bristol tower blocks occurred in September and October of last year. At Twinnell House in Easton, one of the fires resulted in death, and at Eccleston House in Barton Hill, the flames spread through the tower block's side cladding.
The cladding on the sides of most of the city council's tower blocks, including Gilton House, was unexpectedly found to be potentially dangerous and to not meet new fire safety standards. Therefore, at Gilton House in the autumn and winter of 2022, all the cladding was quickly removed rather than patched up and given fire breaks as originally intended.
At that point, residents were told the change in situation meant the entire project would be completed six months' late, by December 2023.
A year after work was supposed to begin to install them, the third and final component of the project—replacing all the windows—has also been delayed. Residents said they were shocked to learn at the meeting on Wednesday that the council has not even ordered any new windows.
One resident told Bristol Live how the wind whistles through large gaps between her window frame and the wall, and lets in water when it is raining.
Residents told Bristol Live that the state of their homes was worsening rather than the project communication or what they perceive to be mismanagement as the worst aspect of the project.
"As soon as they took the cladding off, it was noticeable right away," said Gloria Eadie. "It was like going for a walk in the Arctic with no clothes on, it was that cold. My flat is north- and east facing. You turn on the heating, and it literally just escapes out of the building," she added.
Iris Evans first moved into Gilton House in 2014. However, she claims she can't take it any longer and is leaving—hopefully temporarily—until everything is resolved.
"There are a lot of people living here who have health problems, that's why a lot of us are here," she said. "I'm one of them, I've got health conditions that mean I feel the cold, and it's not good for me. After last winter, I can't face another one without the cladding, so I'm going to stay at my daughter's. I'm lucky I can, many people here have no option but to stay," she said. "If you put your heating on, you're just throwing money away to the energy companies," another resident told Bristol Live. "I spend most of my time in bed, with the blankets on. It's unbearable," she added.
Nigel Varley is another resident who is worried about the winter ahead. "I have a heart condition, which means I have to take tablets that have side effects that make me really feel the cold," he said. We have been really badly let down by the city council," he said. "They've done the cosmetic things in the block, like refurbished the laundry room, but the most important job was making us warm and safe, and they've failed," he said. "It was really concerning to hear that, after all these months, they still haven't ordered the windows and they still haven't got the replacement cladding coming. It will be months before the cladding starts to be replaced, and for those who live in the last flats to be done, it'll be late next spring before the contractors get to them," he added.
In a letter to Bristol City Council, Mr Varley requested a rent reduction on behalf of the residents. "December 2023 was given as the completion date. We now know that it is July 2024, which is two years after the beginning. We feel misled because this information was not provided voluntarily and was only revealed after extensive questioning.
This has serious repercussions," he continued. "Our flats became noticeably colder when the old, flammable cladding was removed, and they stayed that way until the hot spell in June. Many of us were forced to keep the heat on until June.
We are now faced with an entire winter of inadequately insulated homes and huge, unaffordable increases in our energy bills. "Many of us have health conditions affected by the cold, so we will be put at risk. In flats facing the northeast, away from the sun, lights have to be kept on all day because the scaffolding is blocking out the daylight.
As our landlord, Bristol City Council is obliged to provide us with warm homes. If you are unable to insulate our flats properly, we feel we are entitled to rent reductions to compensate for the increase in our electricity bills. "We believe that mismanagement and poor planning are partly responsible for the delay," he wrote. "We understand that the project had to be changed, but the windows and new cladding were not and are still not ready for fitting as soon as this was done. The new windows have not yet been made, and the order for cladding has not yet been placed. A properly managed building project would not have allowed such delays," he added.
Bristol Live approached Bristol City Council about the project at Gilton House, with questions from residents about why the ageing windows had not been replaced yet, why the replacement cladding was still not available seven or eight months after it was decided it would be needed, and why residents had been told the project would be finished in December, right up until last week. A response is still awaited.
Following the fires in September and October of last year, which showed that the cladding that had been assumed to be safe after the 2017 Grenfell Tower disaster actually needed replacing, council chiefs approved a massive £97 million project to replace all of the unsafe cladding on all council tower blocks as well as to install sprinkler systems in each block.
In a letter from the council to residents last week, the senior manager in charge thanked residents for their patience. "In recent weeks, you may have noticed less activity on site," he wrote. "Please be assured that BCC and The Bell Group remain committed to the completion of this project," he added. The national demand for fireproof cladding, following the Grenfell tragedy and the fires in Bristol last autumn, is causing a shortage of supply, the council said.
"Current material lead times for insulation throughout the UK are lengthy due to material shortages and declining availability," he said. "Roof insulation was on an eight-week lead-in time, with EWI rockwool on a 22-week lead-in time. It may have appeared at times that very few people have been on site, however, the work progress onsite will fluctuate at times, depending on material and resource availability," he added.
Our eNews provides regular insight into industry trends, news headlines, and product and service information. For news articles parallel to those mentioned above, sign up for our eNews. Click here to sign up: Subscribe to our enews (fia.uk.com)