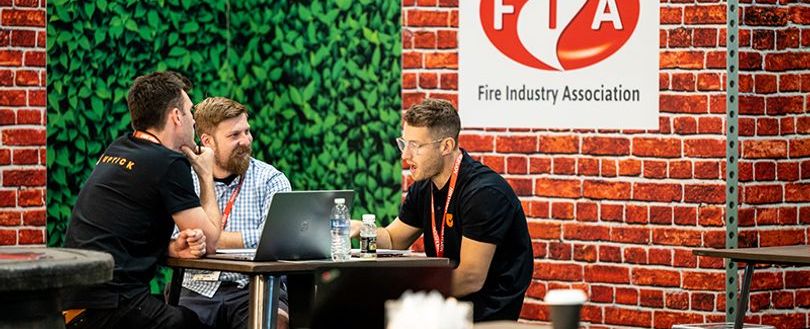 FIREX – what do we have planned?
FIREX, one of the largest events in fire safety in Europe, will take place at ExCel London Exhibition Centre from 16-18 May 2023. As part of this year's event, attendees will be able to participate in seminars, briefings, and presentations, as well as meet industry experts and discover the latest in fire safety technology.
Our stand at FIREX will offer a variety of benefits and activities, including the chance to relax with a variety of drinks at the FIA Garden bar, which features a restored British Leyland AEC fire engine that retains its original features, while serving as a bar.
The stand provides a fantastic networking area, where visitors can bring colleagues, customers, and clients for a drink away from exhibitor stands in a relaxed environment. Additionally, visitors can learn more about what the FIA offers by speaking to their staff and getting a hold of literature and event merchandise.
At the event, visitors can speak with FIA staff about membership, training, events, councils, and working groups. It is also possible to introduce visitors to FIA members at the stand to strengthen their connections.
Mates in Mind, a charity organisation that promotes positive mental health in the workplace, will also be present at the stand to display the fantastic work they do. View their website here.
Consort, one of the FIA's member benefits providers, will be on hand to offer advice and information on insurance in the fire industry. View this member benefit here.
Tuesday, May 16th
Technical Support:
FIA Technical Manager Neil Budd will be representing the technical department of the FIA, Neil is the best person to speak to about all things FD&A.
Seminars:
FIA CEO Ian Moore will open the shows seminars sessions:
11:00 We're Not Fire Safety Experts. Fire Safety Measures: the resident's view.
Wednesday, May 17th
Breakfast Briefing:
Mates in Mind will be hosting a breakfast briefing for FIA members exhibiting at the show, more details on this will be available soon.
Technical Support:
As well as representing the FIA's Technical Department, Robert Thilthorpe will be on hand to answer any question and discuss extinguishing and services.
Third Party Certification Support:
FIA Compliance Manager Kevin Stearns will be on the FIA stand throughout the day. Kevin will be available to speak to on all matters related to third-party certification and compliance.
Seminars:
The FIA CEO Ian Moore will represent the FIA on the following panel discussion:
11:45 Time to talk. Mental health awareness in the fire sector.
Thursday, May 18th
Technical Support:
FIA Technical Manager Will Lloyd will be available to talk all things technical. Will is the ideal person to speak to about fire risk assessment and fire engineering.
Seminars:
FIA Board Member Andy Speake will represent the FIA following panel discussion:
11:00 IOT's role in fire safety
FIREX promises to be an exciting and informative event that offers a wide range of opportunities for visitors to learn, network, and discover the latest innovations in fire safety technology.