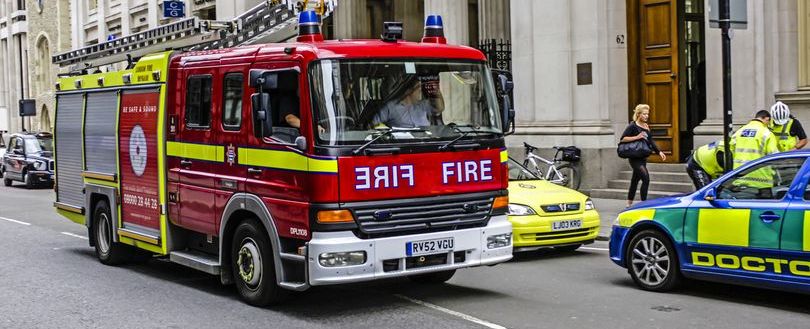 Firefighters and control room staff could strike over pay
Thousands of firefighters and control room staff could go on strike as industrial unrest sweeps the country.
The Fire Brigades Union (FBU) said 32,500 of its members across the UK are to vote on whether to launch a campaign of industrial action over pay.
The union said the move follows a 2% pay offer made in June, which has not been increased despite the rising rate of inflation.
Union leaders regard the offer as a "significant real-terms pay cut".
Inflation hit 10.1% in the 12 months to July, according to the Office for National Statistics (ONS), the first time it has hit double digits in 40 years.
Pay for a trained firefighter is around £32,000 per year.
The ballot is expected to be held in five weeks' time, with strike dates announced if the union backs them.
The FBU announcement was made just hours before new prime minister Liz Truss takes office and follows a wave of UK industrial action this summer by tens of thousands of workers.
Employees across a swathe of different industries including rail, telecoms, ports and the postal sector have walked out, angry that pay rises being offered fail to match their rising food and energy bills.
If FBU members do walk out, it will be the first time they have done so in almost a decade.
Back then the public was told that 999 calls would be answered, but non-emergency issues such as flooding or rubbish fires would not be dealt with.
FBU general secretary Matt Wrack said: "Taking strike action is always a last resort but our employers are increasingly leaving us with no choice.
"There is huge anger among firefighters at falling pay."
"The ball is now in the fire service employers' court. It is not too late for them to make a much better pay offer for consideration by our members."
In a statement the Home Office said: "Central government has no role in setting firefighter pay in England, as it is the responsibility of the National Joint Council which consists of representatives from both the employers' and employees' side.
"Firefighters work tirelessly to protect our communities and it is essential they are paid fairly for the important work they undertake. At the same time, any decision on pay must be justifiable to the taxpayer."
Our eNews provides regular insight into industry trends, news headlines, and product and service information. For news articles parallel to those mentioned above, sign up for our eNews. Click here to sign up: Subscribe to our enews (fia.uk.com)