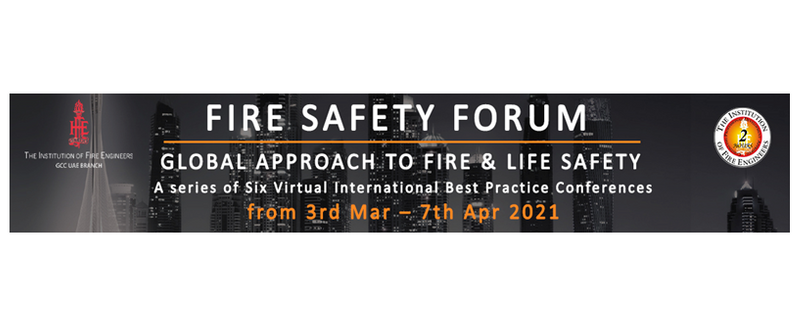 2021 Fire Safety Forum UAE
In support of the Fire Safety Forum presented by the GCC UAE Branch of the Institution of Fire Engineers, the FIA is pleased to announce the event and share complimentary virtual access with its members.
The CPD accredited Fire Safety Forum discusses technical insights and trends in the firefighting, building and fire protection industries. It launches an international industry dialogue through six virtual Best Practice Panels under the Forum's theme "A Global Approach to Fire & Life Safety".
Adjusting to the new realities of 2020 and building onto latest meeting and lead generating technology standards, the Forum is featured on a conference platform that also allows one-on-one interaction, networking and exhibition. The six events are featured weekly from 3rd March to 7th April 2021 covering:
Fire & Rescue Tactical Initiatives

3rd Mar: Safety & Skills
10th Mar: Hazardous Materials
17th Hydrocarbon Fires

Fire Safety in the Built Environment

24th Mar: Testing & Certification
31st Mar: Active Fire Protection Systems
7th Apr: Passive Fire Protection
FIA Members may register here:
The event program can be reviewed here