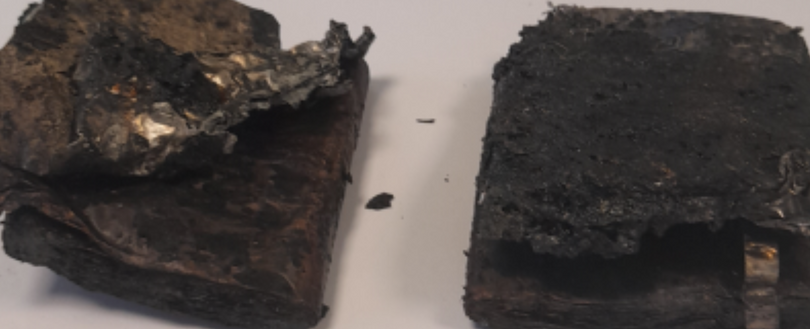 Fire in waste truck prompts urgent warning on battery disposal for public safety
A recent incident involving a fire in the back of a waste truck has prompted Lincolnshire councils to issue a crucial warning to residents about the potential dangers of improperly disposing of batteries and electrical items.
On Monday morning, a waste crew from North Kesteven District Council collecting household bins in Newton, near Sleaford, had to take immediate action when they detected a burning aroma emanating from the rear of their vehicle. The crew quickly unloaded the rubbish onto the road, averting a potential disaster.
Lincolnshire Fire and Rescue, responding promptly to the incident, identified the cause of the fire as a lithium-ion battery that had been improperly discarded in a household bin. The battery sparked and ignited during the compaction cycle of the rubbish lorry, highlighting the serious risks associated with improper disposal of batteries.
The Waste and Street Scene Manager at North Kesteven District Council, Nina Camm, urged residents not to dispose of batteries, electrical items, or vapes in household waste bins. She emphasised the potential hazards and the importance of protecting the safety of rubbish collection crews.
Camm advised residents to utilise dedicated recycling facilities for electronic waste and batteries. Household Waste Recycling Centres and recycling points in supermarkets and other retail stores provide safe alternatives for the disposal of these items.
Rachel Stamp, waste partnership and projects manager at Lincolnshire County Council, stressed the importance of residents collaborating with authorities to mitigate the growing problem of electrical items causing fires in rubbish vehicles. Stamp warned that a single battery in the rubbish stream could create a spark capable of igniting the entire load.
Dan Moss, Lincolnshire Fire and Rescue's area manager for prevention and protection, highlighted the broader consequences of fires at waste sites, emphasising the potential impact on public health, the environment, and the safety of firefighters and communities. Moss encouraged residents to think responsibly about recycling old electronics and batteries to prevent the risk of fire.
The incident serves as a stark reminder of the need for public cooperation in ensuring the safe disposal of batteries and electrical items, ultimately contributing to the prevention of potential fires and the protection of both residents and rubbish management personnel.
View the SOURCE here.
Our eNews provides regular insight into industry trends, news headlines, and product and service information. For news articles parallel to those mentioned above, sign up for our eNews. Click here to sign up: Subscribe to our enews (fia.uk.com)