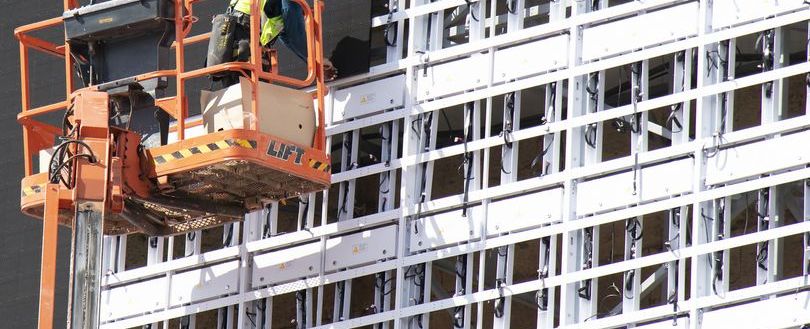 EWS1 forms updated to follow new government cladding advice
The Royal Institution of Chartered Surveyors (RICS), UK Finance and the Building Societies Association (BSA) has updated its guidance and forms for the External Wall System 1 (EWS1) process to incorporate new nationwide standards for inspecting cladding on blocks of flats.
RICS, UK Finance and the BSA changed its EWS1 form earlier this month to emphasise that the investigations and judgments conducted as part of the EWS1 process should be in conformity with the new PAS 9980 requirements for external wall inspections.
The new fully digital forms also state that those surveyors and engineers that have completed RICS' EWS1 training programme can now complete most forms, while a 'version control' will be put on each form to audit how many times a building has been assessed. Existing EWS checks and forms will be valid until a new form or fire risk assessment, including an EWS appraisal, is completed.
The amendments follow the removal of the extremely divisive Consolidated Advice Note as official government guidance in January. The CAN recommended that all structures, regardless of height, be inspected and combustible materials should be removed if identified.
PAS 9980 outlines a five-step risk assessment process to identify the level of risk from the materials in an external wall and puts forward mitigation steps that might reduce risk.
The government has previously said that it hoped PAS 9980 would bring proportionality back to assessing medium-rise buildings and significantly reduce the number of unnecessary surveys required.
The new form explicitly states now that investigations carried out as part of an EWS1 check should be carried out in accordance with PAS 9980 guidance and "allow for the possibility of mitigation as an acceptable investigation outcome".
It also adds that the definition of fire risk and fire safety risk should follow this guidance, with a separate report on the investigation in accordance with PAS 9980 provided to an assessor's client.
Nevertheless, in the updated 'frequently asked questions' sheet published alongside the new form, RICS states that the new PAS 9980 guidance would not replace the need for an EWS1 form in the short term.
However, it adds that an EWS fire risk assessment and a summary report will become part of the new fire risk assessment under the Fire Safety Act amendments.
In addition to the new PAS requirements, the new EWS1 form will be fully digital, where it used to require a hard copy form. The form also now includes version control, which will also allow each form to have a tracked audit of when it was changed and ensure that mistakes can easily be rectified. It will also mean that additional or updated checks can be logged on one form for a building.
When completing EWS1 forms for buildings, RICS recommends that all managing agents upload them to the portal.