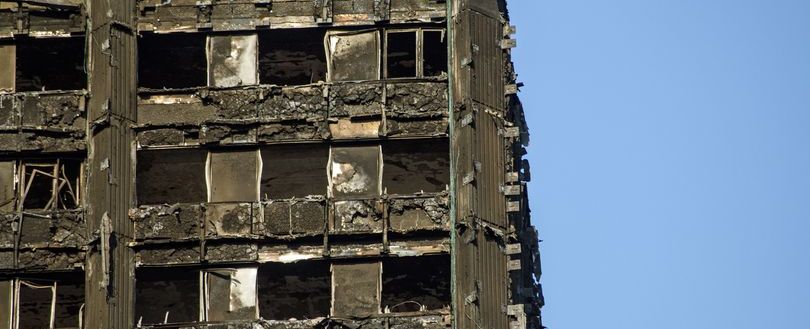 Demand for Ministers to reveal whether the dangerous cladding tested in the early 2000s was used at Grenfell Tower
Ministers have been urged to reveal whether the type of cladding used at Grenfell Tower may have failed fire tests commissioned by the government more than a decade prior to the blaze that killed 72 people.
The inquiry into the disaster in June 2017 has been handed a document showing the results of tests on a number of different cladding systems carried out in 2002 following a fatal fire in an Ayrshire tower block.
A document dated 2004 and leaked to the BBC detailed tests carried out in about 2002, on five unnamed cladding systems, all of which failed to meet the required standard.
Now a cladding testing expert, Dr Jonathan Evans, has written to housing secretary Michael Gove to warn that the results of the test on one of the materials bears "strikingly similar characteristics" to those of tests carried out in the wake of the Grenfell fire on the aluminium composite cladding used in the building – which is believed to have fuelled the blaze.
In his letter, Dr Jonathan Evans displays two thermocouple charts relating to the two tests in 2002 and 2017 which indicate that, after a steady rise in temperature towards 300C in the first three minutes of the fire testing, the temperatures both "escalate rapidly" to around 900C. this suggests another fuel source became available during the test – Dr Evans believes this to be the cladding panels.
Dr Evans states, "There are very few cladding materials that can release that much fuel energy so quickly and given the description that the cladding panels in 2002 were 'aluminium based' I can think of no other explanation than this 2002 test also comprised polyethylene-cored ACM, precisely as installed on the Grenfell Tower."
He goes on to state that "observing this 2002 test would have been a shocking experience and it should have been obvious to attendees and recipients of the report" that the material did not meet fire safety regulations.
The Grenfell Tower public inquiry is expected to examine the tests closely, and to ask the Building Research Establishment, which carried them out, what materials were tested.
In his letter, Dr Evans urged the government not to wait for the inquiry's findings and immediately start "a fully funded programme of remediation" for buildings over 18 metres high, and to prioritise those under that height which "have the capacity for rapid, life-threatening external fire".
In response, the Department for Levelling Up, Housing and Communities said its Building Safety Bill would make the biggest improvements to building safety in 40 years, "where successive governments have failed... with more rights and protections for residents and a £5bn investment to remove unsafe cladding.
---