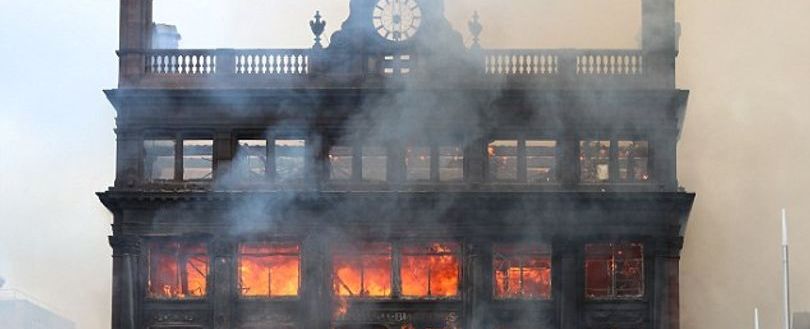 Companies fined £80,000 each for safety violations following the Belfast Primark fire
A massive fire in Belfast's city centre destroyed a Primark store inside a historic structure, and two companies have each been fined a total of £160,000 for their involvement.
Almost five years have passed since the fire at the five-story, Grade B1-listed Bank Buildings on Royal Avenue.
Since then, the building has undergone a £100 million reconstruction, and it reopened last year.
Both Bennett Management Contractors (GB) Ltd. and AF Roofing admitted to health and safety violations and received £80,000 in fines from Belfast Crown Court.
They pleaded guilty two weeks ago to failing to ensure the health and safety of both their employees and other workers who were not employed by them.
Bennett Management Contractors (GB) Ltd, of Central Street in London, had four weeks to pay the fines, the judge said, noting that the company has an annual revenue of more than £30 million.
Due to its much smaller annual turnover, Irish company AF Roofing, based in Youghal, County Waterford, was given more time to pay the fine.
The judge ordered that £20,000 be paid by the end of this year, followed by £30,000 in 2024, and the remaining sum in 2025.
The fire happened on August 28, 2018, and lasted for several days, gutting the building and leading to the closure of part of the city centre for months.
The crane driver called for help when he noticed smoke on the roof of the Primark store that morning, according to testimony provided to the court previously.
A certified roofer, two trainees, one of whom was a fire marshal, and an employee of AF Roofing were working on the building's roof when they left for a tea break.
The Northern Ireland Fire and Rescue Service was eventually called and took control of the scene after the alarm was raised and site workers tried using extinguishers to put out the fire.
An investigation conducted by the fire department and the Northern Ireland Health and Safety Executive turned up health and safety violations, according to senior prosecutor Graham Cardwell of the Public Prosecution Service.
"None of the offences allege that the health and safety failings caused the fire, but that employees and non-employees were exposed to risks to their health or safety as a result of the failings uncovered in the investigation," he said.
"The defendants accepted that such failings occurred."
The verdict in this case, according to Mr. Cardwell, should serve as motivation for other businesses to implement rigorous processes that are rigorously monitored and ensure the health and safety of their employees.
Our eNews provides regular insight into industry trends, news headlines, and product and service information. For news articles parallel to those mentioned above, sign up for our eNews. Click here to sign up: Subscribe to our enews (fia.uk.com)