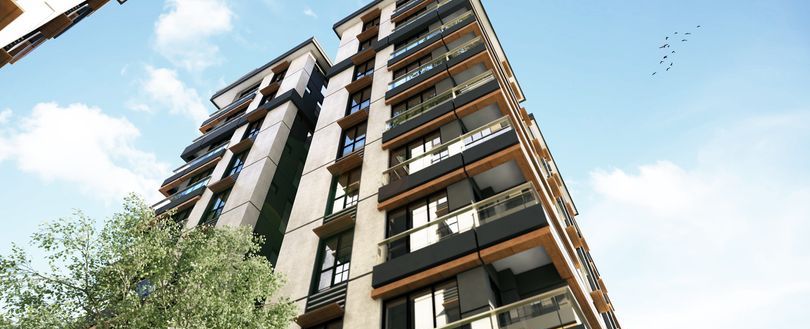 Coalition calls for "bolder action" to make new residential buildings safer
The Royal Institute of British Architects, seven built environment bodies, fire safety organisations and disability rights groups have signed a joint letter to Michael Gove, urging the Government to reduce the height threshold for new residential buildings with more than one staircase to 18 metres from the currently proposed 30 metres.
Such a move would implement what the coalition members believe to be Best Practice, improving safety for occupants and harmonising standards within the wider regulatory environment. This move would also align with rules in Scotland, where an additional staircase in new residential structures of 18 metres and higher has now been a requirement for four years.
In addition to the RIBA, the letter was signed by the Royal Institution of Chartered Surveyors, the Chartered Institute of Building, the National Fire Chiefs Council, the Housing Learning and Improvement Network, Disability Rights UK, Inclusion London and Claddag.
RIBA president Simon Allford commented: "Five years have passed since the fire at Grenfell Tower and still we must make the case and take bolder action to help prevent further avoidable tragedies. Decisive action to make buildings as safe as is reasonably possible is long overdue. We strongly urge the Government to improve fire safety standards. Clarity on appropriate staircase design and provision in residential buildings is essential."
Allford went on to state: "We know that greater numbers of people are evacuating rather than adhering to 'Stay Put' policy instructions during fire incidents post-Grenfell. On that basis, we must ensure occupants have access to a safe and, importantly, smoke-free evacuation route."
Further, Allford noted: "The RIBA has long called for clarity on staircase design and standards that help ensure people are safe in their homes. The Government's current proposal fails to address our shared concerns. We stand ready to support Government action on addressing the points we've made."
Building a Safer Future Champions
Building a Safer Future, the non-profit organisation committed to raising standards in building safety and supporting required culture change in the built environment industry has announced the first group of organisations to be awarded BSF Champion status, having successfully completed the former's new building safety culture change assessment scheme.
The BSF Champion assessment process affords companies detailed insight into their existing leadership and culture around building safety and equips them with actionable data and practical tools to help review and upgrade processes, driving meaningful and measurable improvement in leadership and culture around building safety and, in doing so, helping to rebuild public trust.
Organisations that have achieved Building a Safer Future Champion status include Barratt Developments plc, Galliford Try, Hill Holdings Ltd, Martin Arnold Ltd, MHS Homes, Morgan Sindall, Orion Fire Engineering Ltd, Persimmon Homes Ltd and Salix Hom.
Dame Judith Hackitt, chair of both the Independent Review of Building Regulations and Fire Safety and the Industry Safety Steering Group, commented: "Every journey of culture change starts with an open and honest assessment of where you are today. All of the companies who have achieved Building a Safer Future Champion status have shown the courage to look at themselves and understand the steps they need to take to improve and are now embarked upon that journey. Their leadership and the benefits they can demonstrate already from setting out on this journey should be a wake-up call to everyone else to make sure they're on board."
To finish reading the full article, visit the SOURCE here.
Our eNews provides regular insight into industry trends, news headlines, and product and service information. For news articles parallel to those mentioned above, sign up for our eNews. Click here to sign up: Subscribe to our enews (fia.uk.com)