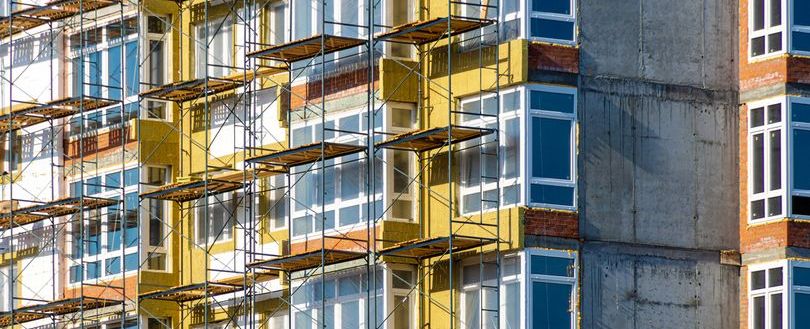 Cladding: Swansea flat owner's cautious welcome on safety scheme
A flat owner has given a cautious welcome to the Welsh government's new scheme to tackle fire safety defects in medium and high-rise residential buildings after the Grenfell tragedy.
Interest - free loans will be offered to developers in Wales who sign up to an agreement to adapt affected buildings.
It follows the 2017 Grenfell Tower disaster in west London, when 72 people died.
Geoffrey Spight, 80, said he is "desperate to get something done".
A Welsh government help fund is available to eligible leaseholders.
Following the Grenfell Fire, a number of apartment blocks in Wales were found to have fire safety defects.
A scheme to tackle fire safety defects in Wales was unveiled in the Senedd on Tuesday, as part of the Welsh government's co-operation deal with Plaid Cymru.
Mr Spight, who bought his flat in the Altamar apartment block in Swansea in 2018, is a director of the building's management company, and acts on behalf of the residents.
"Our insulation is proved to be flammable, so that means that all metal cladding has to be taken off and the building has got to be scaffolded," he said.
He said that since being issued with an order by the fire services in 2018, only two properties in the block have been sold.
But he said insurance premiums then "shot up".
'Mental anguish'
"Paying for all these surveys, we've had to increase the service charge by 35%, and we are now negotiating again - we have to increase again now because we have got problems with the roof fabric."
Mr Spight said one of his former directors is being forced by her mortgage company to sell her flat, as her mortgage term has come to an end.
"She cannot sell the property. She had it on sale for months and months but she can't sell it," he said.
"So she's under terrible strain because she has no other option but to hand it back to the mortgage company because she can't sell it.
"It's the mental anguish and stress. It's awful. Really awful. I get emails and l get lots of letters from other tenants here who are really struggling.
"It's awful to read the letters. They are trying to ask for more money to dig them out of this hell hole. They can't, we can't afford to pay any more."
Developers who have signed up to the scheme can access interest-free loans to help with the work through a new £20m Welsh Building Safety Developer Loan Scheme.
Redrow, Lovell, Vistry, Countryside, Persimmon, and McCarthy Stone have signed the new Welsh government agreement, while Taylor-Wimpey, Crest Nicholson and Barratt had confirmed they intend to sign.
The Welsh government will also pay for 28 buildings where a developer is unknown or has ceased trading.
The loans would be repayable over five years and the buildings need to be 11 metres (36ft) or more high.
Mr Spight said he wants to see action, rather than just words, from the new plan.
To finish reading the full article, visit the SOURCE here.
Our eNews provides regular insight into industry trends, news headlines, and product and service information. For news articles parallel to those mentioned above, sign up for our eNews. Click here to sign up: Subscribe to our enews (fia.uk.com)