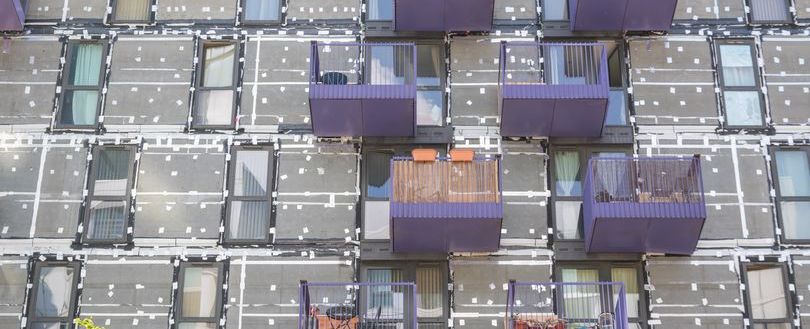 Cladding: More firms sign post-Grenfell fire safety contract
Firms exposed by Michael Gove for failing to sign a contract to repair post-Grenfell safety risks have joined the scheme.
The housing secretary gave companies until 13 March to sign the agreement aimed at addressing cladding issues exposed by the Grenfell Tower fire.
Mr Gove named the 11 firms that failed to sign the contract, which would see them spending £2bn to pay for repairs.
On Friday, the government revealed five of these had now joined the scheme.
The Department for Levelling Up, Housing and Communities confirmed Ballymore, Lendlease, London Square, Telford Homes and Inland Homes signed up to the contract. So far 44 companies have joined the scheme.
Inland Homes had requested an extension due to recent changes to its board of directors, a spokeswoman said.
Mr. Gove had threatened to ban firms from building new homes in England if they did not join.
Companies that have not yet signed "claim that they will sign the contract in coming days", Mr. Gove said.
The remaining firms "have told us that they remain committed to protecting leaseholders and taxpayers from having to pay", he added.
He said this scheme was a way of "ensuring that only those committed to building safety will be allowed to build in the future".
The government has published a list of the companies that have signed the contract and those who have not so far agreed.
At the time, Mr. Gove said this was a "significant intervention in the market" but added "The magnitude of the crisis that we face and the depth of the suffering for all those affected has clearly justified a radical approach."
The scheme is aimed at helping leaseholders who live in buildings between 11m and 18.5m high, who are facing large bills for the removal of dangerous cladding. It means those leaseholders will not have to pay for the cladding's removal.
Labour have backed the government's action but argue the scheme does not go far enough.
When the scheme was announced shadow levelling up secretary Lisa Nandy said: "We want to see every developer sign the remediation contract."
But she said the government's contract only covered 1,100 buildings when Mr Gove's own department had said there are "between 6,000 and 9,000 unsafe 11-18m buildings alone".
Once signed, the contract makes commitments signed by developers in a public pledge last year legally binding.
To finish reading the full article, visit the SOURCE here.
Our eNews provides regular insight into industry trends, news headlines, and product and service information. For news articles parallel to those mentioned above, sign up for our eNews. Click here to sign up: Subscribe to our enews (fia.uk.com)