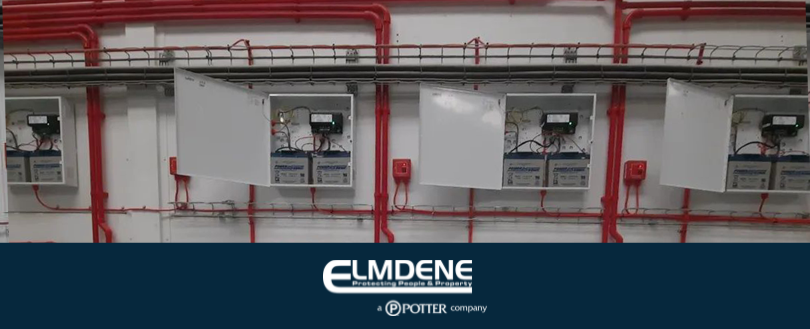 CHOOSING THE BEST POWER SUPPLY FOR YOUR FIRE SAFETY SYSTEM
*Sponsored Post*
The ultimate risk of choosing poor-quality PSUs is fire; we all understand how devastating that can be. Choosing low-quality, poorly designed PSUs for your fire protection system could compromise people's safety, property risk, and damage to your reputation, not to mention costly repairs and any legal issues caused by service inadequacy.
When choosing a PSU, you need to ensure that the overall design of the power unit consists of high-quality components. It's also crucial that the PSU has been thoroughly tested to ensure it can withstand the environmental conditions it will be installed in.
The enclosure that the PSU is housed in is another essential element to consider.
The enclosure protects the PSU from the environment and tampering, so it should be robust and big enough to accommodate it. The enclosure should be fit-for-purpose and designed to cater to many integration possibilities.
Airflow is also an important consideration when it comes to design, as it ensures that the PSU can be cooled while it's in operation. Reputable manufacturers like Elmdene ensure that the PSU enclosure facilitates life-extending airflow and excellent enclosures to keep the PSU system secure.
Within any product, key components must be extra-carefully considered from the perspective of quality, longevity, design, and integration.
Key components of Fire Protection PSUs are capacitors:
The cost of a PSU's capacitors is a significant proportion of the total product cost. When looking for cost savings in fire protection PSUs, manufacturers can select low-cost, low-quality capacitors to make substantial savings. It is also worth noting that lower-cost capacitors can significantly affect the PSU's lifespan and reliability.
You can still "quality check" capacitors without getting too technical. The most crucial factor is ensuring your chosen manufacturer specifies that their capacitors are stress tested to cope with higher temperatures than they would ever need to deal with. As long as this element is considered, the PSU you choose to go with should perform as required with an extended lifespan.
Field Effect Transistors (FET) are another essential element for Fire Protection PSUs. They control the flow of current in a semiconductor by the voltage applied to its gate terminal.
In a nutshell, if the longevity of a PSU isn't clearly defined within ambitious temperature ranges, make sure to ask your manufacturing partner questions surrounding capacitors and FETs!
Elmdene offers a wide range of high-quality EN54-4 power supplies certified by notified bodies.
With the best practices for Fire system power supply selection in mind, use this PSU Selector tool to easily find the perfect solution to your system specification.
Elmdene also offers a Lifetime Warranty on core products adding confidence in the performance and reliability of their Power Supplies. Designed in the UK and manufactured with the highest quality components, Elmdene PSUs guarantee assurance and peace of mind for critical systems.
Install Elmdene products with confidence. "Our aim is simple: to provide customers with high quality and innovative products backed by first-class and ongoing support whenever our customers need it."
With high-quality power solutions used in 45 countries, Elmdene is one of the most trusted brands in the world, specialising in power supply units for fire systems.
To discover more about Elmdene, or any of our product ranges, get in touch with our team of experts, who will be happy to discuss finding an ideal solution for your unique needs.