Free seminar on BS 5839-1: 2017 at FIM Expo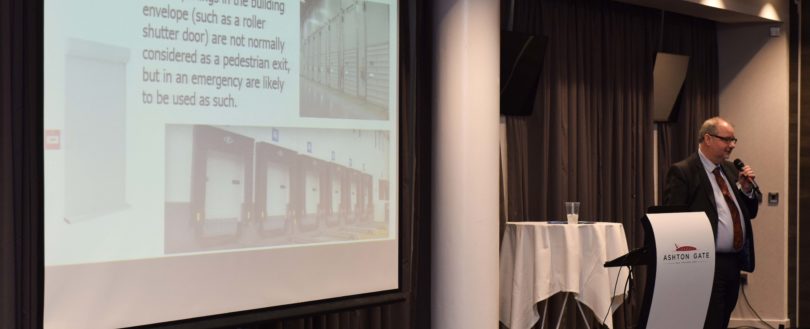 Free seminar on BS 5839-1: 2017 at FIM Expo
FIA's Technical Manager Will Lloyd to present
Two free seminars on BS 5839-1:2017 will be available to attendees of this year's FIM Expo, 4th October 2018 in Doncaster. The seminar will be presented by FIA Technical Manager, Will Lloyd.
The seminar will cover the changes to the standard since the 2013 version and provide technical insight, as well as give an opportunity to ask questions. Attendees will be eligible to gain a CPD certificate.
Discover and learn about:
Multisensors in escape routes
L2 and L3 systems
The use of manual call point covers
The 'place of ultimate safety' and how this affects placement of call points
Communication with the fire and rescue service
Staff alarms
Video fire detectors
Types of fire detectors and their selection
Spacing and siting of automatic fire detectors
Siting of optical beam smoke detectors
Power supplies and cabling
…and much more
There will be two seminars held at FIM Expo, the Fire Industry Manufacturer's Expo, run by the Fire Industry Association (FIA). The expo will have a range of fire detection and alarm manufacturers to visit and speak to, as well as free tea and coffee and light refreshments.
There will be two seminars running at the event – one in the morning at 11am, and repeated again at 2pm. Doors for the expo open at 9.30am and the event closes at 4pm. A free lunch will be provided for all attendees, with the opportunity to network with other professionals and visit each stand in a relaxed environment.
The event is being held at Doncaster Racecourse, which is easily accessible from the A1 and M18 motorways if coming by car, or a 10-minute cab ride from Doncaster train station (where a taxi rank is available). Free parking is available for all attendees.
Related posts
06 October 2023

By Neil Budd, FIA Technical manager

02 August 2023

By Kirsty Lavell, Marketing Manager

01 August 2023

By Kirsty Lavell, Marketing Manager