Fireside Chat with Ollie Murray - Eurotech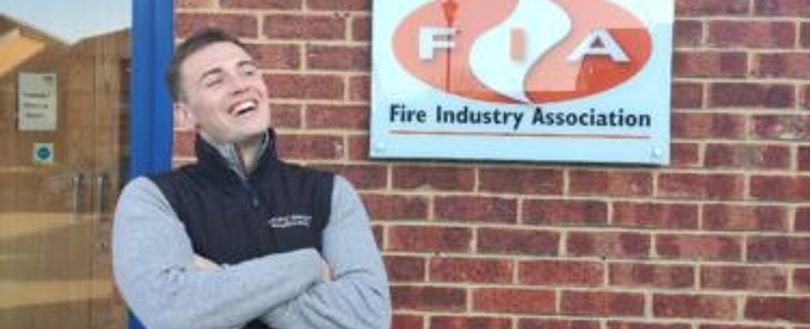 Fireside Chat with Ollie Murray - Eurotech
Our brand new feature for 2020. Here is a write up of a quickfire interview with Ollie Murray, Sales Manager at Eurotech Fire Systems LTD. This interview touches on favourite films, work-life balance and an inside look into the fire industry.
Fireside Chat with Ollie Murray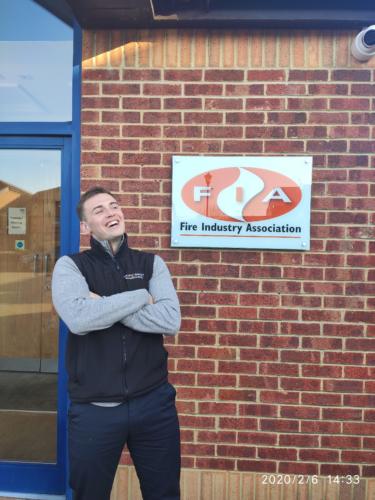 Hello, my name is Ollie Murray, Sales Manager for Eurotech Fire Systems Ltd working out of our Head Office in Waterlooville, UK. I have been in the industry over 7 years now spending all my time with Eurotech. Fresh from college I was given great opportunities to develop my knowledge of the industry, the products and most importantly people. Fast forward 7 years and I couldn't be happier, working with a great time and amazing customers. I still have a lot to learn!
Personal Questions
Do you have any pets?
I have a 2-year old Border collie cross; I am not sure what he is crossed with but he's about 35 kg- he's a big boy. His name is Alfie he needs 3 hours of walking a day.
What's your favourite movie of all time?
It's a split between Bad boys and Die Hard. I am going to go with Die Hard the original especially because it is at Christmas. I forgot how much I loved it until Brooklyn Nine-Nine, another show that I watch, reminded me of it.
Describe yourself as a teenager in 3 words?
Cheeky, I was going to use sassy but I'm not quite sure I want to put that one out there, smart and probably a bit arrogant.
What is your biggest pet peeve/hate?
People chewing. Listening to people chew that's the thing that really gets me I'm quite tolerable with people's mannerisms.
If you could be from any other decade (or era), which would it be and why?
The 1920s the Roaring Twenties, if we look at Gatsby in New York and that sort of era. It's just quite exciting period there's a lot of mystique around it, the parties and the social events seemed quite fun but you needed to have money.
If you weren't in the fire industry – what would you be doing and why?
I'll probably be in one of the services the Army, Royal Navy or RAF, I always wanted to be a pilot in the RAF. My family has a strong presence in the services.
What's on your Spotify or iTunes right now?
Two songs recently played are by Rudimental and Michael Jackson.
If you could have any three people (dead or alive) over for dinner – who would they be?
Firstly, Winston Churchill because of what he did and the way he captured our nation, Alex Ferguson and the Queen.
What two things would you take to a Desert Island?
A solar panel and a phone to ring someone from it.
Name a book, movie or tv show that has positively shaped you and why.
Dunkirk reminded me that everyone's life is valuable and I think that was made clear in World War II - perhaps even more so afterwards. It reinforces the idea that people shouldn't be judged by their background.
If you had a spirit animal, what would it be and why?
A bear because I can be quite relaxed around people in my own habitat but at the same time I think I can be quite formidable.
What is the best gift you've ever received?
A photo of my family with a relative that passed away. I got it as a Christmas present one year and wasn't expecting it and it brought back a tonne of memories. It still does the same when I wake up look at this photo.
What's your favourite thing in your closet right now?
A funky shirt I just recently bought from Florida, I am looking forward to wearing it out and about.
If you could have one superpower, what would it be?
Invisibility
Professional Questions
What's the best piece of advice you've received?
There's something to learn from everyone.
What time did you get to work this morning?
Work in the mornings is very sporadic. It depends whether I am meeting customers on-site or if I'm going to the office. So, it varies anywhere from leaving the house at 4:45 or getting to our office in Waterlooville for 8:30 it really does depend on where my office is that day. No two days are ever the same.
What does your usual day look like?
It starts with phone calls and emails, mainly speaking to customers. But my work can vary from design to technical; to site surveys or programming and checking systems before they are dispatched to install.
What makes you excited about the future of this industry?
New products evolving and hopefully some new legislation surrounding some of the current standards. This is needed to push the best practice going forwards and fix current loopholes allow for unprofessional conduct. Hopefully, some of the standards and guidelines can become laws. At the end of the day, it's life safety, it is protecting people's lives not just their luxury goods.
What do you like about the fire industry?
There's a lot to take in from everyone in the industry. What's more, I feel that there's a gap in the future for me to grow into - there is a massive chance to develop. There is a great industry here to come and join. The funny thing is I didn't even know it existed, despite the fact that a couple of big companies in the fire industry are located on the south coast. I never used to go into buildings, bars and restaurants looking for detection call points or systems whatever it might be. Whereas, now the first thing you do you think is whose panel is this or who services it or who maintains it. I didn't even know it existed.
How do your work and personal life come together?
I like to think I'm quite good at balancing it. There is a really good work-life balance but the work phone is often turned on 24-hours 7-days because when someone rings you out of hours there must be a valid reason for the call. But there's a fine balance to be had. There is a lot of travel commitments yet I am able to work from home occasionally. For instance, today Virgin came around to do some work, so I worked from home for a few hours. It's quite flexible as long as you get your work done and if you are busy you can pick things up from home which is great. But saying that there are certainly a lot of merits to being in the office as I work in sales it is incredibly important to be able to see and witness the internal friendly competition that goes on. I think there's a really good balance in the fire industry particularly for my company and my role.
What matters most to you?
Keeping strong and meaningful relationships with customers and making sure they are happy with our products and services; it is a real win-win. Whether you are at home or in your job, I have started to realise that you are one small part of everyone else's life. If you can try to create strong, meaningful and successful relationships. I think you'll find you'll be happy most days if you can have a positive impact on someone's life.
What would you tell yourself at the age of 21?
Listen more. I think at 21, I probably just finished college and I was just trying to find out who I am on a personal level and also a professional level. But I found that when listening to people it is sometimes easy to take things as criticism, when in fact they're just trying to be constructive. Simply it is best to listen to what they've got to say with an open mind.
The dog every day without fail. At 05:50 if not earlier he's jumping on the bed he's wanting to go out for a walk whether that's rain or shine. I am also motivated by my hunger for success, for me to succeed daily in the small challenges and ticking off small goals as I'm going through the day - the first goal of every day is to make your bed.
Where do you want to be in 5 years?
I guess doing the same thing with the same people and making sure the industry is heading in the right direction. For someone who is 24, 5 years will actually go quite quickly it will be here and gone before we've known it.
We look at what's happened over the last couple of years with big national stories and fire-related tragedies. We've got to do more to prevent them as responsible individuals and must do everything we can to prevent them as an industry; or as a business promoting better safety through working in line with best practices. For me personally, I'd love to be a part of taking Eurotech Fire Systems LTD to the next level and see where we can go over 5 years.
Familywise, I've not thought about kids yet. I said to my partner "we won't have kids till I have an Audi V8" so my partner said she didn't want to wait till she was 30 - so we compromised with a dog
Why is the FIA important to you and the industry?
The FIA is important as it is an impartial body and it doesn't have one singular interest at heart but it guides everyone down the right path through its training, thought leadership and its dialogue with the government. In the coming years, I hope the FIA is vital in shaping the legislation that is needed to improve the standards of safety and the lives of individuals.
To finish what do you want to say to the readers?
The fire industry is one of those industries you've probably never heard about. However, there is a lot going on behind the scenes. Have you ever wondered about the little red box on the end of your bar in the pub or the detector that you see in the ceiling at the restaurant? There is a huge industry with a lot of great people and most are working for the right reasons: to protect your life and it's something that I used to take for granted. Through learning, just a little bit more about it has been really humbling and it has opened a lot of doors.
---
In the next edition of Fireside Chat will be with Abby Hannah, International Business Development Manager at Steadfast Inc
If you would like to get involved with Fireside Chats please contact [email protected].
*All answers given are not reflective of the FIA views and thoughts and are that of the individual who was interviewed.

Related posts
12 October 2023

By Kirsty Lavell, Marketing Manager

20 February 2023

By Kirsty Lavell, Marketing Manager

23 January 2023

By Kirsty Lavell, Marketing Manager