Fireside Chat with Chris Tilley - FIA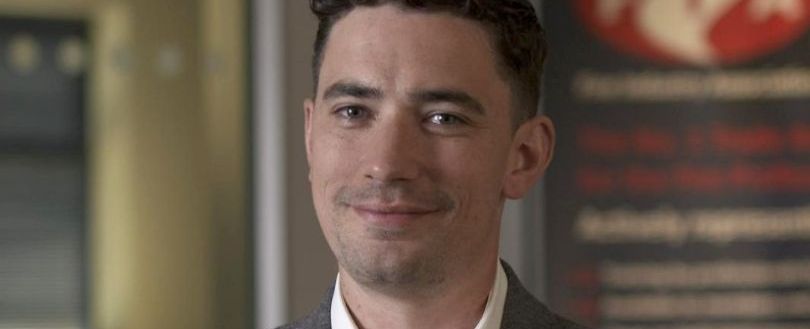 Fireside Chat with Chris Tilley - FIA
Here is our Fireside Chat with Chris Tilley, Commercial Manager at the FIA. This interview touches on happily adjusting to change, the community feel within the fire industry and a precious gift received from his late Grandfather.
Fireside Chat with Chris Tilley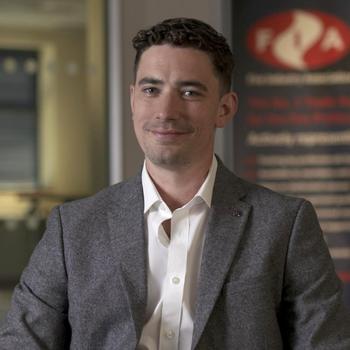 Intro
Hi, my name is Chris Tilley and I am the Commercial Manager of the FIA. I started at the FIA in 2017 as the membership manager and recently moved into a wider ranging commercial role. Previously to that I worked at Heathrow airport for a decade as a cargo sales broker for 20+ airlines.
How have you been affected by Covid-19?
Personally, I was really fortunate in that no-one I am close to was seriously affected by it, but I know many friends that sadly were which was hard to see.
My wife and I also moved from a one-bedroom flat into a three-bed house with a garden 1 month before anyone had even heard of Covid, so that became our lockdown house which was a huge blessing as we were both working from home. I know it probably sounds bad, but we had a great time. Life became simpler and we learnt to enjoy and appreciate different things. I guess what it taught us is that no matter what, there is opportunity and positives to every situation.
Personal Questions
Do you have any pets?
No – other people in our neighbourhood have cats so I just borrow them.
What's your favourite movie of all time?
Shawshank Redemption or any of the Godfather Trilogy. Boring I know, but there is a reason they consistently top most 'all-time' movie listings.
My go-to feel good movie is 'Hunt for the Wilderpeople'. It has two of the best scenes of any movie which I quote in many life situations.
Describe yourself as a teenager in 3 words?
Adventurous
Reckless
Sociable
What is your biggest pet peeve/hate? 
Lateness. In my opinion 5 minutes before the stated arrival time is the perfect time to arrive. Unless you have been unlucky, which let's face it is rare, lateness is either a case of lack of care or poor planning.
If you could be from any other decade (or era), which would it be and why?
I love the time I'm from. I was born in 1986 so we got to grow up without smart phones and social media and then got them handed to us as adults when we could cope with them better. Also, the 90's and 00's were great decades for music!
If it was going to be another era, then it would be Victorian. I'd love to see what London was like back then.
What is your favourite quote and why?
Charles Spurgeon was a great 19th century Christian preacher who is sadly little known nowadays although he had a profound effect on many lives, mainly in London, but was also widely known across the world. During his ministry the country experienced something of a revival. He was best known for his preaching ability and voice that could easily reach thousands with no amplification. He was also incredibly witty and could talk at length on almost any subject. Some of my favourite quotes of his are below. The reason I love them is because they remind me of what I wish to be:
"If a crooked stick is before you, you need not explain how crooked it is. Lay a straight one down by the side of it, and the work is well done. Preach the truth and error will stand abashed in its presence"
"Use very hard arguments and very soft words"
"Wisdom is the right use of knowledge. To know is not to be wise. Many men know a great deal and are all the greater fools for it. There is no fool so great a fool as a knowing fool. But to know how to use knowledge is to have wisdom."
"A good character is the best tombstone. Those who loved you and were helped by you will remember you when forget-me-nots have withered. Carve your name on hearts, not on marble."
If you weren't in the fire industry – what would you be doing and why?
I was just saying to my wife yesterday that if I could tell my 17-year-old self what to do it would be to get trained up with rope climbing, mountaineering and that type of thing and then use that to lead research teams on expeditions around the world. We were watching Simon Reeves in South America and I was super jealous.
Failing that I would probably join the staff team at my Church.
What's on your Spotify or iTunes?
I'm listening to Pearljam's 1994 album 'Vitalogy'. Currently on the last and possibly best track 'Better Man'.
Stalwarts are Nine Inch Nails, my 'Drum and Bass' playlist and my 'Movie/TV Music' playlist
If you could have any three people (dead or alive) over for dinner – who would they be?
Charles Spurgeon – For the reasons above
C S Lewis – I'm a massive fan
J R Tolkien – I'm a geek level fan
What two things would you take to a Desert Island?
My wife and an axe (not what it sounds like I promise!). My wife because it's basically an opportunity for an extended holiday on a desert island and an axe so I can make shelter, tools, firewood etc...
Failing that, my golf clubs and an unlimited supply of balls.
Name a book, movie or tv show that has positively shaped you and why?
The Chronicles of Narnia. Believe it or not, I only read them last year. They are so full of symbolism and allegory that we can apply to ourselves and our world. Plus, I love the use of mythology and folklore.
TV show, 'The Wire' is hands down the best thing I have ever seen.
If you were an animal, what animal would you be and why?
Domestic cat. It's a no brainer. You spend half your life sleeping looking more comfortable than is physically possible and the other half exploring, fighting boy cats, chasing girl cats, hunting etc… In between you have enormous servants who feed you, buy you things, clear up your mess and give you somewhere safe to sleep at night.
What is the best gift you've ever received?
My Grandads bible after he died in 2012. His comments and thoughts are scribbled on almost every page. It is very precious as many times he has led me to understand truths from beyond the grave.
What's your favourite thing in your closet right now?
Just re-discovered my Carhartt hoodie after summer so I am really enjoying that.
If you could have one superpower, what would it be?
Telekinesis so that I never have to wash the dishes again.
Professional Questions
Where's the most interesting place that you have ever been with the Fire Industry?
I work for the FIA so no-where particularly interesting! Luton town centre was certainly an eye opener. If you have never been then just look up Hamsterdam in 'The Wire'…
Seriously though, the Titanic Centre in Belfast for FIM Expo last year was a great venue and great city. I also hope to get out to Cyprus at some point to get a project we have been working on for a while up and running.
What's the best piece of advice you've received?
People are the most challenging thing you will ever deal with. Everything else is predictable, people are not.
What time did you get to work this morning?
08:00
What does your usual day look like?
Wake up around 7am and get the coffee and toast (with Bovril, not Marmite) on. Go upstairs and fire up the laptop and scan the news. Read for a bit. Go out in the garden and see how things are doing.
Get to my desk (currently upstairs) for around 0800. Check my diary for that day and the next make sure I have prepped for any meetings. Then check my task tracker and see what needs doing. Check emails and chat platforms (hoping no-one needs me) and then get on with whatever projects, meetings and tasks need doing.
At the end of the day I wrap up making sure any loose ends are transferred onto the following day and quickly remind myself of the following days meetings.
How does your work and family life come together?
With working from home, my work is quite transparent to my other half and we get to see how the other is in meetings and conversations with co-workers, so that has been an insight that we never had before and could only guess at.
Otherwise, I like to keep things reasonably separated. For me, if one bleeds into the other too much then it just makes me less effective. I'm also very busy outside of work so don't physically have the time to spare without dropping the ball in a number of areas. Of course, there are occasions when one has to give way to the other like when you are pushing for a deadline or a special event etc. but this shouldn't ever be the expected norm as that quickly becomes unsustainable and detrimental.
What makes you excited about the future of this industry?
There are so many dedicated and passionate people that truly care about public safety and doing the right thing as opposed to making a quick buck.
What does the fire industry need?
From what I have seen it can be very slow to react to innovations and new tech. This is not always a bad thing as time allows for proper due diligence and testing however this has to be balanced against the pace in which the world is pushing forwards and the software capabilities that are only going to grow.
What do you like about the fire industry?
It has a real community feel to it. For example, at the last FIM expo we went out for a curry and many of the exhibitors joined us. We ended up taking over 2/3's of the restaurant. These guys are all competitors and yet they can happily socialise with each-other, not only that but they enjoy it!
What matters most to you?
Like the late HRH Queen Elizabeth II, it is my faith in the Lord Jesus Christ that matters most to me. It influences all of my decisions and instils values that I hope make me a better employee and person than I otherwise would be. Sadly I can't say that I always live up to my own or His expectations, but with such a high bar to aim at and forgiveness for when I fail, it is a great place to be!
I am not what I was, I am what I am now by His grace and I am not what I will be in the future.
What would you tell yourself at the age of 21?
It will all be ok.
What motivates you?
Professionally, to meet the expectations of my colleagues and not let them down if I can avoid it.
Why I work though is to provide for and beyond my family.
Where do you want to be in 5 years?
Likely still in the fire industry just a little older and hopefully wiser.
Why is the FIA important to you and the industry?
Speaking from within I may be biased but I want to try and give as neutral a view as possible. The FIA is important for the industry because of the people within it. Of course, we have companies as members, however it is the people within those companies that make them and the FIA tick. Those people give up many hours to do additional FIA related work for which they are not paid anything extra. Granted, this has residual benefit for their companies however these benefits extend beyond and into the rest of the industry and the public.
The FIA provides the platform, reach and influence to enable so much of this work to happen I am genuinely convinced that lives have been saved by percentages because of the work done within the many councils, working groups and committees of the FIA as standards and legislation are shaped.
What do you want to say to the readers?
Keep doing all the fantastic work you are doing and thankyou for welcoming me to your industry for the last 5 years.

Related posts
12 October 2023

By Kirsty Lavell, Marketing Manager

20 February 2023

By Kirsty Lavell, Marketing Manager

23 January 2023

By Kirsty Lavell, Marketing Manager