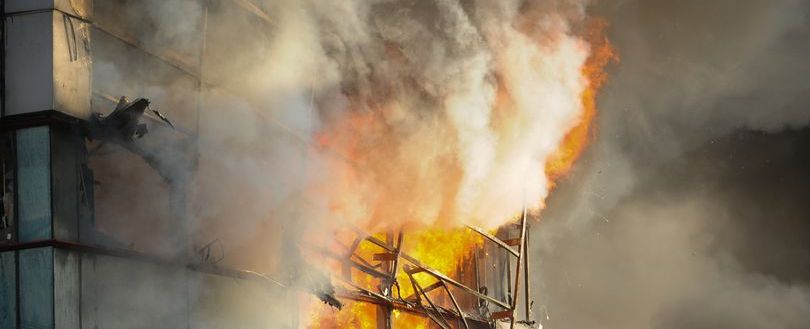 Bedford fire: One dies and three others rushed to hospital following gas explosion at block of flats
At least one person has died and three others were taken to hospital after a gas explosion described as an "inferno" in a block of flats, Bedfordshire Police said.
The explosion ripped through the three-storey building in Redwood Grove, Bedford on Monday morning (4 July). Two casualties were taken to hospital with serious injuries and a firefighter was also admitted with smoke inhalation after the gas explosion. Police fear more deaths could be discovered in the coming days as emergency services search the scene.
Bedfordshire Police Chief Superintendent John Murphy said: "Very sadly we know that at least one person has passed away in the explosion today. There is a possibility that there will be more fatalities discovered in the coming days as we continue to search through the scene and a number of people, as my colleague from the fire services has identified, were injured as well today."
The explosion happened at the block of 20 flats on Monday morning. Witnesses reported seeing a resident jump from a second-storey window to escape the flames. Bedfordshire Fire and Rescue Service declared a major incident after fire gutted the roof of the building. East of England Ambulance Service (EEAS) said there had been three hospital admissions, one of whom was airlifted to Addenbrooke's Hospital with leg injuries.
The other two, including a firefighter, were taken to Bedford South Wing Hospital with smoke inhalation. The firefighter has since returned home, emergency services said.
Flames engulfed the whole building and caused a large portion of the roof to collapse. All three emergency services were at the scene into Monday evening. Bedfordshire Fire and Rescue Service confirmed the fire on Redwood Grove was caused by a gas explosion.
In a statement earlier, the service said "Bedfordshire Fire and Rescue Service are currently in attendance at a major gas explosion on Redwood Grove, Bedford. There are currently 6 appliances, 2 water carriers, an incident command unit at the scene."
An Emergency Assistance Centre was set up at The John Bunyan Centre in Bedford, for people who have been evacuated and need support. An adjacent block of flats was also evacuated as a result of the fire, along with the nearby Shackleton Primary School.
---
FOR UPDATED INFORMATION ON THIS EVENT CLICK HERE