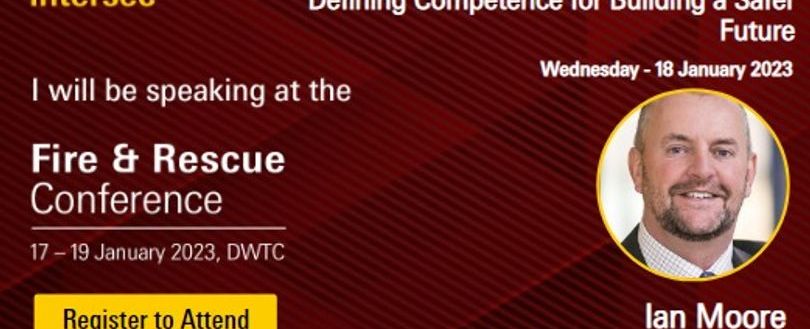 With 800+ exhibitors and our CEO Ian Moore, Intersec opens in Dubai tomorrow.
We are thrilled to announce our CEO, Ian Moore JP will be speaking at the Fire & Rescue Conference at Intersec 2023 being held at the Dubai World Trade Centre from 17 – 19 January 2023.
As part of this conference, Ian will have the opportunity to share his thoughts, opinions, and experiences with peers and industry experts.
The Dubai World Trade Centre (DWTC) is hosting tomorrow the 24th edition of Intersec - the world's leading trade fair for safety, security, and fire protection.
The event will run from Tuesday until Thursday, under the patronage of Sheikh Mansoor bin Mohammed bin Rashid Al Maktoum. With the event featuring 800 exhibitors from Australia, the UK, Europe, the Middle East, the Balkans, Russia, the CIS, North and South America, North and South Africa, Asia, Scandinavia, the USA, and the Indian Subcontinent. with dedicated product showcases for commercial and perimeter security, homeland security, fire and rescue, safety and health, cybersecurity and special features, plus a powerful conference and knowledge-sharing programme.
A dedicated Fire & Rescue Conference will be hosted by Dubai Civil Defence and will see the region's fire and emergency service leaders delve into the key challenges, opportunities, standards, policies, and technology. Meanwhile, a highly focussed Safety & Health Seminar will explore MENA's new regulatory changes.
The global fire protection systems market is expected to grow to USD 84.6 billion by 2026, at a CAGR of 6.4%. Due to the rising number of construction projects in the MENA region and rising preference for technologically advanced tools & equipment, the demand for fire prevention and safety implementation systems is forecast to continue its upward trajectory. With the launch of Giga projects, KSA particularly will register a 5.5% CAGR by 2025, reaching a cumulative value of US$402 million.
Against this backdrop, the Fire & Rescue Conference will gather the most prominent fire and emergency service leaders from across the region to talk about the key challenges, opportunities, standards & policies and technology. These CPD-certified seminars will help you learn, network and collaborate with industry peers.
The 24th edition of Intersec will unite the industry and accelerate conversations to explore strategies and source technologies for the challenges faced by global security leaders and professionals.
If any of our members or followers are visiting Dubai during this time, please consider attending Intersec during your visit. Register to visit via this link Welcome | Intersec 2023 (infosalons.biz)