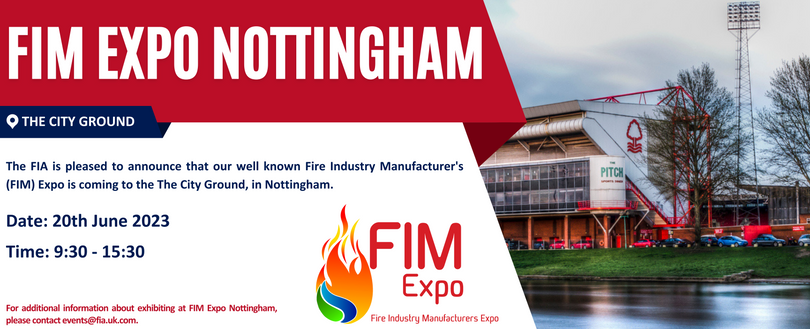 The FIA announces the FIM Expo happening in Nottingham June 2023.
We are pleased to announce that our well-known Fire Industry Manufacturers' Expo will be held in Nottingham at The City Ground.
Our first FIM Expo of the year will take place at The City Ground in Nottingham on 20th June 2023.
The Fire Industry Manufacturers' (FIM) Expo features many of the UK's leading fire detection and alarm manufacturers and showcases the latest products and developments in this sector.
What makes FIM Expo different to many other trade exhibitions is the informal format, regional focus, and ability to see the latest products from all the major fire detection manufacturers in one place. It also includes complimentary CPD seminars covering a range of key topics affecting the FD&A world. More details on these seminars will be available shortly.
FIM Expo offers a wonderful opportunity to meet and network with top manufacturers in the industry. On the day, delegates can place orders with our exhibitors and gain valuable information about industry-leading products. Taking advantage of this opportunity is a fantastic way to build business relationships for 2023. There is no better place to expand your own brand or to find the brands that you want and need.
In addition to meeting manufacturers, FIM Expo also offers delegates free CPD Accredited seminars.
These seminars will provide delegates with the opportunity to maintain and improve the knowledge and skills required to provide a professional service to customers, clients, and the community. These seminars on key topics for the fire industry will be delivered by several of our exhibitors and will provide an excellent opportunity to obtain free CPD hours.
What's more, we know how important great conversations can be in business, so why not put yourself on the best platform to boost sales and meet customers both old and new?
Engage in in-depth discussions with a diverse range of fire industry stakeholders. Specifically, from installation and maintenance companies as well as end users. With the FIA, you can expand your knowledge and network.
FIM Expo is free to attend and includes a buffet lunch! Don't miss out on a spectacular day; reserve your free spot today!
Exhibit at FIM EXPO
Why not join us at FIM Expo Nottingham and exhibit? Join the line-up and display your company and its products!
Reach new customers in areas that larger tradeshows do not frequently visit and enjoy a casual setting ideal for meeting up with new and old clientele.
For additional information about exhibiting at FIM Expo Nottingham, please contact [email protected].