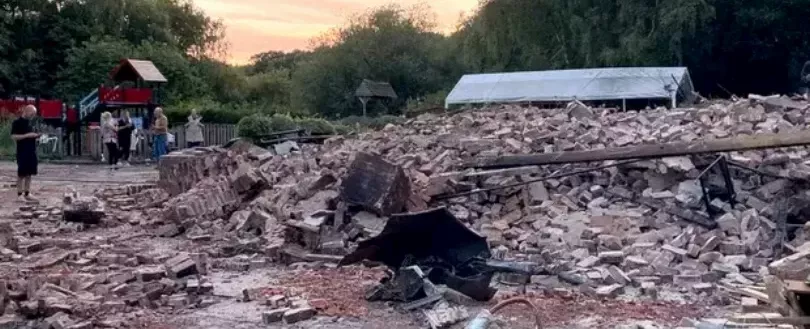 The Crooked House pub fire is being investigated as arson by Staffordshire police
Nine days after the famous pub was sold to new owners, a fire there sparked outrage and demands that it be rebuilt.
The police are considering the incident at the historic Crooked House bar as arson; however, the reason is yet unknown. After fire investigators concluded the cause could "not currently be determined," Staffordshire police said they feared the fire "may have been started deliberately." "Our investigation into a fire at the Crooked House on Himley Road last Saturday continues as we try to understand the circumstances, which we are now treating as arson," the police department stated in a statement released Wednesday evening.
"A specialist fire investigator examined the scene to try and determine the cause of the fire. In this case, we believe the fire may have been started deliberately, and police are now leading the investigation."
The force added: "This fire has shocked and upset so many given the, albeit not listed, cultural importance and heritage of the building. This is not lost on us, and a robust investigation using all available information and forensic opportunities is being carried out."
The fire at the famed wonky bar, which occurred nine days after it was sold to new owners, sparked national indignation and requests for its reconstruction. ATE Farms Ltd., a business established at the same address as Himley Environmental Ltd., which operates the 15-hectare (37-acre) quarry and waste site next to the pub, is the new owner.
Police said officers from the fire service visited the site on Wednesday with a specialist accelerant detection dog to investigate the grounds. DCS Tom Chisholm, head of specialist crime at Staffordshire Police, said: "We understand the significance of this much-loved building and the upset and anger felt by many, so we want to reassure you we're doing all we can to understand more about what happened and who was responsible.
"There is lots of misinformation circulating within communities and online, and this is unhelpful." He added that the police and fire service did not have powers to intervene in "the decision around partial demolition of the building [...] when the scene was handed back to the owner".
"We are working hard with our fire colleagues to understand the cause of the fire and are in contact with the landowner, We will keep you updated with any further significant developments," he said. In a letter to the chief constable of Staffordshire Police, Marco Longhi, the MP for Dudley North, said the "lack of information being provided to the public has raised animosity amongst the local community" in relation to the handling of the investigation. "I would like to stress the fact that the Crooked House was not just an ordinary building but a historical landmark, which was held dearly by the local community," he said. "The way everything has been conducted and the little to no information being provided are leading to rising anger amongst the public."
Our eNews provides regular insight into industry trends, news headlines, and product and service information. For news articles parallel to those mentioned above, sign up for our eNews. Click here to sign up: Subscribe to our enews (fia.uk.com)