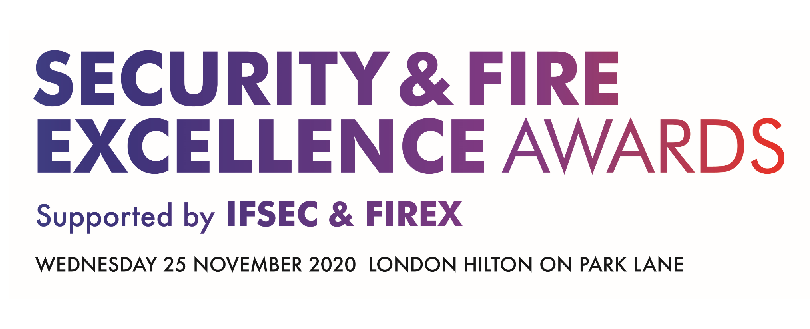 Security & Fire Excellence Awards 2020
25 November 2020,London Hilton
Security & Fire Excellence Awards 2020 will take place on Wednesday 25 November 2020 at London Hilton on Park Lane.
For 2020, we are again very closely aligned with IFSEC International and FIREX International exhibitions, which have the new dateline of 08-10 September 2020, again at ExCeL London, please ensure you register and don't miss the opportunity to attend.
ENTER:
ENTRY DEADLINE: Monday 13 July 2020 at 11.00PM (EVENING).
Now in their twenty first year, Security & Fire Excellence Awards has consistently broken new ground in highlighting the very best people, projects and processes that the security and fire sectors have to offer. 2020 will be no different, although you'll find that we have made a number of category tweaks this year to enhance the offering and to make the event even more company, people, team and project focussed.
Our high calibre Judging Panel – including representatives from all areas of security & fire, the world of academia and the policing sector will once again determine this year's Finalists and Winners!
To be among our winners in 2020, then you need to check out the categories and entry criteria now at: www.securityandfireawards.com/categories/ and ensure you enter at: www.securityandfireawards.com/enter/
ATTEND:
Owned by Informa Markets, organisers of IFSEC International & FIREX International ...
The perfect opportunity to network and socialise with the very best ...
Every year, around 1,000 of your industry's foremost practitioners gather at London's prestigious Hilton Hotel on Park Lane to recognise and honour the magnificent achievements of their peers, at the sell-out event. We very much hope that the current situation will improve and that we will be able to offer you a safe and relaxed environment to network and to socialise once again.
Last year, our host for the evening was the wonderful Tess Daly, whose professional and slick handling of the presentations helped to make the evening such a great success. Previous hosts have included Jimmy Nesbitt, Gabby Logan, Jimmy Carr and the late great Ronnie Corbett.
Supporting fantasic charities ...
Book your tables today and secure places for all your teams. A limited number of VIP tables are available on a first come first served basis. The Awards have sold out for the last 6 years, so book NOW to avoid disappointment, simply go now to: www.securityandfireawards.com/attend/
SPONSOR:
Sponsorship of Security & Fire Excellence Awards offers promotional and branding opportunities unrivalled elsewhere in the industry. The profile of all participating sponsors will be raised through targeted branding, extensive advertising and news coverage in the industry's leading media, via direct mail and e-mail updates to members of the leading industry Associations and, promotion at and around IFSEC & FIREX - all of which will align your brand with the event.
Check out the exclusive sponsorship opportunities at: www.securityandfireawards.com/sponsorship-opportunities/
USEFUL LINKS:
Handy tips for entering: www.securityandfireawards.com/enter/handy-tips-entering
If you require some assistance writing your entries, you'll find expert help here: www.securityandfireawards.com/enter/awards-writing-service
Here's what our very happy guests have to say about Security & Fire Awards: https://www.securityandfireawards.com/testimonials/
Follow Awards updates and tweets @SecurityXAwards
---
If you have found this article helpful or you are proud to be an FIA member then please share this article with your network.